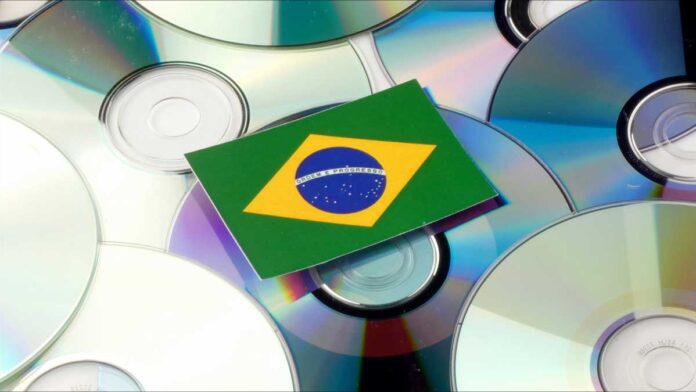 Two of Brazilian music's top albums have 'early consideration' for the 64th Annual Grammy Awards.
Brazilian albums gain Grammy consideration in a crowded field of 47 entries. Each is vying for a nomination in the prestigious Latin Jazz category.
---
The rules are defining. The odds are long. The process is challenging.
Each year, hundreds of Brazilian albums compete with the world's best to gain consideration. Then, nomination and ultimately, music's greatest honor. A Grammy award.
Connect Brazil has recently shared the stories of both musicians. Catch up with Kristen Maher de Andrade's Clarão, and Antonio Adolfo's Jobim Forever.
Here's the latest news on both.
Brazilian Albums Gain Grammy Consideration
Kristen Mather de Andrade | Clarão
Kristen Mather de Andrade's debut album Clarão was released on July 23rd.
Clarão's masterful musicianship captures the spirit and soul of Choro and Samba in a lively, personable way. These ten tracks make a perfect introduction that becomes more welcoming with every repeated play.
Classically trained, Mather de Andrade is Principal Clarinetist with one of America's most respected Concert Bands. Clarão is the latest step on a path she's followed since she was handed her first clarinet at age 10. But while it's an unusual path to take for Choro, it's the right one.
"I know it is cliché, but I never thought I would be in a position where I would even have a solo album, let alone one that could be considered for a Grammy nomination. Whatever happens, I am most proud that I followed through with recording it. This whole journey has been a transformational experience for me, setting a course that I hope to continue on, creating and sharing music with the world."
Read more about Kristen's passion for Brazil. Connect with the exciting collaboration that grew to become her debut album, Clarão.
Get to know Kristen Mather de Andrade
Follow Kristen Mather De Andrade on
Facebook | YouTube | Instagram | Twitter
YouTube Music | Apple Music | Spotify | IHeartRadio | Amazon
Antonio Adolfo | Jobim Forever
Pianist and composer Antonio Adolfo's album Jobim Forever was released on July 31st. It is a personal tribute to the Brazilian legend who inspired his own long career in Brazilian jazz.
Jobim Forever is the latest in a series of songbook tributes to the Brazilian musicians he has come to admire. Adolfo's own creativity and perspective have grown to full measure.
Adolfo recalls the childhood memory which changed his life: "It was 1959 and I was 12, studying at a boarding school in Rio de Janeiro. On weekends when we went out, we would listen to music on my mother's car radio. Something magical came through that car radio; it was the song 'A Felicidade'. It gave me a feeling I had never experienced before, a true and profound 'love at first sight'."
Antonio Adolfo's album BruMa: Celebrating Milton Nascimento has been nominated for a Latin Grammy award this year. It enters the category of Best Latin Jazz Album. The awards ceremony takes place in Las Vegas, on November 18th.
Read more about Antonio Adolfo's role as a cultural educator for aspiring musicians. Discover his prolific discography. Learn about his unique approach to respectfully interpreting the music of Brazil's cherished musicians.
Get to know Antonio Adolfo
Follow Adolfo Adolfo on
Facebook | YouTube | Instagram | Twitter
Amazon | iTunes | Google Play | Spotify | Deezer | Tidal
Stories like 'Brazilian Albums Gain Grammy Consideration' are what we do. Why don't you join us?
Sign up for our emails on music, travel, friends and fun. Listen to our 'always live' streaming station. Our 12 streaming music channels are always free. Browse our Lifestyle Directory. Click here to like our Facebook page and here for Brazilian events coast to coast.