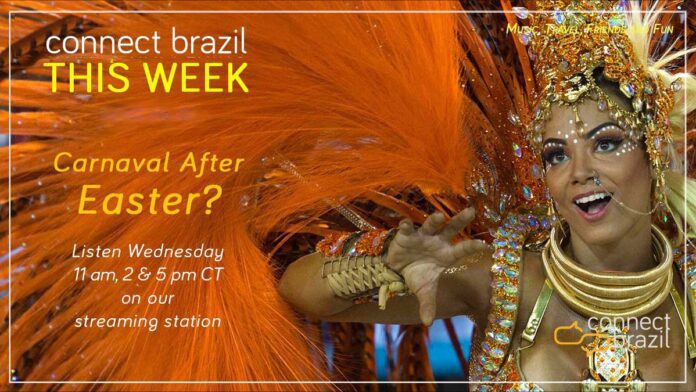 Connect Brazil's weekly digest keeps you informed and up to date with the best of Brazil. What will you discover?
---
Carnaval after Easter? Could it really be happening?
Carnaval's Post-Easter Parade is the latest idea floated by Brazil's decision-makers.
The on-again, off-again, on-again nature of Brazil's Carnaval season for 2022 is off again. For a while.
This latest decision to reverse course came at the end of a late-afternoon meeting between the mayors and top leaders in both Rio de Janeiro and Sao Paulo yesterday, Friday, January 21st.
A report by Gilson Garrett Jr., with Estadão Conteúdo for Brazil's Exame posted the news: "In a joint decision, the city of São Paulo and Rio de Janeiro decided to postpone the parades of samba schools that were scheduled for the Carnival holiday at the end of February."
Brazil's two largest cities have determined that concerns for public safety in the face of rising COVID-19 cases of the current variant called Omnicron led to the decision.
If this date stands, it poses another question. Will this be the first time that Brazil's Carnaval will be held after Easter?
Read the complete story here.
LISTEN LIVE THIS FRIDAY
Plan to join me for Brazil Back2Back this Friday when I'll play two in a row from Djavan our live streaming station (01/28). Top of the hour, at 11 am, 2 pm, and 5 pm CT for two in a row.
Use the Connect Brazil Listening Lounge: Always free, always live.
Scott Adams, Midday Host
The Sounds of Brazil at Connect Brazil
The Brazilian Minute: Antonio Carlos Jobim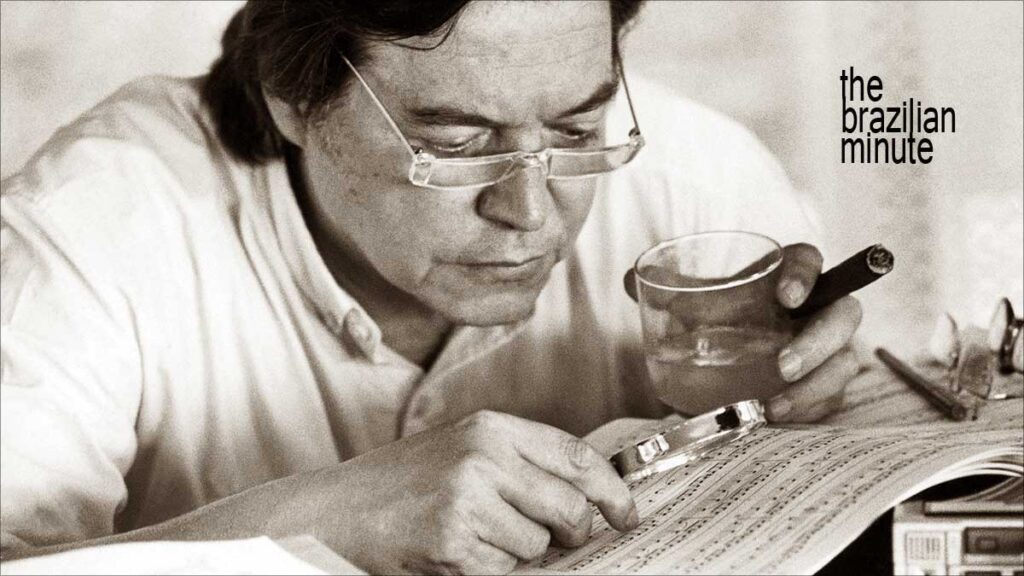 Welcome to The Brazilian Minute!
Brazil's Bicentennial year of 2022 gives us the opportunity to tell Brazil's greatest stories. We're thrilled that this new weekly audio feature will introduce you to interesting people, places, and events in Brazilian history and culture.
This week, let's focus on Antonio Carlos Jobim, just in time for his birthday. Tap or click here to listen now.
TOP STORIES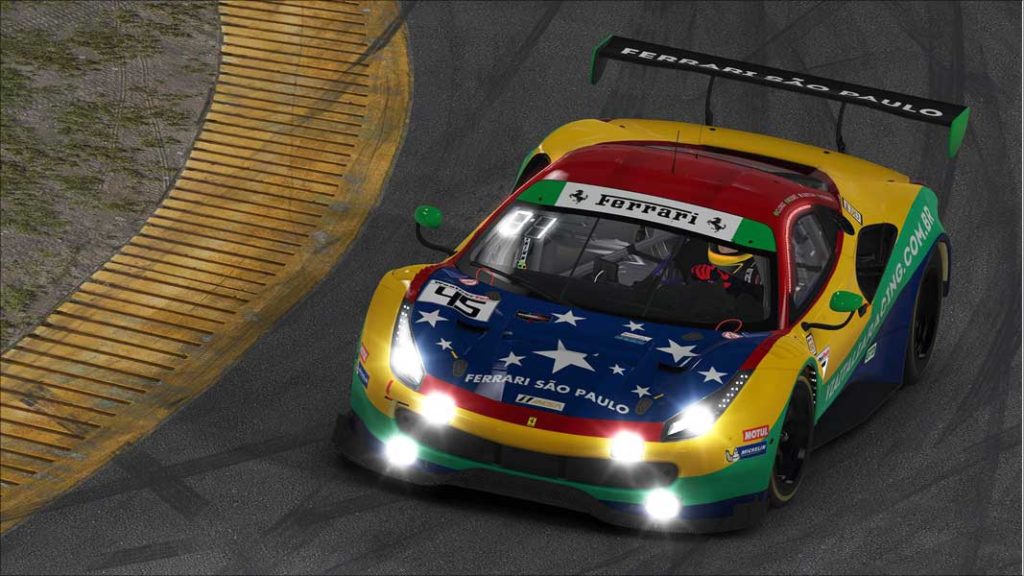 Connect Brazil's Weekender arrives in your inbox next Thursday! Read a current issue and sign up here.
This Week's Spotlight Song: Luedji Luna | Bom Mesmo É Estar Debaixo D'água
Listen for this song on our streaming channels, including Bossa Nova Love Affair, Brazilian Jazz, and The Sunday Brazilian Brunch.
STREAMING MUSIC NEWS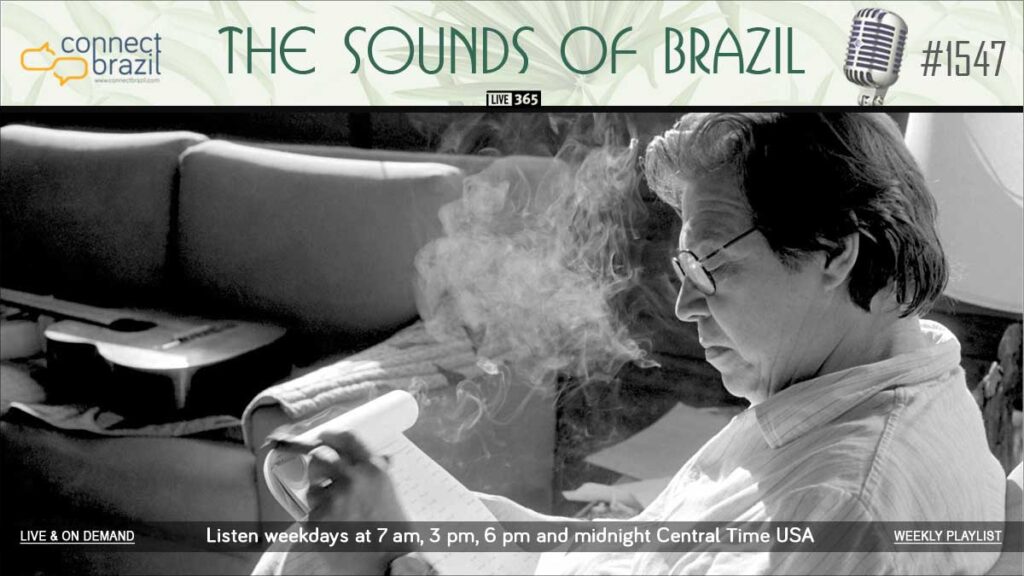 The Warmth of Jobim has been altering our personal climates for decades, with no ill effect. He would have turned 95 this Tuesday and thankfully, his music lives on to shape our environment "One Note" at a time.
You can listen 4 X daily and on-demand through February 6th. The playlist and Producer's Notes are here.
ON OUR STREAMING STATION
A cool breeze in summer, and a warm wind when the weather turns cold. That's The Sounds of Brazil's streaming station at Connect Brazil! Spend an hour with our jazzy blend of breezy Bossas and crossover hits from both sides of the equator.
We are America's only 'Always Live' streaming station for Brazilian music and more.
Tune in weekdays for The Midday Show with Scott Adams and relax every evening with our jazzy Quiet Nights program. Saturdays are reserved for Bossa Nova Breeze – all day, all night – and there's always a place at the table waiting for you with The Sunday Brazilian Brunch!
The right song at the right time can make your spirits soar. Explore our newest video list, The Best of Brazilian Music '21 Showcase. Then tune in for a trio of tunes that fit the bill. Listen for them on our streaming station this week:
'All Around' – Bebel Gilberto
'Boss-A-Nova' – Geneve 5 (Instrumental)
'Devagarinho' – Gilsons
Listen for these songs on our always-live streaming station, and click here for all 12 of our streaming music channels.
Want everything in one place? Try Connect Brazil's Listening Lounge.
Brazil Back2Back
Always two-of-a-kind and always two in a row when you listen at the top of the hour, at 11 am, 2 pm, and 5 pm (US Central) Monday, Wednesday & Friday.
Here's this week's lineup:
Monday, January 24 – Celebrating Antonio Carlos Jobim's birthday (25th)
Wednesday, January 26 – New Music: Brasuka & Vitor Kley
Friday, January 28 – Happy birthday Djavan (27th)
Next week on Brazil Back2Back:
Monday, January 31 – Kell Smith
Wednesday, February 2 – New Music: Carol Albert and Marisa Monte
Friday, February 4 – Marcos Ariel's birthday (3rd)
Visit the Listening Lounge to listen live, for real-time playlists, or to request your favorite song, style, or musician.
New Music Spotlight: Geneve 5 | Boss-A-Nova
Listen and vote for this song on our New Music: Brazil streaming channel.
Carnaval's Post-Easter Parade: Connect Brazil This Week
Stories like 'Carnaval's Post-Easter Parade: Connect Brazil This Week' are what we do. Why don't you join us?