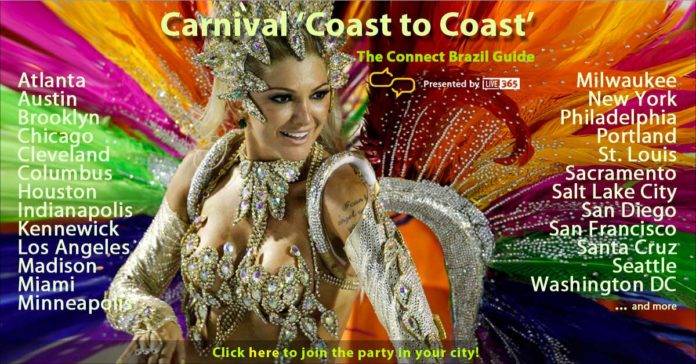 OUR CARNIVAL COAST TO COAST GUIDE IS READY AND WAITING TO FILL UP WINTER'S FINAL WEEKS WITH AMERICA'S BEST BRAZILIAN EVENTS AND HOTTEST PARTIES. FIND ONE NEAR YOU.
Do you say 'Carnival' or 'Carnaval'? Either way, it's Brazil's time to shine, to stand out from the rest of the world with the World's Greatest Party!
While the official dates for 2020 are February 21-26, this year's Carnival 'season' runs from early February to mid March.
Not listed? Add your Brazilian Carnival event here. It's free!
This year, Connect Brazil's Carnival Coast to Coast guide is honored to include nearly 50 events, spanning the country from New York to Los Angeles, from Miami to Seattle and from Chicago to Austin with more being added daily.
Get the Connect Brazil e-letter
The colors, the music, the dancing, the pageantry … Carnival approaches and here's what to expect from 2020's festivities. The annual four-day celebration begins 40 days before Easter each year, this year scheduled to kick off Friday, February 21 and ends on Fat Tuesday, Feb. 16. Judging for competing Samba Schools (Escolas de Samba) in Rio de Janeiro and Sao Paulo can add a few more days before a winner is crowned.
To much of the world, Carnival symbolizes Brazil. Samba schools practice for months to compete in the annual event. Brazilians, along with tourists, overflow the streets of Rio de Janeiro and other cities to take in the scene, sights, and sounds of this traditional Brazilian party.
There is nothing like Carnival, and while many cities offer some kind of celebration, there is nothing like the sights, sounds, and scene in Brazil.
But if you're not lucky enough to make the trip to Rio de Janeiro, Salvador or Sao Paulo, or even make it to a Carnival celebration here in the U.S. (or in your own country), put on a bit of samba, pour a cerveja or mix up a nice caparinha. Kick back and relax in your new Brazilian state of mind.
---
The Carnival Coast to Coast Guide is available for sponsorship. Contact Connect Brazil's Concierge for details.