Eliane Elias loves to perform: At the Blue Note Jazz Club in Tokyo last June, ditto for the Blue Note in Rio de Janeiro. In Phoenix at the awesome Music Instrument Museum in August, or maybe you've made reservations for this weekend in Granada, Spain.
What this means is that Brazil's Eliane Elias is sure to have some stories to tell when she kicks off her seven-month US concert tour in the music room at City Winery Chicago on Tuesday, November 13th.
Eliane's personal story begins in São Paulo where a talent for classical piano was passed down from mother to daughter, allowing Eliane to become an accomplished classical pianist at age 12.
Three years later, Eliane was attending high school in the mornings, teaching master classes in the afternoons and playing in clubs at night.
Next came a move to New York and the jazz group Steps Ahead. She married trumpeter Randy Brecker and recorded her first solo album 'Illusions' in 1987 to begin a long string of highly acclaimed albums.
Music, travel, friends and fun! Get the Connectbrazil.com e-letter.
Grammy-winning Performances
She has won the Grammy Award for Best Latin Jazz Album in 2016 and the Latin Grammy Award for Best Latin Jazz Album in 2017. Did we mention that Eliane Elias loves to perform?
She's recorded jazz trios and Jobim tributes, classical piano tomes and even stretched out to pop styles by developing her considerable vocal skills.
But the major influences remain closer to her homeland: Samba, Choro, Bossa Nova and the people of Brazil. For instance, 'Barefoot' was inspired by a television show the keyboardist saw while in Brazil that pictured rural women taking laundry down to a river:
"The feeling that I got seeing these women walking barefoot with a pile of clothes on their heads in the sun and amazing heat was striking," she explains.
Her single-show return to Chicago means that she's sure to pay an on-stage tribute to Bossa Nova's 60th anniversary.
The complete Eliane Elias Concert Tour schedule for 2018 -2019 is here.
One-Track Mind - Eliane Elias The Three Americas
On Stage at City Winery Chicago
In a city known worldwide for its excellent music venues, the intimacy of City Winery Chicago's music room has a lot to offer: great acoustics and sightlines, and a West Loop atmosphere that draws its inspiration from the repurposed brickwork, windows, flooring and wood beams dating back to the 120 year-old building's early days.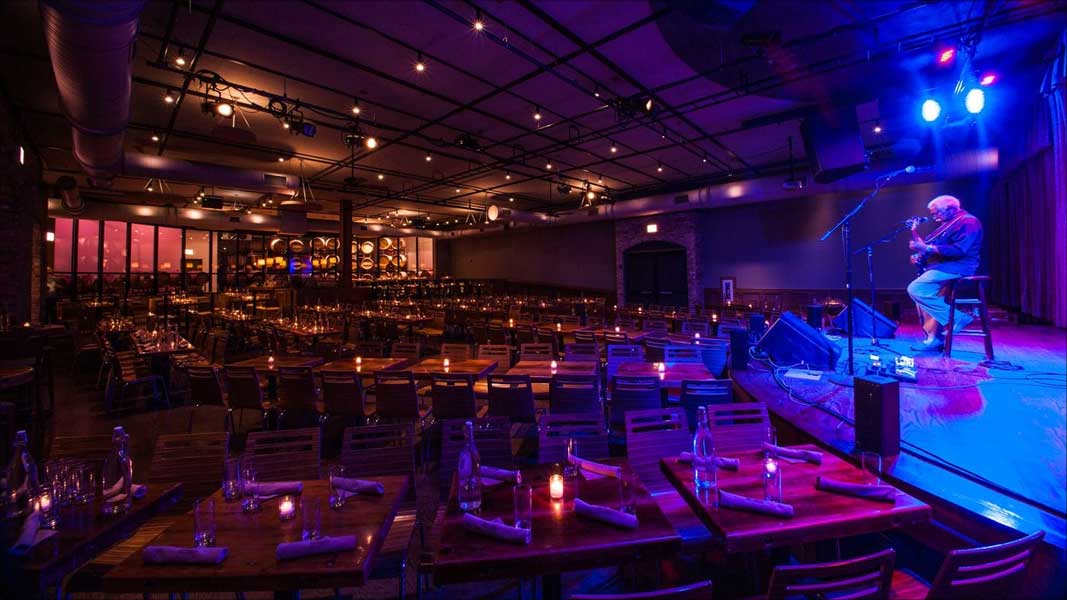 Large, wooden wine barrels are hard at work behind the glass walls that frame the room, which offers its own menu for in-concert eats and a variety of in-house wines or come early to dine in the adjacent restaurant to complete your City Winery experience.
You can even use City Winery Chicago's virtual map to choose the very best seats for the show: It's a setting that Brazilian music stars like Elaine Elias, Bebel Gilberto and Sergio Mendes have returned to time after time.
Eliane Elias loves to perform: "My whole thing is the piano, the sound of the piano, the response of the instrument, the acoustics," she says. "When I put my hands on it, I don't have to think about this chord or that chord being right. I just go for what I feel."
Eliane Elias at City Winery Chicago
1200 W. Randolph St.
Chicago, IL 60607
312-733-9463
www.citywinery.com choose your seats
Tuesday, November 13, 2018
Show time: 8 pm
Doors: 6 pm
Valet parking