Samba Was Birthed In The Hills Above Rio de Janeiro
'History of Samba and Carnaval' is our topic for The Brazilian Minute this week. Learn about their beginnings, one step at a time.
This series was presented by the Consulate-General of Brazil in Chicago and the Brazilian Foreign Ministry's Cultural Department.
In celebration of Brazil's Bicentennial year, 1822 – 2022
This week's Brazilian Minute: Brazil's History of Samba and Carnaval
(Audio not available)


Script from Audio:
Carnaval in Rio! Where thousands of brightly costumed dancers parade through the world-famous Sambadrome, not far from Praça Onze where Samba was born in 1917.
That was 23-year-old Ismael Silva's neighborhood too, and back then, Carnaval was much different: Rio's elite attended private balls with European waltzes. But up in the hills, Cariocas wanted the music they created: Samba in its earliest days.
So, Silva organized his neighborhood into groups. Drummers, singers, and dancers. These groups were called blocos and they marched together to the same song and the same rhythm. He gave them a name: 'Deixa Falar' or 'Let Me Speak'.
On August 12, 1928 'Deixa Falar' became the first Samba School. The same concept is used for Carnaval's parades today.
Read and listen to new weekly episodes of The Brazilian Minute.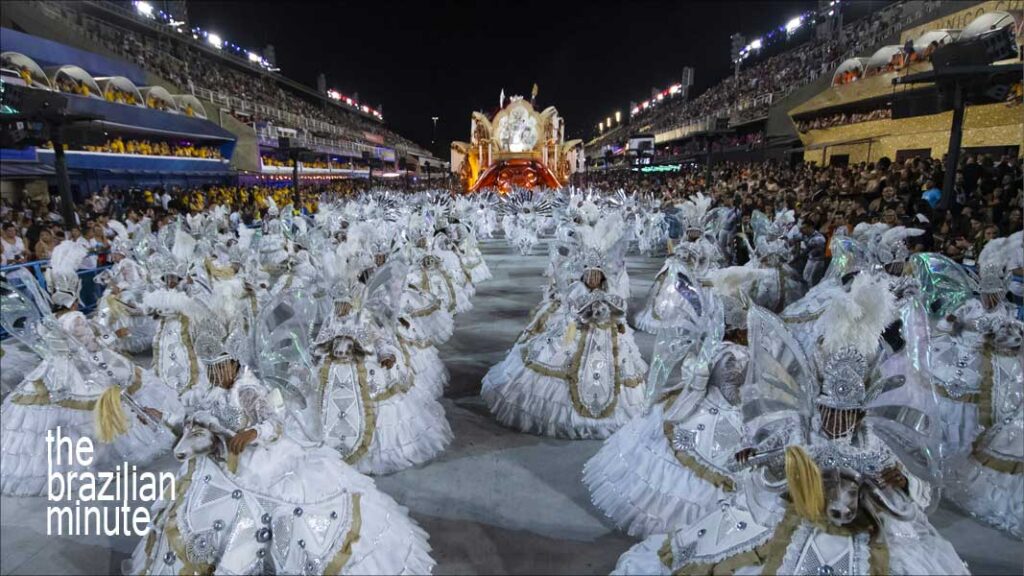 More on: Brazil's History of Samba and Carnaval
Overview:
Rio de Janeiro likes to call its Carnaval celebration the World's Largest Party. So far, no other world-class city has challenged that claim. Perhaps no such city could.
Each year, Rio throws down its calling card for the rest of the world to enjoy. And a healthy dose of Brazilian Alegria only helps to amplify the experience.
After all, watching several thousand costumed marchers parade through Rio's half-mile-long Sambadrome can be breathtaking.
It's quite a sight. But what's it all about?
All told, there are about 70 such groups in Rio de Janeiro. Each one associates with a neighborhood. These groups are Escolas de Samba (Samba Schools). The best of these receive invitations to march in the Carnaval competition at the city's Sambadrome.
15 smaller Escolas receive invitations to the Access Group. 14 of Rio de Janeiro's elite Escolas de Samba make up the Special Group.
The Spirit of Samba and Carnaval
Once inside Rio's Sambadrome, sensory overload replaces any sense of proportion. For example, a Samba School's bateria (rhythm section) can be as many as 500 drummers and percussionists.
In fact, each Samba School can total as many as 3,000 members. This includes dancers, drummers, and other performers. Even more impressive is that it often takes every second of the allotted 80 minutes to complete the march.
So, when watching, think of each parade as a storybook.
Each Escola de Samba has a theme, which carries over to an original song called a Samba Enredo. The song's lyrics tell the theme's story, which repeats over and over until the parade ends.
The Escola's parade reflects the story, too. You'll notice groups of marchers and dancers, each with their own coordinated costumes and floats. These groups are called Alas or 'Wings'.
Think of each Ala as a chapter of the story. Ornate floats can signal the beginning of another chapter.
Carnaval Throughout Brazil
Carnaval celebrations happen in small towns, villages, and large cities across Brazil. In addition to Rio de Janeiro, both São Paulo and Salvador, Bahia hold world-class events
São Paulo celebrates at its own Sambadrómo in the city's Anhembi district. While every bit as grand, São Paulo lacks Rio de Janeiro's place in Carnaval history.
Further up the coast, Salvador, Bahia offers its own unique Carnaval tradition. Unlike Rio and São Paulo, you don't watch. You dance!
This weeklong street party draws upwards of 2.5 million Carnaval revelers to its 15 miles of parade routes. Amazingly, they dance and party behind slow-moving, million-dollar stages with high-powered sound systems called Trio Eletricos.
Carnaval in Brazil is a popular tourist destination for the winter-weary who live north of the equator.
Samba's First Steps
But for many, Carnaval in Brazil still means Rio, and when the Escolas de Samba step off to begin their parades, it continues a tradition that dates to the turn of the 20th century.
Carnaval's Brazilian story begins with the Estácio district, which sits in the hills overlooking the place of Samba's birth. A small park called Praça Onze (Park Eleven) is where the home of an African-Brazilian matriarch, Tia Ciata was located.
Born in Bahia, Tia Ciata began to organize weekend get-togethers for ex-slaves and immigrants from the northeast. Subsequently, word spread that these casual parties were the place to be.
And be heard. Musicians came to play. Donga, Pixinguinha, Sinhô, and Joôo da Baiana drew on their African and Bahian roots to shape the early sound of Samba. In time, they would be regarded as the pioneers of Brazil's unique-to-the-world musical style.
Years went by. The musical cultures of Africa, Bahia, and Rio continued to mingle with each passing weekend at Tia Ciata's home. This is where the first Samba – 'Pelo Telefone' (On The Phone) was composed in 1917. Its lyrics included the line "The chief of fun told me on the telephone to dance with joy."
You can listen to part of that original recording here.
Samba de Morro
Meanwhile, the roots of Samba were being distilled in Estácio's streetside bars by musicians who frequented Tia Ciata's parties.
Fortified with cachaça and beer these locals spent long nights transforming Samba into its own distinct style. They called it Samba de Morro. Samba from the Hills.
By 1928, Estácio's hold on Samba becomes unquestioned. The very first Escola de Samba is formed in Estácio that year by Ismael Silva. It is named 'Deixa Falar'.
The translation is a little tricky in English. It could mean 'Let Me Speak' – as a statement of the group's independent stance. Or it can be 'Let Them Talk', meaning that the group didn't care what was thought of their independent action.
Either way, Silva and his neighbors make their point in a very public way. Less than a year later this neighborhood group marched through Praça Onze to lead the first Carnaval parade for African-Brazilians.
This bold statement was in defiance of the times. The people who invented Samba were discouraged from organizing Carnaval groups.
Dexia Falar Speaks Up
Deixa Falar marched again in 1930, and in '31, and '32, forever changing Brazil's Carnaval traditions.
Other Escolas were formally announced soon after Deixa Falar, including the legendary Samba Schools of Portela and Mangueira.
In 1935, Brazil officially recognized these parades and moved them to downtown Rio de Janeiro. This began the modern-day weekend celebration that is Rio's Carnaval.
Deixa Falar fell by the wayside in 1933 and historic Praça Onze was paved over during the construction of Avenida Presidente Vargas ten years later.
Today the location of the little park is home to the subway station that serves Rio's Sambadrome.
And Estácio? Well, the little neighborhood known as 'the birthplace of Samba' is where you can still go to experience Samba in its purest form.
Music, Travel, Friends, and Fun! 2022 marks Connect Brazil's 25th year.
Brazil's History of Samba and Carnaval
Did you enjoy 'Brazil's History of Samba and Carnaval'? If you did, why not join us at Connect Brazil?
Sign up for our emails on Brazilian music, travel, friends, and fun. Listen to our 'always live' streaming station and streaming music channels, always free. Visit us on Facebook, and Twitter, and browse our Lifestyle Directory for Brazilian events coast to coast.