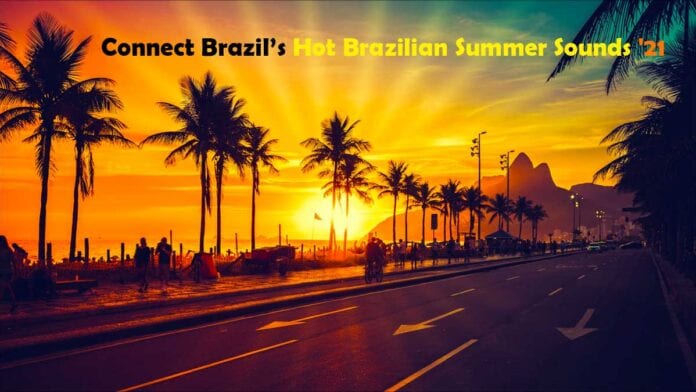 CONNECT BRAZIL'S TOP TUNES FOR THE DOG DAYS OF SUMMER, PLUS THE STORIES BEHIND THEM
Hot Brazilian Summer Sounds '21 is our peak-of-summer video list of fan favorites and artist-selected picks from Connect Brazil's streaming music channels, and our 'always live' streaming station. It's a summer like no other, so turn up the music!
---
Summer Sambas… So Nice!
Finally! The summer we've been waiting for – dreaming of – is here, and with it comes Hot Brazilian Summer Sounds '21, our video list of the best new sounds plus classic hits for the best part of Summer
Every song on this list – from romantic Bossas to sun-kissed Sambas – is already playing on our streaming channels and on our always live streaming station at Connect Brazil.
Which Brazilian melodies will become your musical memories for the Summer of '21? Celebrate your musical freedom! Gear up and download these 10 top Brazilian songs for a summer no other, with Connect Brazil.
Promise: Summer has more to offer!
Watch for our Brazilian Day Musical Showcase '21 video playlist just before the big Labor Day/Brazilian Independence Day holiday weekend!
Scott Adams, Midday Host
The Sounds of Brazil's streaming station at Connectbrazil.com
Hot Brazilian Summer Sounds '21
Daniela Soledade | Você
Old School. Back in '64, the top song on Rio's radio charts was 'Você', penned by Roberto Menescal and Ronaldo Boscolli for crooner Dick Farney on the hottest record label in Brazil.
The songwriters also hit big with 'O Barquinho' (The Little Boat), but 'Você' was different. More mature, with an elegant melody that embraced lyrics meant to glide – not bob – on the coastal waters off Zona Sul. Bossa Nova was growing up.
Daniela Soledade's video single of 'Você' arrived in early March of this year to smoothly magnify that musical message by adding English lyrics to the song's original Portuguese.
"Can you explain the sea… or how somebody cares for you?" she asks. You know that she's not expecting an answer, but something inside makes you think about it. And how often does that happen with a singer these days?
Daniela Soledade brings an honest elegance to the songs she performs, and 'Você' is the latest chapter of a story that grows more enticing with every new addition.
You can read her personal thoughts about recording the song here, including an awkward – but really funny – moment during the video shoot on Copacabana beach.
Listen to Daniela Soledade on our streaming channels below.
Listen on: Brazilian Jazz | Bossa Nova Love Affair | Our Streaming Station
Phill Fest | Smile On Your Face
What's it like to grow up as the musical son or daughter of a Brazilian superstar? The children of Gilberto Gil, Zizi Possi, Joao Gilberto, Caetano Veloso, and Leo Gandelman (to name but a few) have all grappled with that question in their own way.
So has guitarist, singer, and songwriter Phill Fest, the son of Brazil's renowned jazz pianist Manfredo Fest. Brazilian to his core, Phill was born in Minneapolis before moving to South Florida, where he's made a name for himself based on talent, hard work, and desire.
Café Fon Fon was released just in time for summer as a jazzy, energetic collection of personal stories (including this song, 'Smile On Your Face', and each one is 100% Brazilian/American.
So, we sat down to talk with Phill about the album, his creative process, and what it was like to grow up as the musical son of a Brazilian jazz legend.
Read our exclusive interview here.
You'll hear 'Smile On Your Face' and many more songs from Phill Fest on our streaming channels and our 'always live' streaming station at Connect Brazil.
Listen on: XODO! | Brazilian Jazz | Our Streaming Station
Ella & The Bossa Beat | Slipping Away
There's something exciting going on with Brazilian music these days. A generation of Millennial music makers is pushing the music forward, in contrast to the more-or-less, laidback attitude held by many just a few years ago.
It's happening in Brazil with a brace of rising stars, and it's happening here in America, too, where Florida is a hotbed for the Brazilian American sound.
So, loyal listeners to our streaming channels and always-live streaming radio station are already familiar with Ella & The Bossa Beat and 2020's debut of My Remedy.
The group's creative core is familial, led by vocalist and pianist Ella Borges and her dad, Magrus Borges, the talented percussionist with Bebel Gilberto's latest album and leader of the popular Brazilian jazz group Magrus & The Rainforest Band.
These two compose and produce every song together, including a pair of new tunes perfect for our video playlist of Hot Brazilian Summer Sounds.
Ella shared her creative notes for both songs. Read and listen, here.
Listen on: XODO! | Cafe Copacabana | Our Streaming Station
DJ Maretimo | One Night In Rio
Hot Brazilian summer sounds mean hot Brazilian nights, especially it comes to Rio after dark. The Copa breezes that caress by day create a luminous vibe when the city lights replace sunset. 4 am comes quickly.
If you've been there, you know what we mean.
If not, wait for the small hours and press play on DJ Maretimo's anthem. The bass line sets the tone, then the melody's call and response does the rest.
Part Paul Hardcastle, part Brazil Chill, it's a night in Rio that compels you to return again and again.
Listen on: XODO! | Cafe Copacabana | Our Streaming Station
Till Brönner with Bob James | Lemonade
There's no doubt that Bossa Nova's found its niche as a genre with worldwide appeal. It's largely stayed true to its generational roots by following a simple formula: "live, laugh, love" lyrics paired to that trademark rhythm.
Translate that into German then hand it off to Till Brönner whose skills as a pop singer and jazz horn player routinely visit Brazil's most famous music style. This time, it's the sophomore track from On Vacation with legendary keyboardist Bob James.
Brönner's vocal is an easy match for the day-at-the-beach storyline with English lyrics. If this is your introduction to Till Brönner's Brazilian side, 'Lemonade' is a great way to meet.
Solos from both keyboard and trumpet are fittingly buoyant and breezy, and just what you'd expect from this talented pair of jazz masters.
Listen on: Sunday Brazilian Brunch | Bossa Nova Love Affair | Our Streaming Station
Ziggy Blue Featuring Natalis | O Que Faltou
A year ago last January (just weeks before COVID-19 swept across the Americas) our Connect Brazil staff was sailing south, part of the pool deck entertainment lineup for 2020's Capital Jazz Cruise to the south Caribbean.
We were spinning the best Brazilian tunes from our streaming radio station, and that's when we made a startling discovery.
It turns out that even the softest-strummed Bossas take on amazing energy when the music is pushed through giant speakers on the top decks of a cruise ship with thousands of watts behind it!
This song was a big hit with sun-worshiping jazz fans during our week at sea.
Ziggy Blue is an Atlanta-based producer whose award-winning projects with hip-hop and house music made him hear something else in Bossa Nova. Something that wasn't there.
So, he partnered up with songwriter Fernanda Noronha for an original tune with an irresistible hook, tapped multi-platinum recording artist, Natalis for the studio, and proceeded to create his hybrid Bossa sound for 'O Que Faltou'.
It's a song of love and longing that only Rio's tapestry of nature could inspire. You'll love its smooth style and evocative sound, but also how the song reimagines the best traditions of Bossa Nova to give us a fresh taste of what's to come. Read more.
Listen on: Cafe Copacabana | XODO! | Our Streaming Station
Roy Stephansen | Waves
Over the past few years, we've come to know Roy Stephansen's Brazilian jazz quite well.
The genial Norwegian trombonist and composer is by any measure a remarkable musician and bandleader. His inspiration for these tunes comes from a fertile imagination that paints musical imagery with tonal colors, counterpoint pastels, and tropically vibrant accents.
The summer of '21 includes another new song from Roy Stephansen, called 'Waves'.
It's samba jazz, and the song's quick start finds you wanting to catch up. The tight, bright trombone melody anticipates a day at the beach.
It's a driving song, in more ways than one.
The video for 'Waves' is shot in-car, on a paved, winding, single-lane coastal rod that contrasts stark, snowcapped hills with the artic blue waters of the Barents Sea.
While Bossa Nova greats like Jobim, Menescal, and Marcos Valle were inspired to create in their hometown environment, so does Roy Stephansen in his. And if you think about it, the theater of the mind where most of us find ourselves when the music begins to play.
Are you familiar with the most played songs Roy Stephansen has given to us for our streaming playlist? Explore them here.
Listen on: Brazilian Jazz | Bossa Nova Love Affair | Our Streaming Station
Mahmundi | Azul
I program and write about Brazilian music on a daily basis, and I've been doing it for quite a while, so when a song instantly makes me stop whatever I'm doing, I'm prepared to be impressed.
Mahmundi's early hit 'Azul' is one of those songs.
Born and raised in Rio, this talented Millennial is one of a small group of singer/songwriters smartly positioned to lead MPB (Brazilian Popular Music) towards a brighter future.
Now, if she would just record this song in English…
Listen on: Cafe Copacabana | XODO! | Our Streaming Station
Al Di Meola featuring Airto | Marina
Back in 1985, this song from Soaring Through A Dream would have been called a ballad and no one would have thought the better of it. But now, 36 years later, 'Marina' has aged so well that it's earned its place as a Brazil Chill evergreen.
There's no real reason that it should be.
Di Meola and this album have their detractors – the mid-80's synth/midi sound wore thin quickly – and nobody would rate the album against Pat Metheny's Still Life Talking, which certified gold as a Grammy winner two years later.
But there's some magic to be found with Airto's vocals and the song's dreamlike arrangement. And Di Meola's vision was spot on for a future format that adds a special touch to our programming here at Connect Brazil.
Listen on: Cafe Copacabana | Bossa Nova Love Affair | Our Streaming Station
Toco featuring Nina Miranda | Rainha
This year, the final spot on our Hot Brazilian Summer Sounds collection comes from 2015's Top Brazilian Tunes list.
It's also a perennial personal playlist favorite for road trips and weekend getaways and that's a problem because our Personal Playlist Favorites could definitely be its own summertime list.
So, we kept getting sidetracked with worthy contenders. In the end, Toco's duet with London's Nina Miranda won out. 'Rainha' sizzles as a smooth samba duet in Portuguese and English. And it's got a great hook, too!
Perfect for a coastal drive, poolside, or as a soundtrack for your next summer get-together, Toco's knack for a great melody keeps rhythms moving forward, sleek and breezy.
Listen on: Bossa Nova Love Affair | XODO! | Our Streaming Station
Hot Brazilian Summer Sounds '21
Stories like 'Hot Brazilian Summer Sounds '21' are what we do. Why don't you join us?
Sign up for our emails on music, travel, friends and fun. Listen to our 'always live' streaming station and our 12 streaming music channels, always free. Browse our Lifestyle Directory. Click here to like our Facebook page and here for Brazilian events coast to coast.
MORE FROM CONNECT BRAZIL: