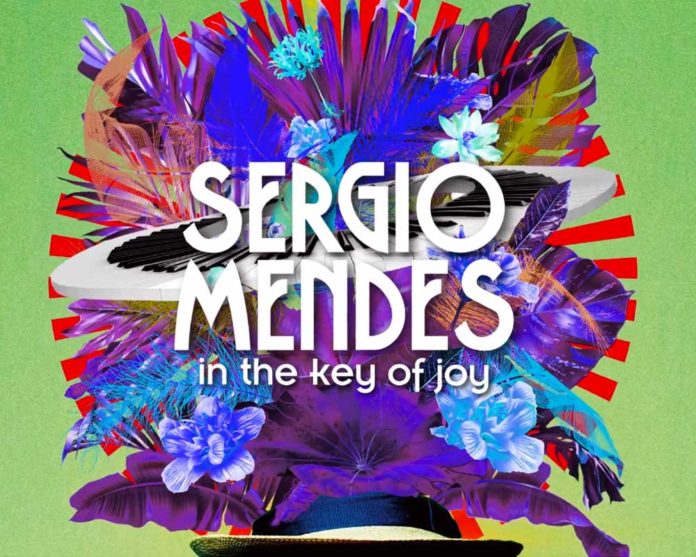 In The Key Of Joy celebrates six decades of unforgettable music from Brazil's GOAT Musical Ambassador, Sergio Mendes.
It's like restating the obvious isn't it? No one, not here, not in Brazil or any other place in the world carries the banner for Brazilian music better than Sergio Mendes.
His forward-looking style has entertained millions of fans worldwide and inspired generations of musicians to follow in his footsteps with joyful, sun-kissed sambas of their own, like this one.
This week on The Sounds of Brazil's Weekly show: Listen to The Sergio Mendes Alumni Show featuirng songs from 18 musicians who have performed with Sergio Mendes and the Class of '66!
Thanksgiving Day marks the beginning of The Sounds of Brazil's streaming station at Connectbrazil.com. Thankful.
Sergio Mendes has won Grammys and Emmys, has given us jazz classics and Top Ten hits and even now in his seventh decade continues to add to an iconic career: a brand-new album for 2020.
The title? In The Key of Joy. And it's not your typical release, even for Sergio Mendes.
"This album is all about joy and celebration," Mendes says in an interview with his label Concord Records. "I'm very curious, and I love to work with different people from different cultures, different countries, different generations and different styles."
Get the Connect Brazil e-letter
So When Will It Be Released?
Connect Brazil has been tracking the album's progress for more than two years now and here what we know today.
In The Key of Joy will be released as a soundtrack to support a feature documentary on the life and music of Sergio Mendes, directed by John Scheinfield.
Musical documentaries are fertile ground for Scheinfield whose filmmaking credits include Chasing Trane, The U.S. vs. John Lennon and Who Is Harry Nilsson.
Choose From Two Versions
Two editions of the album will be released – along with a good selection of Mendes Bossa bling – to support the rollout:
The Standard edition with a dozen new songs, plus a Deluxe edition, featuring the documentary's soundtrack, and no less than 16 classic hits from Mendes's storied career.
"Of course, my personal musical journey is related to a very important period of Brazilian music," said Sergio Mendes to Billboard's Andrew Southam during film shoots while in Brazil in 2017. "When I began my life as a musician, it was the early days of bossa nova, which was the sound that would seduce and enchant the world, making Brazilian music internationally known!"
Cultural collaborations have become Sergio Mendes's calling card and In the Key of Joy features mix of rising pop stars, Brazilian legends, international hitmakers and familiar faces to these 12 originals:
The soon-to-be-released new album includes Brazil's highly-respected instrumentalists Hermeto Pascoal, Joao Donato and Guinga, Chicago rapper Common, The Voice's Sugar Joans, Brazilian samba star Rogê, Columbia's Cali y El Dandee, Compton rapper Buddy, Sheléa, Joe Pizzulo and Mendes' wife and lead vocalist, Gracinha Leporace.
The documentary includes archival footage and family photos, interviews with Mendes' contemporaries and artists he' influenced, and, of course, music from throughout his career.
The Official Release Date
In the Key of Joy has a projected album release date of February 28, 2020. But… this date could change. We'll keep you posted.
Concord's official press release included this reflection of thanksgiving from Sergio Mendes:
"I've been very blessed to have had such a long career," he says sincerely. "There's an English word that I love and that I use a lot, which is 'serendipity.' I've been fortunate to have so many beautiful encounters in my life."
Make a Joyful noise.
Pre-order your copy today:
Disc 1/Standard Edition
01. Sabor Do Rio featuring Common (4:12)
02. Bora Lá featuring Rogê and Gracinha Leporace (3:21)
03. La Noche Entera featuring Cali y El Dandee (2:54)
04. Samba In Heaven featuring Sugar Joans (3:56)
05. Muganga featuring Gracinha Leporace (4:13)
06. In The Key Of Joy featuring Buddy (3:14)
07. Love Came Between Us featuring Joe Pizzulo (4:16)
08. Catch The Wave featuring Sheléa (3:12)
09. Romance In Copacabana (2:57)
10. This Is It (É Isso) featuring Hermeto Pascoal & Gracinha Leporace (2:56)
11. Times Goes By featuring Shelea Frazier (4:27)
12. Tangara featuring Gracinha Leporace and Guinga (3:59)
Official Documentary Soundtrack – Disc 2/Deluxe Edition
01. Mas Que Nada (2:39)
02. Agua De Beber with will.i.am (4:03)
03. Primitivo (3:57)
04. Lamento (No Morro) (3:21)
05. Pais Tropical (3:13)
06. Reza (4:52)
07. Consolacao (3:18)
08. Going Out Of My Head (3:04)
09. The Frog (2:46)
10. Morro Velho (4:35)
11. The Look of Love (2:46)
12. Constant Rain (3:16)
13. So Many Stars (4:31)
14. Tonga (A Tonga Da Mironga Do Kabulete) (3:26)
15. Never Gonna Let You Go (4:16)
16. Fanfarra – Cabua-Le-Le (4:01)