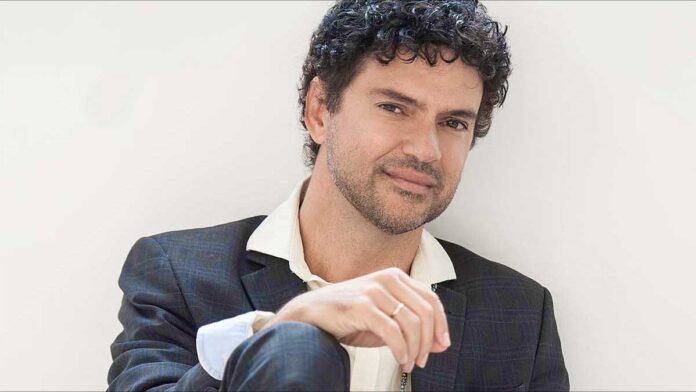 Browse our video list of October birthdays for Brazil's music makers.
October's Brazilian Music Birthdays include Brazil's most beautiful voice, a pair of Millennial heartthrobs, a bon vivant lyricist, a Bossa Nova legend, and the Mother of Brazilian pop.
---
Adriana Calcanhotto – October 3 | Vambora
Often softly romantic, sometimes reflective, or melancholic, Adriana Calcanhotto helped to reshape Brazilian pop music in the '90s. Her talents as a singer, songwriter, and acoustic guitarist were defined by her trademark soft-rock style and poetic lyrics.
Born into a musical family in Porto Alegre, her father was a drummer with Elis Regina and was a major musical influence.
One oddity from Calcanhotto's early days is that her entire setlist consisted of only ten songs. This was an idea that she stuck with, preferring venues with an imitate setting. It proved to be a clever decision and helped her to quickly gain a loyal following of passionate fans.
Adriana's music style is a perfect match for movies and Brazil's Novela soundtracks, and it is here where her career expanded. These opportunities introduced her music to millions of fans as a traditional Brazilian pop (MPB) performer. But she also became known as a champion of Brazil's new contemporary pop and soft rock scene.
Her chart successes stood alongside Marisa Monte and Leila Pinheiro. Calcanhotto is also a published author, illustrator, and lecturer at the University of Coimbra and is currently touring in Europe with Gilberto Gil in 2021.
Adriana Calcanhotto begins our list of October's Brazilian Music Birthdays.
Ana Clara Caetano – October 5 | Te Amar é Massa Demais
The first part of Brazil's popular pop-duo Anavitória celebrates a birthday today.
Ana Clara Caetano and Vitória Fernandes started out as schoolmates and friends living in Araguaína, in the far-off northern state of Tocantins, Brazil's newest state.
They earned a following as breakout YouTube sensations in 2014 and becasue of this they came to the attention of Tiago Iorc, who helped them record and release the duo's debut EP soon after.
With her siblings choosing careers in medicine and healthcare, Ana gave up promising studies in medical science to pursue the creation of Anavitoria in Sao Paulo.
Accomplished on piano and guitar, Ana is the songwriter of the two, and her songs have been performed or recorded by singer and social influencer Manu Gavassi, Sandy, Tiago Iorc, and the folk-rock duo OutraEu.
Jorge Vercillo – October 11 | Final Feliz
As one of Brazil's most successful hitmakers, Jorge Vercillo (who added the second "L" to his name due to superstition) is at the very pinnacle of Brazilian pop.
Why? Because he's sold nearly 5 million releases and he's a two-time Latin Grammy winner. Vercillo is the record holder of TV Globo novela themes (23). He remains the king for both the Adult and Brazilian Pop sales charts.
Jorge Vercillo was born and raised in Rio de Janeiro. He began singing in area clubs at age 16, after hearing a cassette tape of Djavan songs. In an unusual move, Vercillo flew to the Caribbean to enter the International Troubadour Festival in Curaçao at age 20. Wins in back-to-back years led to his debut album, Encontro das Águas and a pair of radio hits. It was the official beginning of a Brazilian success story that continues today.
What does Jorge Vercillo include on his list of all-time favorite albums? Stevie Wonder's Songs In The Key Of Life, James Taylor's Walking Man, George Benson's Give Me the Night, Milton Nascimento's beautiful Yauaretê and A Love Supreme by John Coltrane.
Leila Pinheiro – October 16 | Besame
Born in Belem, Leila Pinheiro remains one of the most intriguing and mesmerizing voices in Brazilian music.
She began studying piano at 10. A decade later, she decided to leave medical school to become a professional musician. In May of 1981, she moved to Rio de Janeiro where she was invited to record her first album.
Pinheiro headlined her first show there, only two years later. Surprisingly, her 1989 album Benção Bossa Nova became the only Bossa Nova record to ever achieve gold status in Brazil.
No matter what style or song she sings, Leila Pinheiro is an artist and a musician's musician. She continues to solidify her status as one of Brazil's top performers. Lately, Pinheiro has dedicated herself to following her artistic muse.
Most recently, she's released a number of reunion albums (with Roberto Menescal, guitarist Nelson Faria, and Antonio Adolfo.
Chiquinha Gonzaga and Dia da Música Popular Brasileira – October 17 | Lua Branca
Today is MPB (Música Popular Brasileira) Day in Brazil. It honors Chiquinha Gonzaga as the first official composer of Brazilian Popular Music on the day of her birth in 1847.
During her lifetime, Chiquinha Gonzaga composed many songs that became the cornerstone of Brazil's popular music. In fact, several of these are still well-known to this day.
Ordered as a National Day of Recognition by Brazilian President Dilma Rousseff in 2012, Gonzaga's pioneering work has inspired generations of musicians to pay homage through their own compositions.
Why? Because while MPB has changed its style many times, its core – created by Chiquinha Gonzaga – remains the same. She was also Brazil's first female orchestra conductor.
Gonzaga has influenced many of Brazil's greatest names including Elis Regina, Caetano Veloso, and Chico Buarque. She is an essential addition to our video list of October's Brazilian Music Birthdays.
Vinicius de Moraes – October 19 | Samba da Volta
Poet. Diplomat. Bon vivant, author, producer, singer, and songwriter, Vinicius de Moraes lived an amazing and uncompromising life.
This man fundamentally changed the nature of Brazilian music. He partnered with the best songwriters of his day to create beautiful, lasting, and memorable lyrics. His lyrics brought new life and success to several songs already assigned to the scrap bin of musical history.
Vinicius de Moraes is best known for penning the original lyrics to 'A Garota' de Ipanema' (The Girl From Ipanema) with composer Antonio Carlos Jobim. His lyrics grace 'Insensatez' and 'Chega de Saudade', too.
His song 'Samba da Bênção' (Blessing Samba) was covered by Bebel Gilberto on her Tanto Tempo album.
It's true that De Moraes had many musical partnerships, but his longest-lasting was with Toquinho, who he toured and recorded with often.
Vinicius de Moraes studied English at Oxford University and spoke five languages. He was married seven times. Vinicius lived in Los Angeles as vice-consul of Brazil and served similar roles in France and Montevideo.
He once famously said O uísque é o melhor amigo do homem—é o cão engarrafado ("Whiskey is man's best friend, it's a dog in the bottle"). He succumbed to alcoholism in 1980.
The mascot of the 2016 Summer Olympic Games in Rio de Janeiro was named in his honor.
Ernie Watts – October 23 | 1000 Watts (with Rique Pantoja)
Perhaps there is no greater instrumental translator of the Brazilian musical soul than saxophonist Ernie Watts. In fact, we're pretty darn comfortable with that notion.
Why? Watts toured with Buddy Rich's Big Band and was the featured soloist on several of Marvin Gaye's Motown albums. He's a two-time Grammy winner.
But the perfect way to celebrate Ernie Watts's birthday today is to create a playlist of his best Brazilian recordings.
Ernie Watts played the flute solo on Randy Crawford's 'Rio de Janeiro Blue'. Witness his presence on Sarah Vaughan's Brazilian Romance album. Listen to his Tenor sax soar on Oscar Castro-Neves's 'Scandal #2' and Rique Pantoja's '1000 Watts'. Or with guitarist Lee Ritenour on 'Rio Sol', or his own solo recording with Gilberto Gil, called Afoxé.
But, by all means, save Djavan's 'Esquinas' for last. Because when you turn down the lights, pick up your headphones and close your eyes, Ernie's sax will do the rest.
Roberto Menescal – October 25 | Rio (with Daniela Soledade)
One of Bossa Nova's greatest songwriters celebrates his birthday today. Roberto Menescal came of age at the height of Bossa Nova's Brazilian boom.
Early on, he partnered with songwriting partner Ronaldo Bôscoli, they penned a number of legendary songs. Many of them keyed in on the Bossa Nova lifestyle of 'Sea, Sun, and South'.
Bossa Nova anthems like 'Rio', 'O Barquinho' (The Little Boat), and 'Nós e O Mar' (We And The Sea) provided a soundtrack for a generation of upwardly mobile Brazilians.
Menescal's talents didn't end there. He became Music Director of Rio's largest music label. He went on to produce dozens of Brazil's best singers, including Emilio Santiago and Leila Pinheiro.
Today, Roberto Menescal is a living legend. He manages his own music label, Albatoz Musica. As a result, he produces and records handpicked projects from his island recording studio in Rio de Janeiro. Like this "new for 2021" single with Daniela Soledade.
Always cheerful and engaging, Menescal imprints his personality on everything he does. For instance, isn't it fitting that the best way to get to his studio is to hop aboard his 'little boat'? Priceless.
Happy birthday, Roberto!
Ricardo Silveira – October 26 | Beira do Mar
Over the course of his long career, Ricardo Silveira has earned a reputation as one of Brazil's most admired and respected instrumental musicians.
Born in Rio, Ricardo grew up listening to bossa nova, samba, and American Rock, and jazz. He began serious guitar study at age sixteen. Silveira is a graduate of the prestigious Berklee College of Music in Boston, where he studied alongside jazz greats Pat Metheny and Bill Frisell.
Silveira has played guitar on hundreds of recordings, including Milton Nascimento, Alexandra Jackson, and Gilberto Gil. He's heard on recordings by Moacir Santos, Gal Costa, Ivan Lins, and Joao Bosco. He's the featured guitarist on Vanessa Williams's hit single, 'Betcha Never'.
No doubt you've heard him with Chico Buarque and Don Grusin, just to name a handful of the incredible artists who appreciate Ricardo's playing. Happy birthday Ricardo, and welcome to our list of October's Brazilian Music Birthdays!
Milton Nascimento – October 26 | (with James Taylor and Nana Vasconselos)
Even in Brazil, Milton Nascimento's creative roots are as strikingly unique as his vocal range. From its resonant depth to the chime-like clarity of his falsetto mastery, his musical influences are of equal parts.
Nascimento not only combines an international vision – jazz, rock, and world – but his focus can also remain introspectively local.
In 1972, Milton guided the influential album 'Clube Da Esquina'. The double album spawned several hit singles. For instance, favorites, like 'Cravo e Canela' (Clove and Cinnamon), 'Cais' (The Pier) and 'Nada Será Como Antes' (Nothing Will Be As It Was). These songs are still being recorded by Brazil's pop superstars more than 50 years later.
Milton Nascimento's soulful voice is a mating of both the lower and upper registers. As a result, hs range moves beyond the traditionally designated roles for either male or female repertoires. He sings of community, the earth, friendship, love, truth, and character.
These are the things that bind all humanity together. It's no small wonder that he is able to touch us so deeply with just a single phrase.
Video Note: We've unearthed a rare 'full length' find: Milton Nascimento's appearance on NBC's Sunday Night from October 2, 1988, hosted by saxophonist David Sanborn. Enjoy!
October's Brazilian Music Birthdays
Stories like 'October's Brazilian Music Birthdays' are what we do. Why don't you join us?
Sign up for our emails on music, travel, friends and fun. Listen to our 'always live' streaming station and our 12 streaming music channels, always free. Browse our Lifestyle Directory. Click here to like our Facebook page and here for Brazilian events coast to coast.