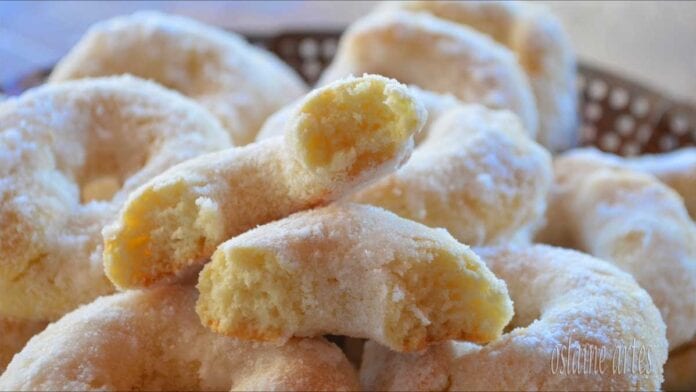 Over centuries, Brazil's Christmas traditions have been shaped by its 'melting pot' culture. Here's your chance to add a tasty one to yours.
Our recipe for Brazilian Christmas cookies is rich with flavor and tradition.
---
Brazil's Christmas cues come from Mother Portugal, Italy, the Dutch, the Spanish, and the French. But the far south of Brazil is home to the culturally-rich traditions of Germany, Austria and the Swiss, making many of Brazil's culinary Christmas traditions among the most prominent.
Our recipe for Brazilian Christmas cookies (called Rosquinha de Pinga) comes from the spirit of community between family, friends and neighbors at Christmastime.
For Brazilians, these little bites of joy are handed down from generation to generation:
"My mother baked these Rosquinhas de Pinga since I was a little girl: When I was old enough to help, she handed me an apron: Every year and always at Christmas time. Noe that she has passed, our family continues these holiday ritual to honor her and show how much she is alive in our hearts! So, today it is always with great emotion and joy, that we, united as a family, stand dressed in the same aprons as we make these Christmas cookies, while teaching our children."- Sirlene Maria Lucas Mori Micheloni
FYI: the word pinga in this recipe means cachaça, but don't worry, the alcohol evaporates so it's perfectly fine to 'overserve' your guests, even the littlest ones!
For the dough
2 eggs
7 oz. milk
2 tablespoons butter (room temperature)
7 oz. sugar
3.5 oz. of vegetable oil
1 tablespoon baking powder
2.2 lbs. of wheat flour
For the syrup (to cover the cookies)
8 oz. of cachaça
10 drops of rum essence
Decoration
6-10 oz of refined, or powdered sugar to sprinkle over the donuts to taste
How to make the dough
Add the oil, milk, butter, baking powder and sugar to your mixing bowl. Lightly tap the eggs with a fork, before adding them to the bowl.
Mix with a wooden spoon, then slowly add the wheat flour while mixing.
Continue mixing until it has a consistency equal to the mass of pie crust. When ready, the dough should not stick to your hands. Add a bit of water if it is too dry.
Take portions of the dough, then roll and join one end to the other, forming a circle.
Place your dough rings in a baking dish, then into the oven at 350 F (no need to grease the dish).
Watch your oven time. Remove when the tops of the cookies are white, and the sides are slightly golden. Hint: If the cookies get dark, they get hard.
While still hot, dip the cookies in the syrup and quickly sprinkle the sugar on top.
How to make the syrup:
Mix the ingredients in a bowl.
After dipping the baked cookies in the syrup and liberally sprinkling with sugar, let them cool well, then store in a glass container with a tight lid to avoid drying out.
Your Brazilian Christmas cookies will store easily for 3-5 days, but we expect that they will disappear quickly!
Yields 100 cookies
Stories like this one are what we do. Why don't you join us?
Sign up for our emails on music, travel, friends and fun. Listen to our 'always live' streaming station and our 12 streaming music channels, always free. Browse our Lifestyle Directory. Click here to like our Facebook page and here for Brazilian events coast to coast.