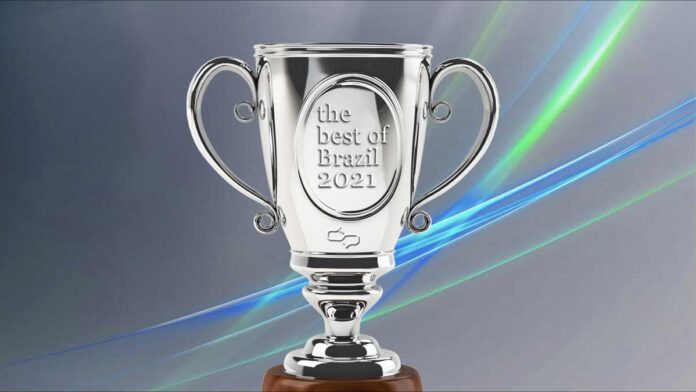 Our List Of Ten Top Brazilian Songs for 2021 Plus the Stories Behind Them.
The Best of Brazilian Music Showcase for 2021! It was a time of musical reflection and new beginnings for the musicians who gifted us with one of the best years for Brazilian music in recent memory.
---
The year that was
The Best of Brazilian Music 2021 will be remembered for the number of high-quality recordings representing Brazil's diverse styles.
This year brought impressive debuts. It brought reflective tribute albums. Three of our favorite instrumental stars brought us solo recordings. Grammy-winning pianist Gregg Karukas's Serenata, guitarist Ricardo Silveria's Solo, and keyboardist Marcos Ariel's Piano Blossoms.
Gal Costa released an impressive album. February's Nenhuma Dor features 10 all-male duets. And Marisa Monte delivered her first album in a decade. Portas was released on her birthday, July 1st.
We'll remember 2021 for the rise of the virtual concert with musicians like Minas and Daniela Soledade. And for its unforgettable stories and breaking news.
The year's top story centered on the Chinese pandemic and Brazil's Carnaval. Organizers in São Paulo and Salvador ended a century of tradition by moving the signature cultural event to July. Rio de Janeiro doubled down on its February dates. Then, it joined with the other cities, only to cancel Carnaval completely.
Brazil is in favor of a 2022 reboot. But, the outlook for next year is not promising. To date, nearly 60 cities have canceled their Carnaval plans for 2022.
The long-awaited documentary, Sergio Mendes & Friends: A Celebration debuted on PBS stations in early June. Did you miss it? Watch it here.
Brazil's Helio Castroneves (nephew of Oscar Castro-Neves) made sweet music of his own in 2021. He won his historic 4th win at the Indy 500 on Memorial Day weekend on the final corner of the last lap. Only three other drivers have won the Indy 500 four times since its inception 110 years ago. Less than a week later, we heard Helio co-host The Sounds of Brazil. He's the only celebrity to ever do so.
In November, Caetano Veloso and his son Tom won the Latin Grammy award for Record of the Year. Other winners this year include Anavitoria, Paulinho Da Viola, Ivete Sangalo, and a sentimental favorite, Luiz Caldas.
Looking ahead to 2022
2022 promises to be filled with milestone moments. Brazil will celebrate its Bicentennial year in 2022.
Connect Brazil will celebrate its 25th full year of service to Brazilian music and culture. And our syndicated radio show, The Sounds of Brazil will celebrate its 30th Anniversary. It's the one that started it all.
An exciting year awaits! The first of several announcements will happen on January 3rd.
Listen to The Best of Brazil 2021 radio special
The Sounds of Brazil's annual 'Best of Brazilian Music' special will be streamed and broadcast here.
It airs Sunday, December 26th through January 2nd, 2022. This program will also be available on-demand. On-demand listening begins December 26 through January 9th, 2022.
You'll hear each of the songs below. Plus, you'll enjoy many more of 2021's best. You are invited to tune in.
For fans like us, 2021 will be remembered as an exceptional year for New Music. More than 40 releases dotted our streaming network's playlists.
Here are 10 of the very best. The best of Brazilian music 2021!
Scott Adams, Midday Host
The Sounds of Brazil's streaming station at Connectbrazil.com
The Best of Brazilian Music 2021
Gregg Karukas | Travessia from Serenata
It was mid-February when Serenata arrived on our doorstep. But, it was apparent that Gregg Karukas had created something extraordinary with his solo piano album.
This autobiographic collection tells a story of personal discovery and reflection. It does this by recalling two important periods of the pianist's life. First, at the very beginning of his career, pre-dating his time with Sergio Mendes. Then later, when he stopped playing altogether to support and care for his wife, Yvonne. This album grew from the aftermath.
Recording a solo album is perhaps the greatest risk a musician can take. And also the most rewarding. Serenata is at once powerful and intimate. His performance never wanes or wanders. Even the softest passages reflect the passion and vitality that songwriters like Milton Nascimento and Dori Caymmi bring to their originals.
2021 has been a remarkable year for Brazilian music on many levels, but no recording reflected honesty of emotion and a personal connection to the music quite like Serenata. Read more…
Follow Gregg Karukas on
Website | Facebook | YouTube | Instagram | Twitter | Serenata StoryStream
Amazon | Apple Music | Gregg Karukas store
Listen Free: Brazilian Jazz | Sunday Brazilian Brunch | Our Streaming Station
Kenney Polson | Incompatibilidade de Genios (Latin Lovers) from Colors of Brazil
It's true. Saxophonist Kenney Polson has lived a life that countless musicians can only dream of.
He has lived in Rio de Janeiro. In fact, Polson lived just off the beach in Ipanema for five years. He'll be the first to admit that some of his happiest times were spent there. And he met, performed, and recorded with many of Rio's best musicians. Colors of Brazil is the result of these experiences.
"I recorded some of the selections for Colors of Brazil while I was there. My goal was to capture the sound and energy of the rhythm and tempo of life according to Brazil. I wanted to share with those who've always wanted to go to Brazil but haven't yet had the opportunity to do so."
Colors of Brazil features familiar tunes from Brazil's superstar songwriters like Ary Barroso, Djavan, and João Bosco. Want more? How about Caetano Veloso, Ivan Lins, Dori Caymmi, and guitarist Toninho Horta?
Tenor sax, Alto, Soprano, and Baritone Saxophones all have their place in Polson's talented, tropical musical palette. Even Clarinet and Bass Clarinet.
Richly arranged, contemporary, and authentic. Colors of Brazil is a Brazilian jazz album that has earned its place with the best recordings of its kind. Read more…
Follow Kenney Polson on
Website | Facebook | YouTube | Instagram | Twitter
Listen Free: Brazilian Jazz | Sunday Brazilian Brunch | XODO | Our Streaming Station
Brasuka | Samba Jiji from A Vida Com Paixão
How time flies. Brasuka started out as a Sergio Mendes tribute band nearly a decade ago in Dallas. Today, their debut album has pushed into the jazz chart 'top 40', making Brasuka a local Brazilian American success story. A Vida Com Paixão is a worthy addition to our Best of Brazilian Music 2021 video showcase.
Brasuka is six musicians who all live in and around Dallas. The group is a musical feijoada of five distinct cultures. Uruguay, Cuba, Puerto Rico, Mexico, and the United States. And they've come together through their shared love of Brazilian music. So how does it work?
"There is no one leader. We're all invested. Rehearsals are often day-long events. We eat together, write, arrange, eat some more," says vocalist Rosana Eckert. She is also the spokesperson for the group.
Press play and you'll appreciate the dedication they bring to their music. Brasuka is original, authentic, and adventurous. Fans of legendary Brazilian jazz groups like Velas and Magrus & The Rainforest Band can rejoice.
The album's first single also happens to be Brasuka's first original song.
Sensuous and spirited, 'Samba Jiji' has an interesting story. Is 'Jiji' someone's name? "No, actually, it's kind of a silly story," says Eckert. Four of us are Spanish speakers, and there are certain words that look the same in Spanish as they do in Portuguese, but are pronounced differently.
In this case, it's a nod to the word "de" (meaning "of"), pronounced in the Brazilian way, with a hard 'G' – thus, 'Samba Jiji'!
Dallas has loved Brasuka for ten musical years. Our advice? Don't wait a minute more.
Follow Brasuka on
Website | Facebook | YouTube | Instagram | Twitter
Amazon | Apple Music | Shop Brasuka's Store
Listen Free: Brazilian Jazz | Sunday Brazilian Brunch | XODO | Our Streaming Station
Cecy Santana | Um Amor Assim
Remember this from last summer? Midway between California's Laguna Beach and Miami Beach is Chicago's Oak Street Beach. This summery third-coast strip of sun, surf, and sand is where you'll most likely find Cecy Santana on any given day. Or not. Because Cecy Santana stays busy.
Cecy Santana is originally from São Paulo. These days, she calls the Windy City her home. Somehow, she manages to squeeze more life into every day than most Chicagoans. And that's saying a lot for the city that never sleeps.
For 2021, Cecy (the daughter of famed Brazilian trumpeter Carlos Santana) gifted us with her third Brazilian single. It's an original duet, co-written and performed with Tantric's lead singer, Hugo Ferreira.
'Um Amor Assim' was arranged for voice and guitar. Two more versions followed. First, a soft reggae vibe. Next, as an energetic dance track.
Santana explains. "Hugo and I decided to donate the song to an organization that uses music to raise funds for kids in need. To help with their education. So, to make sure everyone was happy, we decided to do three versions."
Brazil celebrates its Bicentennial in 2022. What does Cecy Santana have planned?
"For my Brazilian side, I'm working on an EP called São Paulo (my original hometown!) which will contain three original songs. And here's a secret. São Paulo will include an original arrangement of a Bossa Nova evergreen. I think you're gonna love it!" Read more…
Follow Cecy Santana on
Website | Facebook | YouTube | Instagram | Twitter
Listen Free: Preciso Brazilian | XODO | Our Streaming Station
Kristen Mather de Andrade | O Clarinete Gostoso (Velocity Music Remix)
Here's something we've all learned this year. Never underestimate the creativity and ingenuity of Brazilian American musicians. Kristen Mather de Andrade is a shining example.
Her debut album Clarão caught our attention when dropped last July. Mather de Andrade is Principal Clarinetist with one of America's most respected Concert Bands. Her album explores one of Brazil's storied – but admittedly less popular – instrumental music forms, Choro.
This 5-star recording has turned heads and opened ears in ways that previous Choro albums have not. Clarão succeeds because Mather de Andrade trusts her talent, her instinct, and her craft.
She also knows the importance of taking risks. So, when the Velocity Remix of 'O Clarinete Gostoso' arrived in our inbox, brief seconds passed before we pressed 'play'.
The word audacious comes to mind.
"I had gone to see Sergio Krakowski play with a couple of friends, and I remember talking about rhythms and samples," she said. "So, I had it hiding in the back of my mind that maybe I could do something different with this music in the future."
Kristen Mather de Andrade turned to New York's music production house, Velocity Music and Anthony Barfield to help bring this variation to creation.
What do they do? Velocity's website explains. "Velocity Music specializes in many genres of music including Hip-Hop, R&B, Billboard Pop, film music, and concert music."
Together, Barfield and Mather de Andrade morphed 'O Clarinete Gostoso' into a rhythmically-sampled contemporary Choro. The remix is meant to be playful and fun, just like the original.
Choro purists will cringe. We just smile. Read more…
You might also enjoy Kristen's beautiful new Evergreen. Winter and holiday music for clarinet. piano and cello. Here.
Follow Kristen Mather de Andrade on
Website | Facebook | YouTube | Instagram | Twitter
Amazon | Apple Music | Buy 'O Clarinete Gostoso' (Velocity remix)
Listen Free: Brazilian Jazz | XODO | Preciso Brazilian | Our Streaming Station
Antonio Adolfo | The Girl From Ipanema from Jobim Forever
Here's Brazilian jazz pianist Antonio Adolfo in his own words. "It was 1959 and I was 12, studying at a boarding school in Rio de Janeiro. On weekends when we went out, we would listen to music on my mother's car radio. Something magical came through that car radio; it was the song 'A Felicidade'. It gave me a feeling I had never experienced before, a true and profound 'love at first sight'."
Six decades later, that same song was included on Adolfo's 2021 album, Jobim Forever. He turned to Ze Renato's voice to lend musical patina to this version. His presence echos Adolfo's long-held memories of that song.
All but one of these nine evergreens come from Jobim's songwriting of the '60s. These were Antonio Adolfo's formative years while coming of age in Rio de Janeiro, the city of Bossa Nova's birth.
Amazingly, Antonio Adolfo has released at least one album each year since 2012. Even more impressive is the fact that he has released 16 original albums since 2006.
Adolfo is creating a legacy for the Brazilian jazz piano, and Jobim Forever is the latest chapter of a unique, Brazilian story. Read more…
Follow Antonio Adolfo on
Website | Facebook | YouTube | Instagram | Twitter
Listen Free: Brazilian Jazz | Sunday Brazilian Brunch | Our Streaming Station
Fred Martins | A Filha da Porta-bandeira from Ultramarino
Chances are pretty good that wherever you travel, Brazilian music isn't too far away.
Take singer and songwriter Fred Martins for example. Don't know his name or his music? That's okay. His appearance here for The Best of Brazilian Music 2021 will surely help to change that.
Maybe you are familiar with a few of the musicians who have recorded and performed his songs. A short list includes Adriana Calcanhoto, Ney Matogrosso, Maria Rita, and Zelia Duncan.
Currently based in Lisbon, Martins has been busy establishing himself as a creative force throughout Europe. He's released seven albums and a pair of DVDs, too. 2021 saw the release of Ultramarino on May 7th and this 13-track, 'voice and guitar' album immediately caught our attention.
If you're a fan of João Gilberto, then you're sure to welcome Martins' throwback style found throughout this recording. 'A Filha da Porta-bandeira' is a Fred Martins original but sounds as if it was penned during Brazil's Golden Age.
Resonant and nuanced, Fred Martins' vocals are what you would hope to expect for a samba of this caliber. His voice artistically weaves the story through stanza after stanza, carried by rich, acoustic six-string harmonies.
We love this song and its place on this list is well-deserved. Here's hoping that a music label will bring Ultramarino to America, much sooner than later.
Follow Fred Martins on
Website | Facebook | YouTube | Instagram
Amazon | Apple Music | Shop Fred Martins' Store
Listen Free: Brazilian Jazz | BossaNovaville | Our Streaming Station
Zeca Baleiro | Às Vezes o Amor from Canções D' Além Mar
Certainly, 'roots' Bossa Nova is easy to find. Even if we have to dig through our personal playlists to get to it. But what about Old School MPB? And what exactly would that even be?
Musica Popular Brasileira didn't start out as a marketing term. But, it became one in '80s Brazil when its meaning became… diffused. What does MPB mean today? Not sure, but we're certain Anitta wouldn't want to have anything to do with it.
Thank God for Zeca Baleiro. He's a 55-year-old multi-Latin Grammy winner from Brazil's far northeastern state of Maranhão. Alcione and Tania Maria also hail from Maranhão.
Admittedly, Zeca's music is new to us. His northeastern roots include Brazilian rock and Samba. But, when he turns to MPB – as on 'Às Vezes o Amor' – he gravitates at a respectful distance from the Masters of MPB. Then he allows his talent to do the rest.
No doubt, Baleiro's delivery can be laid back and even languid at times. That's when he's at his best. His stories settle into an easy groove and his performance draws you in.
That's what describes his late July 2020 album, Canções D' Além Mar. When we saw that it was nominated for Best Brazilian Popular Music Album, we selected Baleiro for our Latin Grammy Nominees cover photo.
It was a difficult choice, given that the nominees list included Caetano Veloso, Anavitoria, Antonio Adolfo, Diogo Nogueira and Luedji Luna.
But we liked the song. And when Zeca Baleiro won a Latin Grammy for it on November 18th, we liked it a little bit more.
Follow Zeca Baleiro on
Website | Facebook | YouTube | Instagram | Twitter
Listen Free: XODO | Preciso Brazilian | Our Streaming Station
Scott Fivelson, Songwriter | Secret Entrance To Your Heart, by Breeze BossaNova
For 2021, The Best of Brazilian Music Showcase updates the musical work of an award-winning Hollywood screenwriter and director.
Last year, Scott Fivelson's song, 'Secret Entrance to Your Heart', by Romania's Breeze BossaNova, quickly found a home on AccuRadio. The song found frequent rotation on Portugal's RCP FM 92.6. Same for Clube MegaHertz with its 20-plus international affiliates.
This year, Fivelson's 'Secret Entrance to Your Heart' has grown to become a listener-rated top performer.
Breeze BossaNova is the husband-and-wife team of Florin and Ioana Siia. They say "Bossa Nova is a state, a state that surrounds you and carries you into the most beautiful rooms of the soul."
Learn about Fivelson's approach to songwriting. Get the story behind the growing popularity of 'Secret Entrance to Your Heart'. Read more…
Follow Scott Fivelson and Breeze BossaNova on
Breeze BossaNova: Facebook | YouTube | Instagram | Twitter
Scott Fivelson: Wikipedia | Facebook | YouTube | Instagram | IMDb
Listen Free: XODO | Preciso Brazilian | Our Streaming Station
Roy Stephansen | Carefree Days In Cabo Frio (Surf at Sunset mix)
Look at your watch. Whatever time it is, one thing is certain. It's already dark this time of year in trombonist Roy Stephansen's hometown. He lives in one of the world's northern-most regions, Finnmark, at the tip of Norway. Currently, it's -5 F in the land of the Midnight Sun, with an 80% chance of snow.
You would think it impossible to find Bossa Nova inspiration at the edge of the arctic circle. But in fact, the opposite is true. Connect Brazil's phrase "Let the music take you there" suits Roy Stephansen just fine, thank you.
You see, Roy's home studio stays busy all year long. His imagination guides him to create wonderful songs which really resonate with Brazilian jazz fans. Often, they outperform music from well-known musicians.
This year, Roy has revisited his 2020 hit 'Carefree Days In Cabo Frio'. His Surf at Sunset mix brings a brighter pace and a sweet electric guitar solo that's sure to please your ears, without even a hint of frostbite.
Roy's music embodies the spirit of Connect Brazil. Each of us comes to Brazilian music and culture from different places to discover new ways to appreciate it. What could be better? Read more…
Follow Roy Stephansen on
Listen Free: Brazilian Jazz | Bossa Nova Love Affair | Our Streaming Station
The Best of Brazilian Music 2021
Stories like 'The Best of Brazilian Music 2021' are what we do. Why don't you join us?