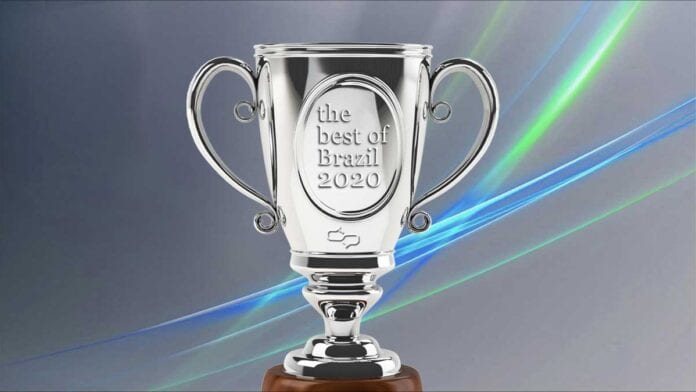 THE BEST OF BRAZILIAN MUSIC SHOWCASE FOR 2020 – AND THE STORIES BEHIND EACH ONE
The Best of Brazilian Music Showcase for 2020! For Brazilian music fans, 2020 will be remembered for the life-changing challenges we have faced, and for the role that music – and the talented musicians who create it – played in lifting our spirits and providing the comfort we need.
2020 Highlights
COVID-19 shaped events in this year of years: Sao Paulo and Salvador moved their Carnaval dates to July 2021, while Rio's Mayor lost his job after cancelling the 2021 event.
We predicted winners for the Latin Grammys which went virtual this this year, and after months of planning, COVID forced Djavan to cancel the largest US concert tour of his career.
We named 2020's Top Summer Sambas. Marisa Monte hinted at a new studio album and after long delays, both Sergio Mendes and Bebel Gilberto released new albums.
When our favorite eateries went dark, we shared The 7 Essential Truths for Brazil On The Grill. Even National Cachaca Day went virtual (but the buzz was not).
Connect Brazil stepped up to help to Brazilian American small business with summer's Best Brazilian Burgers guide and our Brazilian Comfort Food guide. And we explained why Brazilians speak Portuguese, not Spanish.
The Best of Brazilian Music Showcase for 2020
Toninho Horta/Nanando
Let's begin with a Latin Grammy winner for Toninho Horta. Belo Horizonte (named after his hometown) commemorates Horta's 50th year in music and marks a stunning, creative return after a long decade away from the spotlight. The 17-song track list begins with fan favorites, including 'Beijo Partido', 'Aqui O' and 'Durango Kid' while that second half broadens our musical palates with a new vision of his music. Throughout, is the sophisticated elegance that's remained a hallmark of Horta's warmly soulful sound. Special guests include Joyce, Lisa Ono and Joao Bosco with Orquestra Fantasma.
Kell Smith/Seja Genti
There's a reason why Kell Smith graced the cover of our Millennial Music Makers story last October: She's becoming a modern face of Brazil's always-evolving MPB. Growing up with gospel music as a daughter of missionaries, Keylla's musical interests emerged after her father introduced her to Elis Regina's Falso Brilhante album as a 12-year-old. YouTube launched her career in 2017 with 'Era Uma Vez' ('Once Upon A Time') with more than 270 million views and 65 million plays on Spotify. Listeners gave 'Seja Gentil' highest marks for a Brazilian pop vocal this year, earning its place in the Best of Brazilian Music Showcase for 2020. Listen for Kell's new song 'Nossa Bossa' on our streaming station beginning Decemebr 26th.
Daniela Soledade/My Favorite Things
Brazilian American vocalist Daniela Soledade returns to our list this year with a late entry that might surprise. 'My Favorite Things' is not only a welcome gift for the holidays, but it also invites us to read the tea leaves for 2021. Soledade's debut recording, A Moment of You drew well-earned kudos from top critics (including JAZZIZ) for "her quiet, intimate style", which is captured to near-perfection on this timeless classic. What's ahead? The studio door leading to her sophomore album. Meanwhile, listen for Daniela singing on Roberto Vally's 'A Minha Dor' on Connect Brazil's streaming station as we begin the New Year. Read more…
Torcuato Mariano/Beyond Paradise
How good is Escola Brasileira? Before its release, Bossa Nova legend Roberto Menescal wrote, "Torcuato, I always wanted to be that musician that you are." Heady words, but the popular 'Ocean Way' guitarist and music director for The Voice: Brazil backs them up with an album that keeps giving us reasons to create even more musical memories. 'A Pata da Preta', 'Jogando Bola' and Tony Scruggs singing on 'Beyond Paradise' are noteworthy compliments to Mariano's sixth solo album, and his first in a decade. An essential addition to The Best of Brazilian Music Showcase for 2020.
Antonio Adolfo/Cancao Do Sal (Salt Song)
For 2020, Brazilian jazz pianist Antonio Adolfo's creative energy pays tribute to the music of Milton Nascimento. To prepare, he spent half a year delving into 30 of Nascimento's best songs to select nine for this album. This process of empathy and respect for Milton's music reveals itself as Adolfo sits down to the Brazilian piano: he's comfortable in his relationship with this music and with the universe he's created to interpret it. From the musicians to the arrangements, to the recording itself. Antonio Adolfo's BruMa is one his best albums and it's a standout among the many Nascimento jazz homages we've enjoyed over the years. Read more….
Richard Sorce/Welcome Spring
We will always remember early April 2020. In fact, it was April 3rd when pianist Richard Sorce sent us this song, asking us to consider it for our streaming station. He wanted to help. 'Welcome Spring' is one of many songs which have buoyed the spirits of Brazilian jazz fans during this year of years. Sorce, who grew up with Brazilian music in the 60's is classically trained with a penchant for flowing melodies and arrangements which capture the optimistic warmth of Brazil, in much the same spirit as Oscar Castro-Neves. 'Welcome Spring' is the first single from the upcoming album Bossambal Brazil.
Marcos Ariel/Emerald Bay
Keyboardist Marcos Ariel is a household name for Brazilian jazz fans, and they will be delighted to see his Wave Hunter album make it to The Best of Brazilian Music Showcase for 2020. Here, Ariel is joined by fellow Cariocas; guitarist Enéas Marques and drummer Roberto Alemão Marques. All three have a penchant for the sea, and that's the basis for the album's eight tracks, including the breezy, uplifting 'Emerald Bay'. You'll catch their latest single 'Crystal Wave' on our streaming network, as Marcos Ariel puts the finishing touches on a new album for 2021. Read more…
Roy Stephansen/Carefree Days In Cabo Frio
It's The Land of the Midnight Sun, where the air is clean. Pure as the fallen snow. One of the world's northmost regions, Finnmark sits on the southern shore of the Artic Ocean but it's the Northern Lights which come in waves. It's also home to jazz Trombonist Roy Stephansen, whose long distance love affair with Brazilian music began in the 80's with Raul de Souza. Musically, Stephansen's Brazil comes to life in tropical tones and breezy melodies, making songs like 'Carefree Days In Cabio Frio' an irresistible invitation to get away. Listen, and you're virtually there, just like Roy.
Ella & The Bossa Beat/My Remedy
Our Best of Brazilian Music Showcases have been around long enough that we're beginning to see daughters of famous Brazilian musicians take their rightful place on Connect Brazil's streaming music playlists: Luiza Possi, Preta Gil, Bebel Gilberto come to mind. Consider newcomer Ella Borges of Ella and the Bossa Beat. Born in Brazil, singer and songwriter Ella also plays piano and guitar. Her father is the highly-respected drummer and producer Magrus Borges, who is a Grammy nominee with Bebel Gilberto's Agora album this year. Ella's 'My Remedy' is the title track of her debut recording: a soulful drift away original which inspires from the first note. Read more…
Scott Fivelson, Songwriter/Secret Entrance To Your Heart
This year, The Best of Brazilian Music Showcase for 2020 includes the musical work of an award-winning Hollywood screenwriter and director. Scott Fivelson's song, 'Secret Entrance to Your Heart', by Romania's Breeze BossaNova, quickly found a home on AccuRadio, in frequent rotation on Portugal's RCP FM 92.6 and on Clube MegaHertz with its 20-plus international affiliates. Breeze BossaNova is the husband-and-wife team of Florin and Ioana Siia, who say "Bossa Nova is a state, a state that surrounds you and carries you into the most beautiful rooms of the soul." Read more…
YouTube – Breeze BossaNova
Facebook – Breeze BossaNova
Facebook – Scott Fivelson
Stories like this are what we do. Why don't you join us?
Sign up for our emails on music, travel, friends and fun. Listen to our 'always live' streaming station and our 12 streaming music channels, always free. Browse our Lifestyle Directory. Click here to like our Facebook page and here for Brazilian events coast to coast.
MORE FROM CONNECT BRAZIL: