The Best of Emilio Santiago takes over the playlist for the Sunday Brazilian Brunch this weekend.
Welcome to The Sunday Brazilian Brunch
There's no better way to enjoy your Brazilian Sunday: A relaxing start with a view… feeling the warmth of the Brazilain sun as you weigh your options: Beach, pool and/or a little shopping, perhaps?
That's the spirit of The Sunday Brazilian Brunch, with The Best of Emilio Santiago. More below.
Listen Live! Make The Sunday Brazilian Brunch your weekend destination. Sundays only, for three full hours at 5 am, 9 am, 2 pm and 8 pm Central. Only on our streaming station at Connectrbazil.com. That's where to find us!
Today: The Best of Emilio Santiago
Emilio was a dear musical friend to The Sounds of Brazil! radio show, and one of the most wonderful things about his music is how it helped us to define our own 'Brazilian-ness'.
That warm, deep tenor voice of his amplified an intimate, personal quality that many of us were surprised to discover in our own musical lives.
Emilio Santiago occupied some 'rare air' in Brazilian music.
After a couple of early music festival wins and nearly a dozen releases (his first, self-titled LP came in 1975), Santiago transformed himself under Bossa master Roberto Menescal's tutelage in the late 80'.
Menescal's concept paired Santiago with his outstanding 'Aquarela Brasileira' series, an annual album which found Santiago recreating the years' best new Brazilian hits.
Released just before Christmas, this seven-year series sold more than 4 million copies to make Emilio Santiago a household name from Rio to Recifie.
And – thanks to his many recordings – he'll once again add his voice to the softer side of Brazilian song on the Brazilian Brunch.
The Best of Emilio Santiago is the perfect soundtrack for working on that Christmas card list (along with your favorite hot beverage of choice) when you tune in for awhile this Sunday.
Happy Listening,
Scott Adams
Video: Don't miss Rio de Janeiro's iconic Chritsmas tree lighting, with 'live' fan video. What an experience!
Muisc, Travel, Friends and Fun! Sign up for Connectbrazil.com's e-letter
Brazilian Brunch Spot of the Week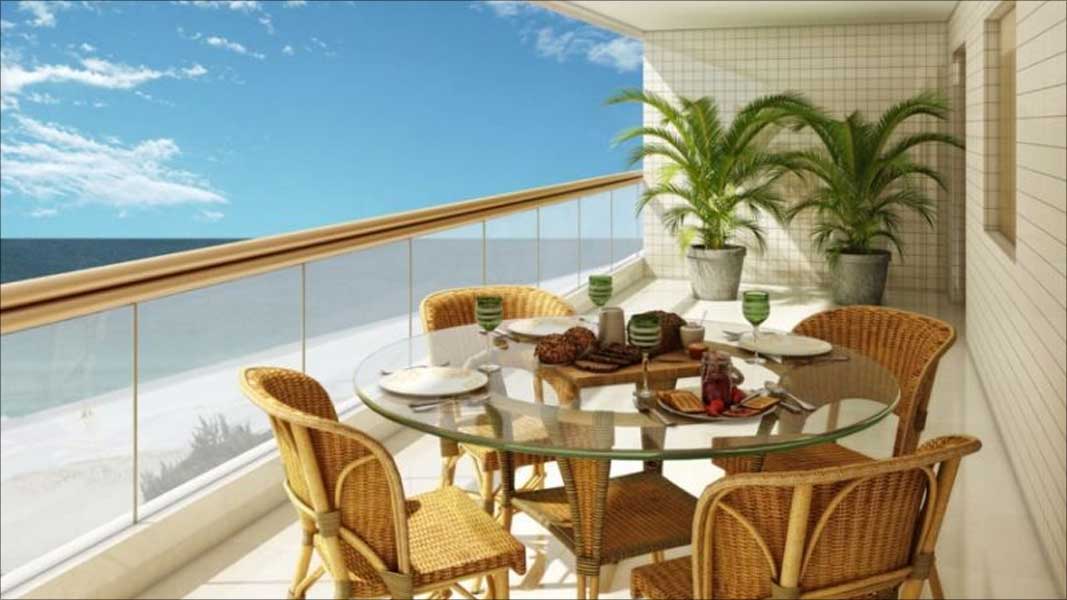 The crystal clear waters and countless coves and inlets of Cabo Frio are an easy drive up the coast from the city of Rio de Janeiro. They are among the many attractions of the state of Rio de Janeiro.
Cabo Frio and nearby Buzios have been a popular destination of choice with savvy travelers for decades – ever since French starlet Brigitte Bardot succumbed to the area's charms in the early 60's.
Google Maps: Zoom in on Cabo Frio. Use the Street View to visit the beaches & coves!
Long favored by city-weary, Rio weekenders, this beach-side condo reflects the simple charms of Cabo Frio and the easy lifestyle that goes with it.
Visitors love the comfort, location, facilities and value which makes the Praia Grande Residence a top choice for the area.
But plan ahead, as bookings are hard to come by. Breakfast is not served at this location but brunch lovers will revel in the local seaside options nearby.
Praia Grande Residence                Directory
Av. Hermes Barcellos, 350
Praia Grande
Arraial do Cabo, RJ 28960000
55 21 98543-7620
~ ~ ~
The Best of Emilio Santiago
Join us on our streaming station for three full hours, Sundays Only!
Listen Live to The Sunday Brazilian Brunch beginning at 5 am, 9 am and 2 pm Central time every Sunday for The Sunday Brazilain Brunch: plenty of great music and a story or two.
Or tune in for the Sunday Brazilian Brunch nightcap at 8 pm CT.