Antonio Adolfo's latest album is a personal tribute to the Brazilian legend who inspired his own career in Brazilian jazz.
Antonio Adolfo reflects on Jobim Forever, adding his latest Brazilian jazz album to a long list of impressive recordings. Here's how he did it.
---
by Scott Adams
First, let's begin with some breaking news. Antonio Adolfo has been nominated for a Latin Grammy award this year, in the category of Best Latin Jazz Album.
But the nomination is not for his current album, Jobim Forever. It's for Bruma: Celebrating Milton Nascimento, the Brazilian jazz pianist's songbook tribute to the MPB singer and songwriter.
And as major news stories in the world of Brazilian jazz go, you might find it insightful. Because as Adolfo reflects on Jobim Forever, we're reminded that his point-of-view shapes each of his tribute and songbook projects.
Last year, I asked him to explain how he does it.
"My way of writing arrangements begins with bringing the music to my universe. The best way to find my perspective with someone else's music is to play those songs over and over. I do it until I feel that it has become part of me. I get to the point where I become almost a partner. Of course, this process requires time and deep research."
For Jobim Forever, Antonio Adolfo surely must have set aside an abundance of both. Because, when it comes to Antonio Carlos Jobim's music, it's not like tributes and songbook collections haven't been done before.
So, for a unique portrayal of Jobim's music to stand out, it takes something more. Something personal.
Antonio Adolfo Reflects On Jobim Forever
Here's Antonio Adolfo writing in the album's liner notes and reflecting on Jobim's impact on his young life:
"It was 1959 and I was 12, studying at a boarding school in Rio de Janeiro. On weekends when we went out, we would listen to music on my mother's car radio. Something magical came through that car radio; it was the song 'A Felicidade'. It gave me a feeling I had never experienced before, a true and profound 'love at first sight'."
Six decades later, 'A Felicidade' finds a place of honor on the setlist for this album. Ze Renato's voice adds a poignant touch, echoing Adolfo's long-held memories of that song.
All but one of these nine evergreens come from Jobim's songwriting of the '60s. These were Antonio Adolfo's formative years while coming of age in Rio de Janeiro, the city of Bossa Nova's birth.
Savoring the music
When you settle in with Jobim Forever, it's easy to hear that Adolfo approached this recording with reverence and confidence. Years from now, when Antonio Adolfo reflects on Jobim Forever, he's sure to smile.
It'll be the same smile he's shared with us many times in recent years.
You'd have to go back a decade to find a year where Adolfo didn't have a new album released. Take your tally five years beyond that and you'll discover that Antonio Adolfo had released 16 albums since 2006.
My two cents? Don't let this album pass you by. You'll be rewarded with one of the most thoughtful and compelling Brazilian jazz albums of its kind.
Enter today to win The Jobim Forever Giveaway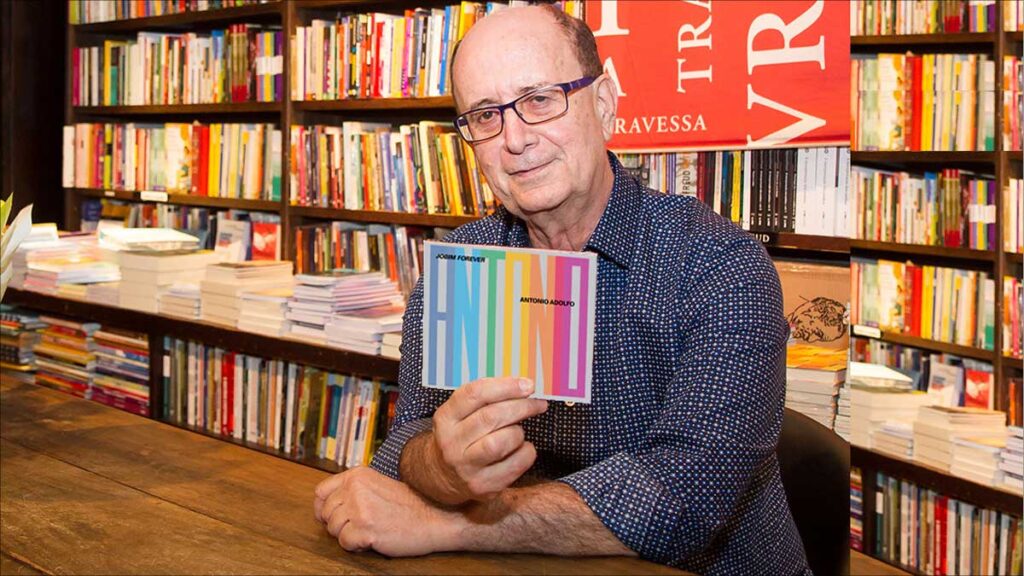 Breaking news: Grammy consideration for Jobim Forever
Antonio Adolfo's Jobim Forever is in the running for January 2022's Grammy awards, for:
Best Latin Jazz album
The Best arrangement instrumental or A Cappella (The Girl From Ipanema), (Wave)
Best arrangement, instruments and vocal (A Felicidade)
The Best Jazz soloist: Danilo Sinna (Favela), Rafael Rocha (Wave)
Best engineered album Non-classical
The official nominations for the 2022 Grammy awards will be announced on November 23rd.
That's five days after the Latin Grammy ceremony, where Antonio Adolfo's Bruma is nominated for 'Best Latin Jazz/Jazz' album.
Congratulations to Antonio Adolfo for this recognition of his talent and creativity.
Antonio Adolfo Reflects On Jobim Forever
Get to know Brazilian Jazz pianist Antonio Adolfo
Follow Adolfo Adolfo on
Facebook | YouTube | Instagram | Twitter
Amazon | iTunes | Google Play | Spotify | Deezer | Tidal
Stories like 'Antonio Adolfo reflects on Jobim Forever' are what we do. Why don't you join us?
Sign up for our emails on music, travel, friends and fun. Listen to our 'always live' streaming station and our 12 streaming music channels, always free. Browse our Lifestyle Directory. Click here to like our Facebook page and here for Brazilian events coast to coast.
Jobim Forever – Antonio Adolfo
The Girl From Ipanema
Wave
A Felicidade
How Insensitive
Favela (O Morro Não Tem Vez)
Inutil Paisagem
Agua De Beber
Amparo (Intro: Por Toda A Minha Vida)
Estrada Do Sol
Produced and arranged by Antonio Adolfo
Antonio Adolfo (piano), Jesse Sadoc (trumpet, flugelhorn), Danilo Sinna (alto saxophone), Marcelo Martins (tenor and soprano saxophones, flute), Rafael Rocha (trombone), Lula Galvao (guitars), Jorge Helder (bass), Paulo Braga (drums), Rafael Barata (drums, percussion), Dada Costa (percussion), Ze Renato (vocals, on 'A Felicidade')
Featured Video for Antonio Adolfo Reflects On Jobim Forever