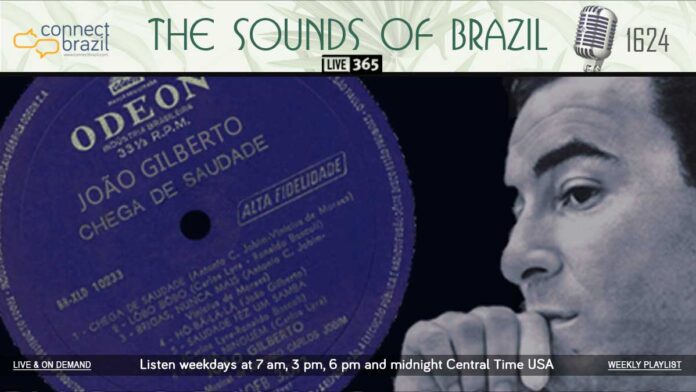 Chega! Bossa Nova's First Song
| Air Date: 07-09-23 through 07-16-23
| On-Demand: 07-09-23 through 07-23-23
Live365.com is the official streaming radio partner for The Sounds of Brazil!
This two-hour program airs 4X daily on our streaming Station. You are invited to listen, Monday to Friday at 7 am, 3 pm, 6 pm, and midnight Central Time (US). Weekend times, too:
On The Radio: Listen to The Sounds of Brazil every Sunday, 2-4 pm on Chicago's 90.9 FM WDCB and streaming live at wdcb.org.
On-Demand: Click here to listen to this program anytime: through July 16, 2023.
Sign up for our emails on music, travel, friends & fun. Click here to like us on Facebook.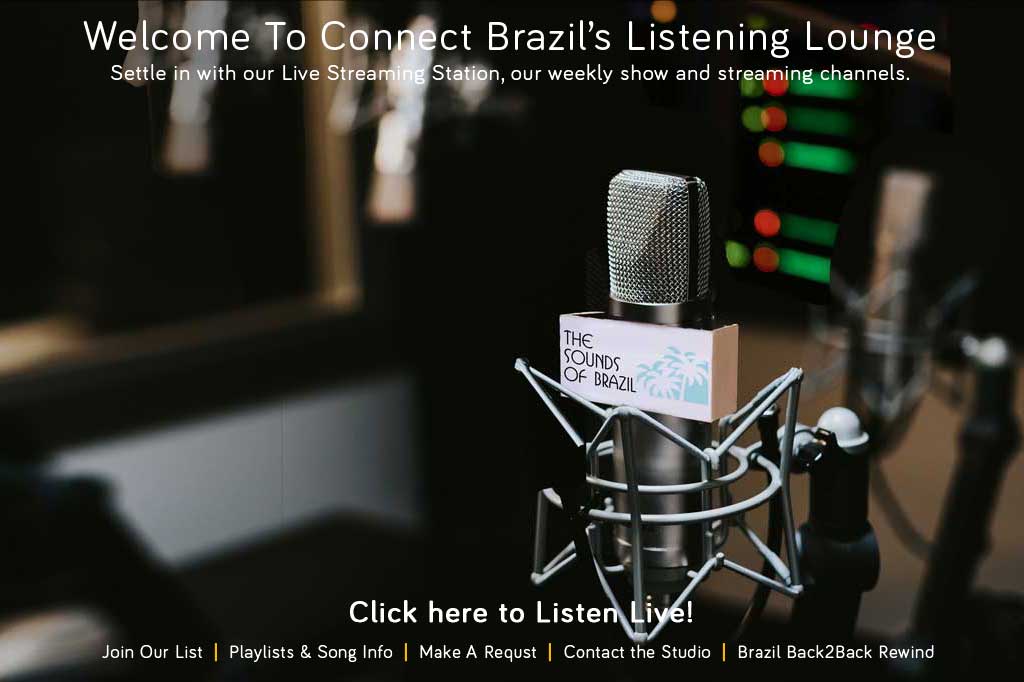 Daily Listening Schedule | Time Zone Converter | Brazil Back2Back
Make A Request | Send a message to Scott
My Producer's Notes
Welcome!
Sixty-five years ago this week, – on July 10th, 1958 – a down-on-his-luck musician walked into a recording studio in Rio de Janeiro to become Bossa Nova's unlikely hero.
Can you imagine a world without Bossa Nova? It almost happened.
The Sounds of Brazil brings you a special program: the musical story behind Bossa Nova's first song, 'Chega de Saudade'. It's a story that almost didn't happen and it's filled with twists and turns that shaped music history.
We'll go back in time to hear what Brazilian music sounded like before Bossa Nova, and we'll re-live the events that transformed an unremarkable song by Antonio Carlos Jobim into one of the most important moments in Brazilian music, ever.
But first, let's catch up with a few timely tips for the week ahead:
Happy Listening,
Scott Adams
~ ~ ~
Join me for The Sunday Brazilian Brunch when I'll feature the best new music for summer!
You are invited to listen live! Smooth out the bumps of a busy week. Three full hours every Sunday beginning at 5 am Central, and then again at 9 am, 2 pm, and 8 pm. No app is needed when you click the 'play' buttons on the Sunday Brazilain Brunch page.
~ ~ ~
This week's 'Picture of the Day' always brings a new, hand-picked image every day! It'll pop up to greet your Desktop whenever you visit our homepage.
Listen To The Sounds of Brazil
Hour 1: Chega! Bossa Nova's First Song
Set 1: The Sounds of Brazil Opening Theme
Let Me Say<>Silva<>Brasileiro
Take Me Back To Rio<>Mike Catalano/A Manhattan Affair
Conceição<>Cauby Peixoto/Anos 50 Nacional
Welcome to the Lounge
Chega De Saudade<>Elizeth Cardoso/Canção do Amor Demais
Special Announcement
Zingaro<Antonio Carlos Jobim/The Composer
Set 2:
Introduce Our Next Set
Baby Come To Me<>Eliane Elias/Love Stories
One Crazy Summer<>Urban Funk Society/Sunday Brunch Lounge Vol. 2
Introduce Brazil Back2Back: Bim Bom
Bim Bom<>Joao Gilberto/Legendary
Bim Bom<>Bebel Gilberto/All In One
Zabumbaia<>Antonio Adolfo/Antonio Adolfo
Now That The Summers Here<>Michael Franks/Time Together
Set 3: This Week's Spotlight Song
Chega De Saudade<>Os Cariocas/O Melhor de Os Cariocas
Oh Telephone<>Laura Fygi/The Lady Wants To Know
Chove Chuva<>Philippe Saisse/Body and Soul
Maçã<>Djavan/Bird of Paradise
Hour 2: Chega! Bossa Nova's First Song
Set 1:
Verano Dias<>Rainforest Band/Peace To The Planet
Welcome To Our Second Hour
Chega De Saudade<>Joao Gilberto/Legendary
Sessao Das Onze<>Ricardo Silveira/RSVC
Café Jobim<>Lawson Rollins/Infinita
Special Announcement
Samba Saravah<>Karrin Allyson/From Paris to Rio
Set 2:
Introduce Our Next Set
Mais Devagar<>Alexia Bomtempo/Suspiro
Leblon<>Adam Dunning/Sunset Monkeys
Introduce Next Song
Chega De Saudade<>Antonio Carlos Jobim/Composer of Desafinado
É Preciso Perdoar<>Emilio Santiago/Nossa Onda É Essa
Feito Pra Voce<>Celso Fonseca & Jussara Silveira/Juventude
Mariana<>Torcuato Mariano/Diary
Set 3:
Chega De Saudade<>Joao Gilberto/Voz e Violao
First Kiss/Chante Moore/Love the Woman
~ ~ ~
Next Week on The Sounds of Brazil
It's the Summer edition of Long Songs! Don't miss it!
Whether it's your radio, your computer at work, or your tablet or smartphone, thanks for tuning in! I really appreciate it, and please tell a friend or two about us.
And don't forget about our weekly broadcasts in Chicago, Sundays at 2 pm on 90.9 FM WDCB.
Thank you for listening to Chega! Bossa Nova's First Song