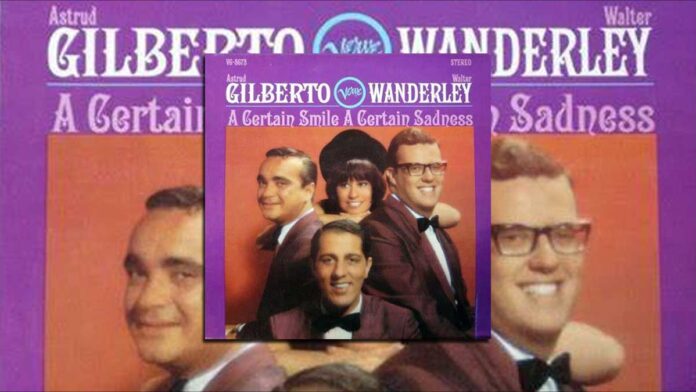 This may be Astrud Gilberto's finest recording, With a number of timeless hits to enjoy
Astrud Glberto's A Certain Smile, A Certain Sadness includes 'Call Me', 'Goodbye Sadness' and her definitive version of 'So Nice (Summer Samba)'
---
originally published on March 29, 1999
The glow of success that came with Astrud Gilberto's "last minute" addition to Stan Getz's "The Girl From Ipanema" in 1964 forever changed the life of this Bahia-born singer.
Deciding to stay stateside as a singer with the Getz group led to a number of recording opportunities. The following year found Gilberto in the studio for three such projects, yielding the first of several collaborations with producer Creed Taylor.
A Certain Smile, A Certain Sadness is her fourth album, and possibly Astrud Gilberto's finest recording. These 1966 sessions found her in the studio with Taylor again, this time with the Walter Wanderley Trio.
Before launching his own up-and-coming pop career in the US, Brazilian organist Wanderley had worked with Astrud and her husband João Gilberto as an accompanist and arranger. The trio (with bass player Jose Marino and drummer Claudio Slon) set the musical pace for Astrud's languid phrasing and "slightly out of tune" vocal style. Wanderley also provided the arrangements here.
Astrud Gilberto's Certain Smile: The Hits
Ultimately, this album brought a number of timeless hits for us to enjoy. 'Call Me', 'Goodbye Sadness', and her definitive version of 'So Nice (Summer Samba)' have remained untouchable favorites.
So much so, that Bebel Gilberto included the song in her debut album as a tribute to Astrud's pioneering work with Bossa Nova's pop appeal. Pure Brazilian hits found their way into this set, too. Notably, these include 'Nega Do Cabelo Duro' (a hit for Elis Regina), and Dorival Caymmi's timeless 'Vocé Ja Foi A Bahia'.
This CD re-issue also contains two previously unreleased tracks, 'The Sadness Of After' and 'Who Needs Forever?' arranged by Quincy Jones for the movie soundtrack of The Deadly Affair. This version also received a compelling 'Chill' re-mix from Thievery Corporation in 2006.
Interestingly, Astrud's ex-husband João Gilberto appears throughout this album – as the guitarist- a pairing that would not again be repeated in her recording career.
Music, Travel, Friends, And Fun!
Astrud Gilberto's Certain Smile
Stories like 'Astrud Gilberto's Certain Smile' are what we do. Why don't you join us? Sign Up for our e-letter. Listen to our 'always live' streaming station and our 15 streaming music channels, always free. Browse our Lifestyle Directory. Click here to like our Facebook page and here for Brazilian events coast to coast.
A Certain Smile, A Certain Sadness by Astrud Gilberto
Buy it here: Amazon Music
Listen free: BossaNovaville | Women of Brazilian Song | Bossa Nova Love Affair | Our Streaming Station
Track List
01. A Certain Smile
02. A Certain Sadness
03. Nega Do Cabelo Duro
04. So Nice (Summer Samba)
05. Vocé Ja Foi A Bahia
06. Portuguese Washerwoman
07. Goodbye Sadness (Tristeza)
08. Call Me
09. Here's That Rainy Day
10. Tu Mi Delirio
11. It's A Lovely Day Today
12. The Sadness Of After – previously unreleased
13. Who Needs Forever? – previously unreleased
Personnel
Astrud Gilberto (vocals), João Gilberto (guitar), Walter Wanderley (piano, organ), Jose Marino (bass), Claudio Slon (drums), Bobby Rosengarden (percussion).