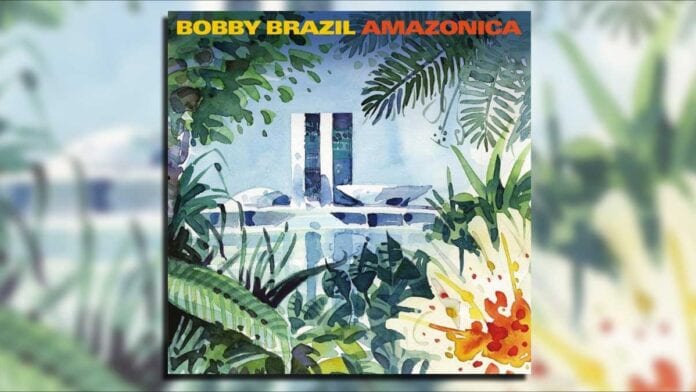 Sensuous vocals and flowing instrumentals makes Amazonica one of the most satisfying albums of its kind.
Bobby Brazil's Amazonica: There's a sense of union between nature and music here, which runs as a constant from song to song.
---
Originally published May 14, 2005 | Connect Brazil
Many of Bossa Nova's original fan base found the hits during Bossa's mid-60's boom: Names like Sergio Mendes, Astrud Gilberto, and Stan Getz have withstood the generational quickening that happens with all popular music and in doing so, laid the groundwork for hundreds, if not thousands of other musicians to build on.
The 'New Bossa' trend is the latest (and perhaps best) reincarnation of Brazilian music to find a widespread following here – from 20-somethings to Baby Boomers – and its really no surprise to discover that many of this new genre's top names are not Brazilian at all.
These are young voices that have very little to do with Bossa Nova's original faces beyond the music that inspires them.
Mystery Musicians
So it is with Bobby Brazil, a pseudonym for a collection of talented, anonymous musicians based near Germany's historic Nuremberg district; about as far away from the beaches of Rio as, say, Green Bay, but 'right next door' when it comes to the universal tug of Brazilian music.
And just as Ipanema was the nexus for Bossa Nova's original cadre, Nuremberg plays a similar role as a center for modern sounds, giving rise to record companies like Stereo Deluxe (home to Mo' Horizons, the Bobby Hughes combination, and Trio Eletrico) and now Brigade Nouveau, the label home for Bobby Brazil's debut CD Amazonica.
Summertime Soundtrack
The very word Amazonica suggests a visual sensation and this CD does not disappoint. While any number of New Bossa 'bandwagon' records fall short, this is clearly not the case here.
We like its panoramic style – pulling together various sounds and styles from Brazil's many regions while maintaining its own musical identity. There's a sense of union between nature and music here, which runs as a constant from song to song.
Amazonica: Track Review
We also like the creative nuance – from the obvious care taken with production and arrangements to the impressive talent of singer Viviane de Farias, who is also credited with 'vocals' writing. In fact, she is the only musician listed on the entire album.
This CD is filled with great moments, compelling us to set aside the world for a while. The music makes it an easy choice: Consider the violin, oboe, and harp work that set the tone on the introduction to 'Belem, Minha Cidade' before giving way to Viviane's soft chanting in Portuguese over the tug of synth programming and samba percussion. The melody adds acoustic bass, deep flutes, and bass clarinets to create a sound so tropically inviting that Bebel Gilberto's producer, Marius de Vries (who's also produced Madonna, Björk, and Annie Lennox) used it on her latest CD, too.
Gathering together so much obvious talent for a single project can invite subtle invention, such as using a flute chorus to echo the slightly off-center musical quote from Ary Barroso's 'Aquarela do Brasil' on 'Viva Ronrico' – a pulsing samba, or the scatty House vocal build for 'Gool! Samba Para Ronaldo'.
There's that Azymuth-like keyboard reference on 'Back In Porto Alegre' and a smiling nod to Oscar Castro-Neves on 'Beija Flor'. Each of these twelve tracks offers its own reward – warm imagery and percussive passion are the guidelines here.
Bobby Brazil's Amazonica: The Bottom Line
Where the music for Amazonica came from is another mystery. Who the musicians are is an equally well-kept secret.
What we do know is that this marvelous collection of vocal and instrumental gems is in a class by itself and is one of the most satisfying CDs of its kind that we've come across. And for fans of Bossa Nova, new or old, that's wonderful news.
Order Bobby Brazil's Amazonica from Amazon
Introdução / Belem, Minha Cidade
Deusa Negra
Viva Ronrico
Gool! Samba Para Ronaldo
Back in Porto Alegre
Vila Isabel
The Waterfalls of Iguazu
Cante de Selva
Brahma vs. Antarctica
Beja Flor
Sambódromo
Song for João
Personnel: Viviane de Farias (vocals, vocal authoring).
Recorded in Nuremberg, Germany by unidentified musicians, 2004.
Total Time: 73:32
Bobby Brazil's Amazonica Review
Stories like 'Bobby Brazil's Amazonica' are what we do. Why don't you join us?
Sign up for our emails on music, travel, friends and fun. Listen to our 'always live' streaming station and our 12 streaming music channels, always free. Browse our Lifestyle Directory. Click here to like our Facebook page and here for Brazilian events coast to coast.