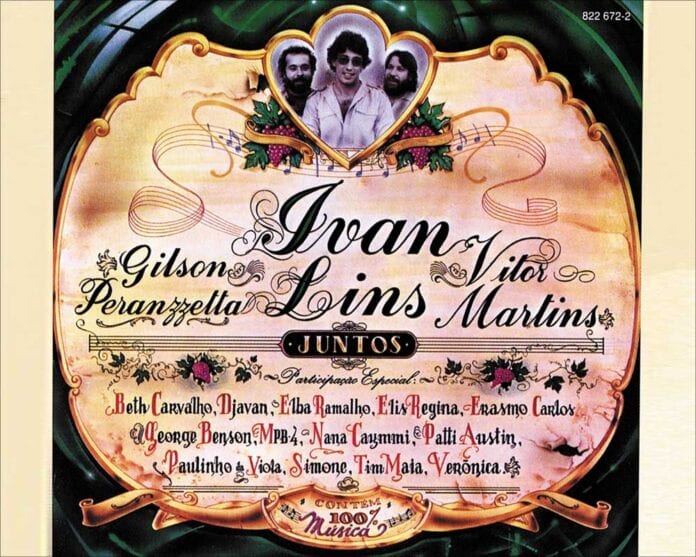 We'll share exciting news for Ivan Lins's birthday this Friday, so we're counting down the days and streaming his best songs.
Ivan Lins's Juntos album featured a visionary guest list, including Djavan, George Benson, and Patti Austin. Today it remains an underdog masterpiece to all but his most devoted fans.
---
by Scott Adams
Despite George Orwell's vision, 1984 turned out to be quite a year. Los Angeles hosted that summer's Olympic games, where Brazil missed Gold in Olympic soccer play, losing to France in the final. Sergio Mendes provided the soundtrack to the games with his anthem 'Olympiad'.
On the radio, it was Michael Jackson's 'Thriller,' Stevie Wonder's 'I Just Called To Say I Love You' while Prince wowed us with 'Purple Rain,' Wham! repeated a 'Careless Whisper' and Frankie urged us all to 'Relax.'
South of the equator and half a world away, Simone's duet with Chico Buarque on 'Iolanda' was a top hit on Brazilian radio as were Gal Costa's 'Nada Mais,' Djavan's 'Lilas,' and Gilberto Gil's 'Raça Humana.'
And with the Brazilian nation surging towards democracy, MPB was clearly flexing its muscles with a newfound libertarianism that steadfastly replaced its 'protest in poetry' message against the country's military dictatorship only a few short years earlier.
Ivan Lins's Juntos was underrated
If there was an underdog for one of the year's best Brazilian recordings, it would have to be this album. Ivan Lins's Juntos was an "at home and away" project that found its place neatly in Brazil's widening musical spectrum and rekindled interest in Brazilian pop music beyond its own borders.
The 1980s proved to be a defining decade for Lins, who spent part of his early childhood living in the US. With a dozen albums already under his belt, Lins headed for the studio with a sense of purpose for Juntos by including 11 of Brazil's top MPB stars to recreate a baker's dozen of his best-known songs – all of them written with his longtime musical partner, Vitor Martins.
The invitation extended north to singer Patti Austin and guitarist George Benson. A quick look at the cover is telling: the Chianti-style label hints at the fermentation process, perhaps "old wine in new bottles"?
Ivan Lins's Juntos: Green-lighted By Brazil's Label Leader
His record label Philips – the undisputed leader of MPB recordings – threw its full support behind Juntos and with the team of Lins and Martins producing with a tight pop sound, they assembled the cast.
Gilson Peranzzetta was quickly tapped to create new arrangements, and Sérgio Brandão assisted with recruiting the musicians.
When all was said and done, the lineup included Djavan, Beth Carvalho, Nana Caymmi, Elba Ramalho, MPB-4, Tim Maia, Simone, Veronica Sabino, Erasmo Carlos, and Paulinho da Viola, along with Patti Austin (who wrote her own English lyrics for 'Believe What I Say') and George Benson, who plays on the album's title track.
A vignette featuring Lins with the late Elis Regina was also selected. And that just covers the 'Featured Guests'.
A partial list for the band adds in trumpeter Marcio Montarroyos, Teo Lima's drums, guitarists Ricardo Silveira, Oscar Castro-Neves and Raphael Rabello, Café's percussion, pianist Luiz Eça, and keyboardist Cesar Camargo Mariano.
Each of these has pursued its own presence here in the States.
Musically, these songs walk a fine line to remain uniquely fresh while remaining evocative of their original versions – a difficult task, considering how we as fans tend to attach ourselves to favorite tunes and how they sound.
So, Ivan Lins's Juntos is a testament to the creative talents of Peranzzetta, who has been called "one of the world's greatest arrangers" by Quincy Jones.
Ivan Lins's Juntos: Underdog No More
For many fans in the US, Ivan Lins's Juntos represents a hidden turning point – that proto-place on the timeline where the popularity of Brazilian music was revived shortly thereafter.
Lins charted his own path from this point, too. Within the year, he'd record with Dave Grusin and Lee Ritenour on the legendary Harlequin album, and then with The Crusaders before moving to Los Angeles to record his mostly-in-English Love Dance.
And fairly, the momentum that carried Lins forward to the US could be credited to George Benson's Give Me The Night (1980), which included the guitarist singing on Love Dance plus an instrumental version of 'Dinorah Dinorah'. A year later, Quincy Jones' delivered his Grammy-winning rendition of Lins's 'Velas'.
But it's not just American fans that are set to rediscover this album.
Consider this comment from poster Jaime Alexander: "I am half Brazilian and grew up with a lot of Veloso/Gil/Regina/Jobim etc. But I just discovered Ivan Lins' Juntos through American recordings by other artists. For me, he is definitely one of the most inspiring composers of all time. Thx for this !!!!"
And for our 'one track'?: Here's the title song from Ivan Lins's Juntos with George Benson from 1984.
Music, Travel, Friends, And Fun!
Ivan Lins's Juntos
Stories like 'Ivan Lins's Juntos' are what we do. Why don't you join us? Sign Up for our e-letter. Listen to our 'always live' streaming station and our 15 streaming music channels, always free. Browse our Lifestyle Directory. Click here to like our Facebook page and here for Brazilian events coast to coast.
Phillips Brasil 822 672-2 1984 Ivan Lins' Juntos