Brazil entered Olympic competition with the 1920 Summer Games in Antwerp, Belgium, winning its first Olympic medals.
Now, Brazil and the Olympic Games are set to make history again, in pursuit of Brazil's first podium appearances in the Winter Olympics.
---
Presented by the Consulate-General of Brazil in Chicago and the Brazilian Foreign Ministry's Cultural Department.
In celebration of Brazil's Bicentennial year, 1822 – 2022
This week's Brazilian Minute: Brazil and The Olympic Games
Script from Audio:
Welcome to Brazilian Minute. Brought to you by the Consulate-General of Brazil in Chicago and the Brazilian Foreign Ministry's Cultural Department.
From Brazil's five World Cup championships to racing champions like Helio Castroneves and Ayrton Senna, Brazil's place in world sport is expanding.
This includes the Olympic games where Brazil has competed since 1920, earning 150 medals.
For this year's 24th Winter Olympic Games, Brazil's 11 Olympic-rated athletes will compete in Alpine, Cross-country, and Free-style skiing. Plus Bob Sled and Skeleton runs.
Brazil became the first South American nation to host the Olympics when Rio de Janeiro was home to the 2016 games.
This year, Brazilian American skier Sabrina Cass marks Brazil's debut in the Freestyle competition. And cross-country skier Jaqueline Mouaro is the first Brazilian to compete in eight Olympic Games. Summer and Winter.
2022's Team Brasil. Ready to earn Brazil's first-ever medals in the Winter Olympic Games.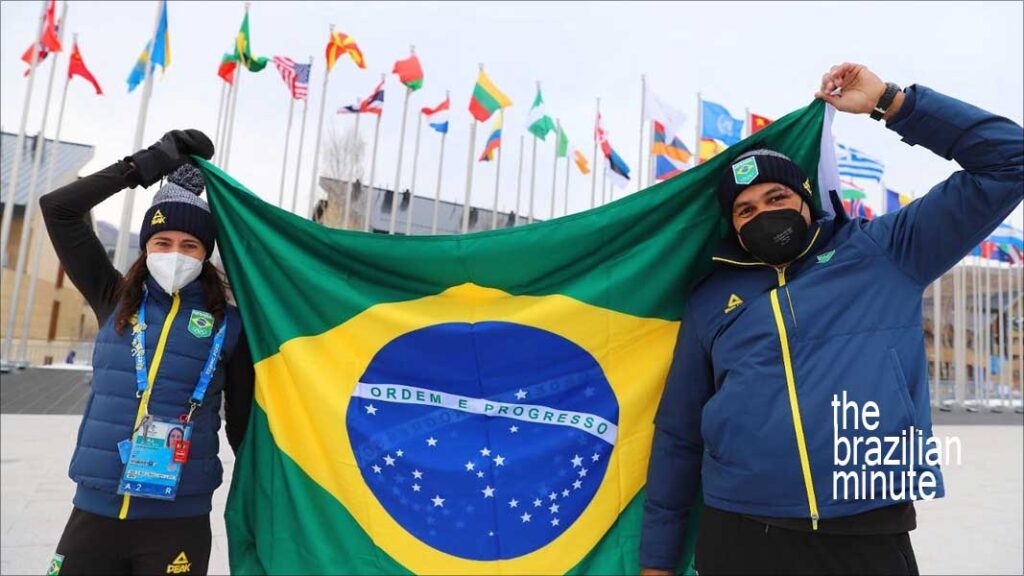 Read and listen to new weekly episodes of The Brazilian Minute. It's brought to you by the Consulate General of Brazil, in Chicago and the Brazilian Foreign Ministry's Cultural Department.
More on: Brazil and The Olympic Games
Brazil and The Olympic Games: Introduction from The Brazilian Olympic Committee
Read the original statement here.
Passport stamped! The 11 athletes summoned to represent Brazil at the Beijing 2022 Winter Olympics are defined. The classified modalities and their representatives were announced in a live stream on Instagram of the Brazil Olympic Committee (COB).
Sport by Sport
Most of Brazil's 2022 athletes represent bobsled. The team will be formed by Edson Bindillati, Edson Martins, Erick Vianna, and Rafael Souza. Jefferson Sabino will act as a backup.
Manex Silva, for men, and Jaqueline Mourão and Bruna Moura, for women, were summoned in cross-country skiing. The spot in alpine skiing went to Michel Macedo. Sabrina Cass, in freestyle skiing moguls, and Nicole Silveira, in skeleton, fulfilled the requirements for the spots. They have confirmed their participation in the next Games.
"It was a very intense period of searching for spots and preparation. Confirming the classification so close to the start of the competition required greater effort from the team behind the scenes. This works with two or even three different scenarios, also allows athletes to know what they will face during the Olympic Games. I feel that the team will arrive at Beijing 2022 well prepared to evolve in relation to PyeongChang 2018", said Anders Pettersson. She is the head of the Brazilian Mission at the Games.
The Pioneering Spirit of Team Brazil
The live stream was attended by Isabel Clark. She is the owner of the best Brazilian result in the Winter Olympic Games. A 9th place in the snowboard cross in Turin 2006. Edson Bindilatti is confirmed for Brazil's bobsled team. He will be in his fifth participation in the competition. The Bahian, who started in athletics, became a symbol of the ice modality. She has more than 20 years dedicated to descents with the sled.
"When we started, we didn't know much what to do. We had a lot of support from other teams, from foreign coaches. Today, we are much more mature. We hope to reach the final. There are 28 teams in the 4-man and 30 teams in the 2-man. We want to be in the top 20", said Bindilatti, who announced his retirement from the national team after Beijing.
"It will be my last edition of the Olympic Games as an athlete. But I want to continue working off the ice to give opportunities to other athletes," added Bindilatti. He is also part of the COB Athletes' Commission.
Team Brazil's Timeline
The first COB operational team leaves Brazil on the 20th. They will get everything ready in the two Olympic villages with Brazilians. In Yanqing will be bobsled, alpine skiing, and skeleton. And in Zhangjiakou, cross-country skiing and freestyle skiing. From cross country skiing and freestyle skiing, the first athletes are expected to arrive in China on the 27th. In ice sports, both bobsled and skeleton must land in Beijing on the 29th.
Brazil's participation in the Chinese Games will begin even before the Opening Ceremony on 02/04. Held at the legendary Bird's Nest, on the same stage as the opening ceremony of the 2008 Olympic Games. Young Sabrina Cass was junior world champion when she was still competing under the United States flag. She will compete in the first classification event on 02/03. It starts at 6 pm, Beijing time.
"The team is strong. It was very good to see young athletes who are going to Beijing. They will still evolve in their competitive capacity, which is the case of Manex and Sabrina. And others like Eduarda Ribera and Augustinho Teixeira, who sought classification until the end and failed. We have a very strong team for the upcoming Milan-Cortina Winter Games. Also, I think it was nice to have very fierce competition for spots. Especially in cross-country skiing, and it's very good for the country's sport to have more athletes with chances of qualifying", said Isabel Clark.
"I really hope that my result is surpassed in Beijing 2022", she added.
Nine Times
Beijing 2022 will be the ninth Brazilian participation in the Winter Games, which began in Albertville 1992. The country's record was in Sochi 2014, with 13 athletes in seven modalities.
In total, 35 Brazilian athletes, inlcuding ten women, will compete in eight sports. They are alpine skiing, bobsled, cross-country skiing, luge, snowboarding, biathlon, freestyle skiing, and figure skating) participated in the competition. This means that we will have several athlete debuts. Manex, Bruna, Sabrina, and Nicole participate in the Olympic Games for the first time. Watch for them in modalities (skeleton), and events – moguls in freestyle skiing and women's team sprint in cross-country skiing.
"Brazil has already started the campaign in Beijing 2022 with good news, with unprecedented participation in both modalities and events. We also expect to break records in the number of starts in some events. For this, we had to stay ahead of some traditional countries. This shows that the athletes are seeing the work developed by COB and the Confederations of Ice and Snow and believe in the career project," added Anders.
Music, Travel, Friends and Fun! 2022 marks Connect Brazil's 25th year.
Did you enjoy 'Brazil and The Olympic Games'? If you did, why not join us at Connect Brazil?
Sign up for our emails on music, travel, friends, and fun. Listen to our 'always live' streaming station and our 12 streaming music channels, always free. Browse our Lifestyle Directory. Click here to like our Facebook page and here for Brazilian events coast to coast.