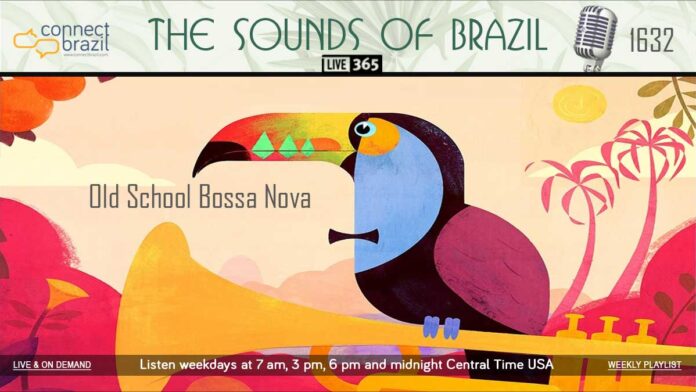 Old School Bossa Nova
| Air Date: 09-10-23 through 09-17-23
| On-Demand: 09-10-23 through 09-24-23
Live365.com is the official streaming radio partner for The Sounds of Brazil!
This two-hour program airs 4X daily on our streaming Station. You are invited to listen, Monday to Friday at 7 am, 3 pm, 6 pm, and midnight Central Time (US). Weekend times, too:
On The Radio: Listen to The Sounds of Brazil every Sunday, 2-4 pm on Chicago's 90.9 FM WDCB and streaming live at wdcb.org.
On-Demand: Click here to listen to this program anytime: through September 24th, 2023.
Sign up for our emails on music, travel, friends & fun. Click here to like us on Facebook.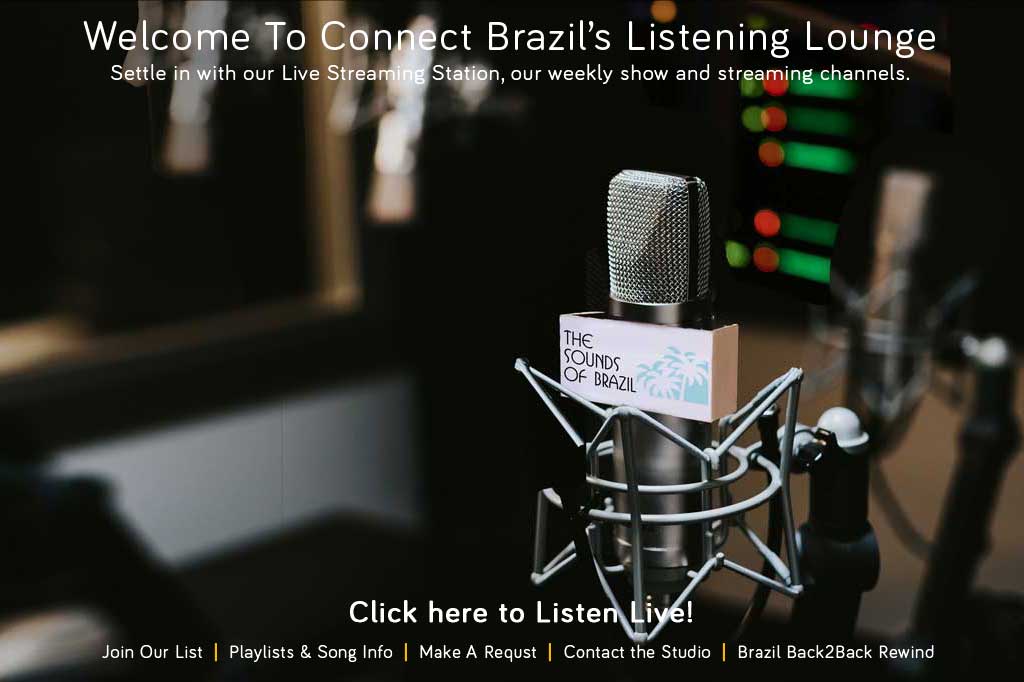 Daily Listening Schedule | Time Zone Converter | Connect Brazil This Week
Make A Request | Send a message to Scott
It's a holiday weekend in Brazil!
Just like the iconic black and white tiles of Rio's storied sidewalks, Bossa Nova's legacy can be traced back to hundreds of individual songs and musicians who pushed Brazil's musical revolution forward. We'll explore that 'old school' sound this week!
Brazil's Independence Day is September 7th and Connect Brazil is the place to go for all the best stories, music, and insight. Ready to join in? We're adding more events every day! Music, Travel, Friends & Fun! Click here on your computer, tablet, or smartphone.
~ ~ ~
… Then 'Listen Live' to our Milton Nascimento streaming channel: All-Bossa, all the time. Brazil's best music in the classic style! Click here for our streaming directory. Apps, too!
~ ~ ~
Sunday's 'Brazilian Brunch' celebrates Brazilian Independence Day with the softer side of Brazilian song on The Sounds of Brazil stream this weekend! We'll sample some of the best and breeziest, along with a request or two! So make plans to join me this Sunday for three full hours beginning at 5 am, 9, 2, and 8 pm Central.
~ ~ ~
What's hot and what's not? We tell all on our Interactive Playlist on the Lounge Page. Looking for the top trending tunes? We post the progress of the best new Brazilian music for you to explore. Thumbs up? Thumbs down? Write a quick review and drop it in the Chat Box anytime.
This Week On The Sounds of Brazil
Hour 1: Old School Bossa Nova
Set 1: The Sounds of Brazil Opening Theme
Sonho do Brasil<>Slowdown/Retrospectives
From Paris To Rio<>Latin Vibe/Café Roma Vol. 2
Aruanda<>Astrud Gilberto/The Astrud Gilberto Album
Welcome to the Lounge
Mas Que Nada<>Jorge Ben/Samba Esquema Novo
Special Announcement
Sulla Vespa<>Mazachigno/Cafe Roma Vol 2
Batidinha<>Antonio Carlos Jobim/Wave
Set 2: Introduce Our Next Set
Que Te Viu, Que Te Ve<>Sonia Rosa/A Bossa Sonia Rosa
Mainstream<>Soulstance/Truth Simplicity & Love
Introduce Next Set
Double Face<>Deodato & Al Jarreau/The Crossing
Vento Praia Nordeste<>Zanna/Zanna
Agua De Beber<>Ulisses Rocha/Moleque
Special Announcement
Set 3: This Week's Spotlight Song:
Brazilian National Anthem/Trio da Paz/Somewhere
Meu Pais (My Country)<>Ivan Lins/Awa Yio
Hour 2: Old School Bossa Nova
Set 1:
Decollage<>Thievery Corporation/Saudade
Deve Ser Amor<>Herbie Mann/Recorded In Rio De Janeiro
Tin Tin Por Tin Tin (Little By Little)<>Joao Gilberto/Amoroso
Welcome To Our Second Hour
So Nice<>Astrud Gilberto/A Certain Smile A Certain Sadness
Luisa<>Gil Goldstein & Romero Lubambo/Infinite Love
Special Announcement
Summer Samba (So Nice)<>Walter Wanderly/Best Of Bossa
Set 2: Introduce Next Set
E Vem O Sol<>Wanda Sa/Vagamente
Voce<>Dick Farney & Norma Bengal/Bossa Nova Sua Historia Sua Gente
Debra Ann<>Terra Sul/Kindness of Strangers
Leblon<>Adam Dunning/Sunset Monkeys
Introduce Next Song
Photograph<>Antonio Carlos Jobim/The Composer
Brazilian Dreams<>Nick Colionne/Arrival
Tristeza De Nos Dois<>Luiz Eca/Bossa Nova Sua Historia Sua Gente
Special Announcement
Set 3: Introduce Last Set
Quando Voce Voltar<>J. Marino & Friends/My Little Town
Coisa Mais Linda<>Carlos Lyra/Bossa Nova Sua Historia Sua Gente
~ ~ ~
Next Week On The Sounds of Brazil
Our playlist offers up an early Autumnal salute to a single song, 'Mas Que Nada', and its entry on the Billboard Pop Charts.  Seven special versions are sure to bring a smile! We'll turn the page on summer with an Ivan Lins "September" song and I'll tell you what's happening with Brazilian events, coast to coast and right next door.
I hope you'll enjoy the program this week, too, and please – tell a few friends about us! It's always great to share the music.
Whether it's your radio, your computer at work, or your tablet or smartphone, thanks for tuning in! I really appreciate it, and please tell a friend or two about us.
And don't forget about our weekly broadcasts in Chicago: Sundays at 2:00 pm Central on 90.9 FM WDCB and wbcb.org.
View our complete daily broadcast schedule here.
Old School Bossa Nova