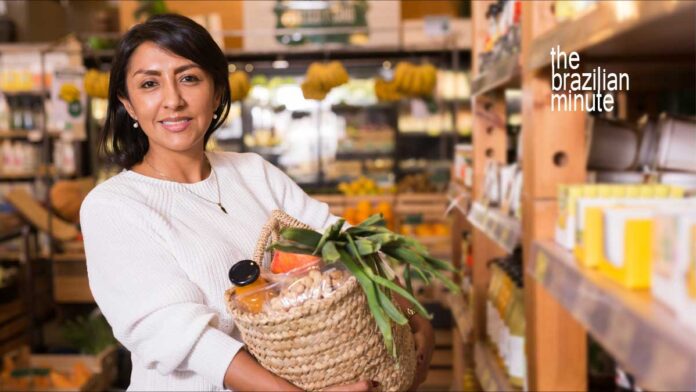 Bringing the taste of Brazil to your table has never been easier.
Brazil On Your Shopping List? Popular Brazilian brands are making their way into America's kitchens. Here's how to savor Brazil's amazing cuisine.
This series was presented by the Consulate-General of Brazil in Chicago and the Brazilian Foreign Ministry's Cultural Department.
In celebration of Brazil's Bicentennial year, 1822 – 2022
This week's Brazilian Minute: Brazil On Your Grocery List
Script from Audio:
The authentic tastes of Brazil are closer than ever. Let's put Brazil on your grocery list!
Popular Brazilian brands are making their way into America's kitchens. Many Fresh Markets cater to international cuisine, including Brazil's.
Explore Brazilian markets stocked with staples like Guarana and Açaí, pão de queijo, coxinha and sweet brigadeiros.
This is where Brazilians check their grocery list for life's little pleasures. Fresh mangos, flan, and creamy cheeses like Queijo de Minas.
You'll find everything you need for Brazil's national dish, feijoada. From smoked meats and collard greens to oranges and rice and beans.
Or turn your backyard grill into a Brazilian steakhouse with tasty Brazilian sausages, and Brazil's signature picanha roasts and fresh-cut steaks.
Putting Brazil on your grocery list is easy, especially online.
Read and listen to new weekly episodes of The Brazilian Minute.
More on: Brazil On Your Grocery List
Overview: Brazil is an edible adventure
We've been around Brazilian music and culture for a long time (2022 marks Connect Brazil's 30th anniversary). Back in the day, it would take a weekend in South Florida to check off our Brazilian shopping list.
And when in Brazil, a full day is dedicated to exploring local bakeries and supermercados for snacks and treats.
Happily, putting Brazil on your grocery list is a lot easier, and even more rewarding today.
That's because there are more stores and retail options than ever before. And importantly, there are more 'everyday' Brazilian brands appearing on store shelves in your neighborhood.
So, let's take a Brazilian minute to explore some of the most popular items for you to try.
At the Brazilian Bakery
Whether you live near a Brazilian bakery (called padaria in Portuguese), or are just visiting, the first thing you'll notice is that Brazilian padarias are different than their American counterparts.
When it comes to kitchen kinship, Brazilian bakeries can be more like a deli than a donut shop. Here, you'll find an array of Brazilian breads and sweets, even sliced meats and cheeses, Brazilian soups, and sandwiches.
Back home, buying fresh-baked bread and rolls can be a daily activity for Brazilian families.  Be sure to bring home a dozen rolls when you visit. They're delicious!
While you're there, pick up on these Brazilian items for your grocery list:
Pao de Queijo
A traditional food from the inland state of Minas Gerais in the 1700s, Brazilian cheese breads are probably the most popular food item found in grocery stores nationwide.
These bite-sized rolls are made of tapioca, milk, and cheese, then baked until lightly golden in color. Make them at home or look for them in the frozen foods section of your neighborhood supermarket.
Brigadeiros
If Pao de Quijo is #1, then Brazil's sweet southern cousin to truffles or bonbons runs second and is closing in quickly.
Brazil's most popular dessert is easily found in Brazilian American bakeries and online from dozens of specialty stores. Learn more about them here.
Coxinha
Perfect for a quick snack, this tasty Brazilian dumpling consists of a spiced (not spicy!) shredded chicken center wrapped in a savory dough.
Its 'drumstick' shape is then lightly battered and deep-fried. Some people like their coxinhas wrapped in a mashed potato mix. Coxinha travels well for parties and you can heat and eat at home, too.
Quibe (Kibe)
Brought to Brazil by Lebanese immigrants in the 1800s, this Mediterranean and Arabic treat has become a Brazilian street food staple. Quibe is unique for its flavor, its aroma, and texture. It is easily made in your kitchen, too.
This oval-shaped croquette is a mixite of coarsely-ground beef, spices, garlic, and fresh mint. Then it is deep-fried, served hot, or enjoyed cold. It's easy to make at home, too.
Supermarkets, International Markets, and Brazilian grocery stores
Chances are good that your local grocery store has a sampling of Brazilian brands and food items regularly stocked. Cookies and panettone cakes fromBauducco are easy to find. This is especially during the holiday season, November through April.
But the number one Brazilian food item in your pantry right now is coffee. Brazil is the coffee grower in the world, especially for Arabica beans. About one-third of your coffee cup comes from Brazilian beans.
For the best selection of Brazil on your grocery list, explore Brazilian grocery stores in your area. Local Fresh Markets are a great option, especially ones that cater to international cuisine.
Grilling and Simmering
These grocery stores can be a yearlong Brazilian treasure trove for great eats. Take your summertime grilling up a level or two with Brazil's top four beef cuts: Alcatra, Cupim, Fraldinha, and Picanha.
Tip: Call ahead. Ask if the market has a butcher and if they have any of these Brazilian cuts, freshly available.
You'll find everything you need to make an authentic feijoada, too. From smoked meats to spices, dry beans, and collard greens.
Those little Brazilian Extras
Look for guarana soft drinks, Brazilian bagged snacks like Biscoito de Polvilho, spices and flours, and soft cheeses such as Queijo de Minas. A little exploration adds to the sense of adventure!
While not every International market will carry the same assortment of Brazilian items, the best ones will always be worth the trip.
Connect Brazil's Lifestyle Directory and online retailers
Looking for local and online options to add more of Brazil to your grocery list? Try our Directory.
Connect Brazil has a 30-year history of putting people in touch with Brazilian culture and cuisine.
In early 2020, we decided to use our Directory guide to support Brazilian American, family-owned businesses during the pandemic. Search for Bakeries, markets, restaurants, and more. We invite you to support these small businesses, too.
Searching Online
Searching online is also a great option. Major retailers, including Amazon and Walmart, offer a variety of Brazilian foods. A quick search for items like 'Pao de Queijo' or 'Brazilian Cheese Bread' will provide you with quick results.
There are also many Brazilian-owned grocery stores online. You'll find an impressive variety of Brazilian food items for order and delivery. But shop around, because prices can vary.
Music, Travel, Friends and Fun! 2022 marks Connect Brazil's 25th year.
Brazil On Your Grocery List
Did you enjoy 'Brazil On Your Grocery List'? If you did, why not join us at Connect Brazil?
Sign up for our emails on Brazilian music, travel, friends, and fun. Listen to our 'always live' streaming station and streaming music channels, always free. Visit us on Facebook, and Twitter, and browse our Lifestyle Directory for Brazilian events coast to coast.