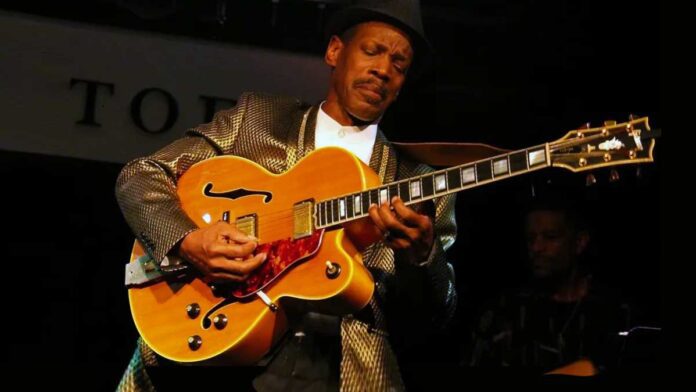 Ross weaves springlike magic into his vocals for this breezy Bossa Nova hit
Brazilian Jazz from Chicago's Michael Ross? You'll find it's a secret entrance to your heart.
---
Songwriters have always played a special role in our collective love of music. Back in the day, great songwriters could drive a song to the top of the charts. From Motown to Jobim, how a songwriter's creativity can inspire our favorite musicians is always intriguing.
So, when Chicago Urban jazz guitarist and vocalist Michael Ross sent us his new single, we were excited to hear how it sounded.
Michael is an accomplished songwriter and performer. Fans love his musical warmth and creativity. Talent and versatility have helped him to become a leading session player for Chicago's thriving theater and music scene.
Ross has seven albums to his credit, including 2021's best-selling Four Seasons to Cross. Both 'Hot In Brazil' and the title track carry a distinctive jazz-samba vibe.
Today's song? Ross explains. "I was listening to Connect Brazil's streaming station and I happened to catch 'Secret Entrance To Your Heart' by Breeze BossaNova. I thought: What an interesting title, so I listened to the lyrics tell the song's story. And then I thought about how I'd approach the song if I recorded it."
How Brazilian Jazz Inspires Michael Ross
Breeze Bossanova is the Romanian group that gave 'Secret Entrance To Your Heart' an upbeat and bright feel to its original recording in 2020. Interestingly, Michael Ross picked up on a different style for songwriter Scott Fivelson's creation.
"First, I slowed the rhythm down slightly but kept that same Bossa Nova groove," Ross explained. "I wanted to put more emphasis on the lyrics to bring more clarity to the story. Then, I opened up the song to give it a burst of a new beginning, just as if it was the first warm day of Spring."
And here's where the creativity of the musician and the songwriter results in something new.
"I felt that 'Secret Entrance To Your Heart' was about the beginning of a new relationship," recalls Ross. "The connection of two people and a smile that captured the heart of something magical."
Michael confided that he's found new depth to his music through Brazilian jazz.
"When I'm playing a Brazilian song, the chord progressions make a connection with me. Then, the song takes on a life of its own. The Brazilian sound is like riding a wave. Smooth, breezy, and warm. It's a festival of sounds and yes, it gives you a sense of freedom, putting you in the land of paradise. My appreciation for the music brings me peace. What a good thing to have!"
And what inspired Michael Ross about the song's title? "Well, I imagined it to be a small unassuming place where love was waiting to be found. A place that you never thought you would run across, which happened to be the 'Secret Entrance To Your Heart'."
'Secret Entrance To Your Heart'
Connect to Brazilian Jazz From Chicago's Michael Ross:
Buy it here: From Michael Ross | Amazon Music | Apple Music |
Listen free on: Bossa Nova Love Affair | Brazilian Jazz | New Music: Brazil | Our Streaming Station
Music, Travel, Friends, And Fun!
Stories like ' Brazilian Jazz From Chicago's Michael Ross' are what we do. Why don't you join us? Sign Up for our e-letter. Listen to our 'always live' streaming station and our 15 streaming music channels, always free. Browse our Lifestyle Directory. Click here to like our Facebook page and here for Brazilian events coast to coast.