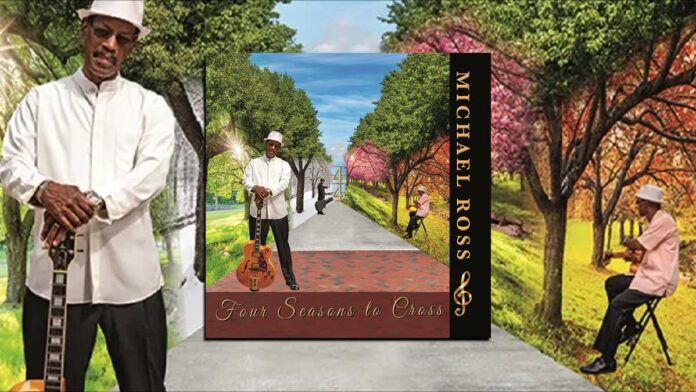 From Urban Jazz To The Rhythms Of Brazil, Ross's 'Four Seasons To Cross' Tells A Chicago Story
10 Questions with Chicago jazz guitarist Michael Ross reveals his thoughtful and optimistic nature.
---
As a talented voice for Chicago's rising Smooth Jazz scene to a storied career with seven critically acclaimed albums, Michael Ross has a lot to say.
He's been Chicago's "go-to" guitarist for its thriving theater and music scene. Michael Ross has brought his unique style to the stage with Ramsey Lewis, Angela Bofill, and Jonathan Butler. He's opened for Chaka Khan and Patti LaBelle. His own MIHI label has featured Najee's saxophone.
Four Seasons To Cross: Our review
Windy City born-and-raised; Michael Ross is part of the generation of musicians who have gone on to define Chicago's urban jazz scene. Four Seasons To Cross is his new album, recorded during the pandemic and released in late November.
Each of the album's 8 original songs carries Ross's musical perspective of a year-long journey through the challenging times we've all experienced. And just like Chicago's seasons, his music reflects the range of emotion, hopes, and imagination that carried us through.
If you already know Michael Ross's optimistic approach to life, then you know that there's no place for brooding. Four Seasons To Cross offers us the chance to smile, relax and revel in the promise of our tomorrows.
Part of this album's journey carried Michael's imagination south, to the land of Samba and Sun. And just like the beaches at Ipanema and Copacabana, 'Hot In Brazil' and 'Four Seasons to Cross' bring us different views of paradise found.
Even if we've never been.
Most of us are still waiting to book that first trip to Brazil, and so is Michael. So, I wanted to find out how he was able to capture that breezy, exotic vibe we know so well.
Recently, I was able to ask Michael Ross 10 questions about his life, in and away from music. What inspired him most during difficult times? Here's what he had to say.
-Scott Adams, Connect Brazil
10 Questions with Chicago Jazz Guitarist Michael Ross
Four Seasons to Cross is your first album to include a Brazilian-named song. I'm intrigued by the album's title and the meaning behind it.
Well, I was born here in the Midwest, in Chicago where we experience all four seasons in their raw form. Especially winter!
I started Four Seasons To Cross by writing the song 'Winter Is Coming'. It was at the beginning of winter in 2019, when my wife and I were caregivers for my mother.
Then, there was talk about a virus looming and we all learned about COVID-19. So, 'Winter Is Coming' tells the story of our survival, our struggles, and our joy.
I wanted to connect these four seasons together. 'Moments In Fall' tells the story of how we reflect on what we've gone through. About how we begin to prepare ourselves for what's to come. It's like getting ready for the harvest.
A Brazilian Vibe
'Hot in Brazil'! The melody is what brought it to our streaming channels. And the title song of Four Seasons To Cross is a smooth, jazzy Samba for Brazilian Jazz fans. Where does your affinity for Brazilian music come from?
Music was always in our home, thanks to my father who passed when I was six. Even in my younger years, I remember hearing Sergio Mendes and Brazil 66 on the radio. Those songs immediately caught my ear. The sound was fresh and inviting and it stayed with me. Later, I found myself listening to Willie Bobo's song, 'Yellow Days'. That song really brought clarity to what Brazil must be like.
Rio de Janeiro is a night flight away from most US cities. So, it's a big ask for Brazilian jazz fans to visit Brazil. But the music makes us feel like Copacabana could be our second home. Is that how you feel about it?
Music has given me the opportunity to travel to just about every major city in the US and Europe. And I've played many different styles of music. But there's something about playing Samba and Bossa Nova that always takes me to that place called 'Brazil'. I've always felt there's something magical about Brazil. It's easy for me to entertain the thought of being there one day, right?
So, I wrote the song 'Hot In Brazil'. I wanted to create that feeling of being there.
Is there something about Brazilian culture that draws you to it?
Brazil is such a melting pot of cultures. The history of Brazil is not so pretty but what has emerged is the great music we hear today and how Brazilians love to celebrate life.
Building A Chicago Jazz Career
How did you come into music, and how did the Chicago sound influence you?
Well, when I was 13, my mother decided to enroll me in private music lessons at the Chicago School of Music. I took up the guitar. It was just so natural to learn an instrument in our family. Music was always playing in our home. My sister learned how to play the clarinet.
I played in local startup bands around Chicago in the early 70s. That's where I was exposed to a variety of music styles. I was shaping and sharpening my ear to R&B, Jazz, Funk, Reggae, and Latin styles. I later got the chance to study at the Chicago Conservatory of Music and that open the door to playing in Theater.
Longtime fans know you from your frequent performances for Chicago's WNUA 95.5 and also with your music on the radio. What's your favorite story from those days?
Radio station WNUA played a very important part in my music career. I remember the first time my music was introduced to WNUA.
I got a call from Program Director Michael Fischer and he told me that he loved my first album We Finally Meet. Fischer added my song 'Latin Affair' to WNUA's playlist and soon other stations added the song to their playlists.
It was like a dream come true. I've always wanted to hear my music on the radio. I got the chance to meet some of the radio hosts and was invited to perform at many of WNUA's listening parties. Those were some awesome times!!
Opportunity Knocks For Michael Ross
Every successful musician has a defining moment in their career. What was your big break?
My very first big break? I got a call to go on the road with the first New York Broadway company for the "Wiz". That's when my travels began.
It was a huge opportunity, so I quit my day job at the steel plant. I had just bought a brand new 1977 Ford LTD II and I left it with my mother although she didn't drive.
We toured every major city in the United States by plane. I was able to convince the Show Manager to let me drive my car to most cities while keeping the airline fee for gas money! That was the first time I was able to see the country in a whole different way. It was simply a beautiful experience.
Tell me about the creative process for Four Seasons to Cross. Was it different than your previous recordings?
Some time had passed since my last album, A Special Thing. I was ready to write and record again, but who would have thought we would be faced with a pandemic?
As difficult as it was, COVID-19 had a few positive effects. I stayed home to focus on my surroundings and my personal experience of what was in front of me. A clear perspective of that moment in time.
I wasn't able to record the traditional way so I recorded at home and then transferred the music to my engineer. It worked, and we were able to complete Four Seasons To Cross.

On A Personal Note
What do you like to do when you're away from music? Has your interest in Brazil and its culture found its way into other parts of your life?
My hobby is interior design and I love to bring my creativity to home renovations. That magical place I call 'Brazil' plays a part in keeping it fresh, and airy to create a space of serenity.
What's on your personal playlist these days?
I'm a fan of Al Jarreau, Shirley Horn, Sade, Pat Metheny, Antonio Carlos Jobim, and Wes Montgomery just to name a few.
If you could have composed any song, which one would it be, and why?
Wow. There's so much great music that's been composed. The song I would choose is 'The Summer Knows (Theme from Summer of '42)'. I had the chance to perform 'The Summer Knows' with a big band. The band gave me the melody and when I took a solo, I felt transported!
I believe there's still a story to be told and perhaps someone will reveal what the summer knows. Or maybe, it should just remain… a secret.
Brazilian jazz fans have diverse tastes in music, especially jazz and pop. Any chance that you'll grace us with another Brazilian jazz song or two in the future? And where will you be performing for the remainder of the year?
Yes, I know I will! I'd like to continue exploring the sounds of Brazil. It's so uplifting, positive, fresh, and inspiring!! And there will be live performances coming. They will be announced soon.
After all, there are still four seasons to cross. Thank you!
Four Seasons To Cross
Hot in Brazil
On the Beach with You
Four Seasons to Cross
We Slept in the Rain
Bumpin' on Sundown
Almost Home
Moments in Fall
Winter Is Coming
Follow Michael Ross on
Website | Facebook | YouTube | Twitter | Spotify
Amazon | Apple Music | Hear Now
Listen Free: Bossa Nova Love Affair | Cafe Copacabana | Brazilian Jazz | Our Streaming Station
10 Questions with Chicago Jazz Guitarist Michael Ross
Stories like '10 Questions with Chicago Jazz Guitarist Michael Ross' are what we do. Why don't you join us?