The Connect Brazil Giveaway: Here's your opportunity to win a copy of Kenney Polson's new album.
The Colors of Brazil Giveaway! Already considered one of the best Brazilian Jazz albums of the year, each winner's CD package will include a personalized note of appreciation for an exclusive number of fans.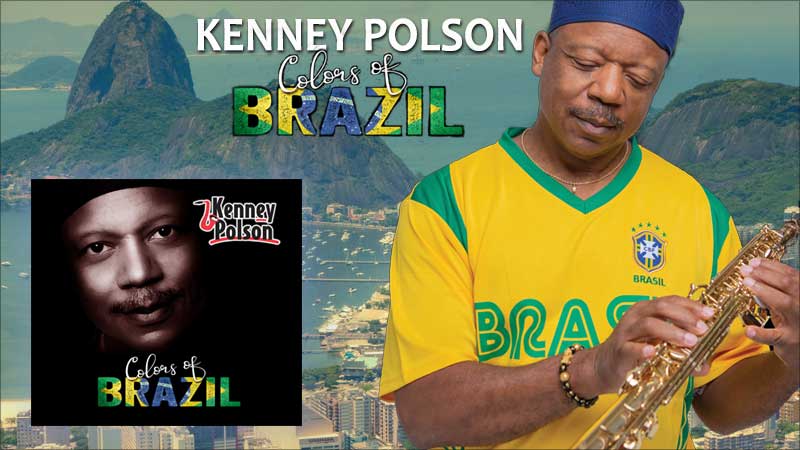 "A recording on par with the finest Brazilian recordings by titans of the saxophone"

Raul da Gama
Don't miss your chance to win a personalized copy of Kenney's outstanding Brazilian jazz album
Colors of Brazil features familiar tunes from Brazil's superstar songwriters: Ary Barroso, Djavan, Joao Bosco, Caetano Veloso, Ivan Lins, Dori Caymmi, and Toninho Horta.
Kenney plays tenor sax, Alto, Soprano, and Baritone Saxophones. He also plays Clarinet and Bass Clarinet. All have their place in Polson's talented, tropical musical palette.
His music is contemporary and authentic. Colors of Brazil is a Brazilian jazz album that has earned its place with the best recordings of its kind.

Win a copy of Kenney Polson's new Brazilian jazz CD, Colors of Brazil!
Enter The Colors of Brazil Giveaway
Rules:
This Connect Brazil Giveaway is available to USA addresses only. Valid contact information only. All entries are subject to our contest terms.
Notice: This Giveaway is now closed. Winners were contacted by email. Thank you for supporting Brazilian jazz, and watch for our next Connect Brazil Giveaway on our homepage!
Enter Kenney Polson's Colors of Brazil Album Giveaway
GET TO KNOW SAXOPHONIST KENNEY POLSON
Follow Kenney Polson on
Amazon | Apple Music | Spotify | YouTube Music| Tidal
Facebook | YouTube | Instagram | Twitter
Sign up for our emails on music, travel, friends and fun. Listen to our 'always live' streaming station and our 12 streaming music channels, always free. Browse our Lifestyle Directory. Click here to like our Facebook page and here for Brazilian events coast to coast.