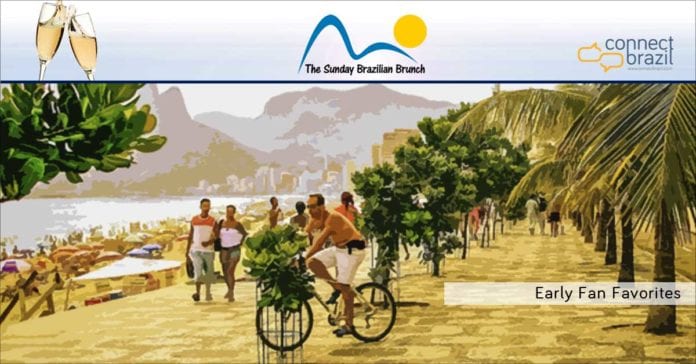 April 5th 1992 marks The Sounds of Brazil's first radio broadcast on WDCB FM. Four months later, the program moved to Chicago's WNUA 95.5 Chicago to begin its historic 18-year run.
We're celebrating another anniversary of our weekly radio show on The Sunday Brazilian Brunch today, and I can't think of a better way to do it than by filling up the playlist with three hours of early fan favorites, especially with songs taken directly from program #0001.
Sign up for our weekly e-letter!
2020 is a very special year for The Sounds of Brazil. So let's enjoy a handpicked selection of early fan favorites! This year marks our official 28th Broadcast Anniversary and it begins with a heartfelt 'thank you' to you for listening. Because without your passion and interest none of this would be possible.
Two early dates stand out from our very first year: The Sounds of Brazil debuted on Chicago's college radio WDCB FM on Sunday, April 5th 1992. On Saturday, July 25th The Sounds of Brazil moved up the dial to make its debut on commercial radio WNUA.
The Sounds of Brazil has been syndicated to more than 60 commercial radio stations across the USA, Caribbean and Central America, helping it to become the most successful Brazilian music radio program of its kind.
The Sounds of Brazil is also a pioneer for Brazilian music streaming: First with Broadcast.com/Yahoo Radio in 1999, then with Live365. Today, The Sounds of Brazil is also streamed worldwide with an expanded 24/7 format, and I manage Brazilian music programming for Chicago-based AccuRadio and also on TuneIn.
And all of itcomes back to April 5th, 1992.
So relax, re-live and revive with me on Sunday for a collection of early fan favorites that you'll love to re-discover. And, please, drop a quick 'hello' in the Chat Box. Youre always welcome!
See you Sunday!
– Scott Adams
Listen to The Sunday Brazilain Brunch. Three full hours beginning at 5 am, 9 am and 2 pm Central time every Sunday. Plenty of great music and a story or two. Or tune in for the Brazilian Brunch nightcap at 8 pm CT.
Only on our streaming station right here at Connectbrazil.com. On-Air Guide | Chat Box | Time Zone Converter
Join us on The Sunday Brazilian Brunch for 'Early Fan Favorites'. Here's a preview: