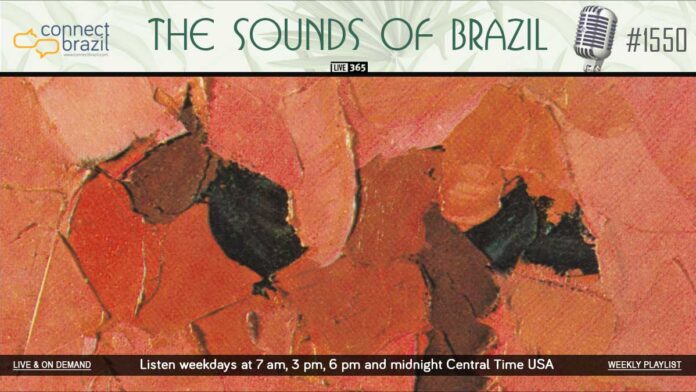 | Air Date: 12-11-22 through 12-18-22
| On-Demand: 12-11-22 through 12-25-22
'Jazz Samba's Musical Milestone' was originally broadcast on February 13th, 2022 to officially mark the 60th anniversary of Jazz Samba's recording. This show is produced for your listening pleasure by Connect Brazil. Live365.com is the official streaming radio partner for The Sounds of Brazil!
This two-hour program airs 4X daily on our streaming Station. You are invited to listen, Monday to Friday at 7 am, 3 pm, 6 pm, and midnight Central Time (US). Weekend times, too:
On The Radio: Listen to The Sounds of Brazil every Sunday, 2-4 pm on Chicago's 90.9 FM WDCB and streaming live at wdcb.org.
On-Demand: Click here to listen to this program anytime through December 25, 2022.
Sign up for our emails on music, travel, friends & fun. Click here to like us on Facebook.
Daily Listening Schedule | Time Zone Converter | Connect Brazil This Week
Make A Request | Send a message to Scott
MY PRODUCER'S NOTES
Welcome to The Sounds of Brazil!
Stan Getz recorded five Bossa Nova albums in two years. First up was Jazz Samba with guitarist Charlie Byrd. It was recorded at The All Souls Unitarian Church in Washington DC on the afternoon of February 13, 1962.
Byrd had returned from Rio de Janeiro as part of a goodwill concert tour of Latin America with Brazil's new sound percolating in his head.
Relocated to the US only recently after years of living in Europe, Getz was invited into the project but had little understanding of the music he was about to record.
Byrd had turned him on to the Bossa sound with a record by Joao Gilberto a few weeks prior. "I immediately fell in love with it… Charlie had been trying to sell a record of it with I don't know how many companies, but none of 'em wanted it. What they needed was the voice – the horn."
And timing. The quick success of Jazz Samba ignited the Bossa Nova craze in the US and in 13 months, Getz went on to record four more Bossa Nova albums, cementing his status as Bossa Nova's American icon.
If Jazz Samba is not in your collection, it should be. It turns 60 today,
Happy Listening,
Scott Adams
What's Happening This Week at Connect Brazil? Actually, quite a lot. Click here to find out.
~ ~ ~
Sundays are meant for relaxing so join me for The Sunday Brazilian Brunch every Sunday beginning at 5 am Central, and then again at 9 am, 2 pm, and 8 pm. Three full hours when you pay a visit to the Listening Lounge.
~ ~ ~
Our Streaming Station's popular Brazil Back2Back segment has grown to a third play every Monday, Wednesday, and Friday. Listen at 11 am, 2 pm and 5 pm Central. Always two of a kind, and always two in a row! Have an idea for an upcoming Brazil Back2Back? Click here to make a request.
Here's your chance to add this completely re-mastered album from the original recording session to your collection! Win one of five copies of this album from Connect Brazil. Enter today!
Jazz Samba's Musical Milestone
Hour One: The Sounds of Brazil Opening Theme
Set One:
Turquesa<>Felice Del Gaudio, Pietro Beltrani/Pastello Project
Tape Loop<>Ituana/The Remixes
É Luxo Só<>Joao Gilberto/Chega de Saudade
Welcome to the Listening Lounge
O Pato<>Charlie Byrd/Latin Impressions
Set 2: "And welcome back to The Sounds of Brazil!"

Desafinado<>Stan Getz & Charlie Byrd/Jazz Samba
What Is Love<>Diane Schuur/Midnight
Introduce Next Set
Clara Moreno<>Uala Ualalá/Miss Balanço
A Night In Rio<>Fourplay/ Let's Touch the Sky
Paz A Paz Ver Bossa<>Michel Boudax/Paz A Paz Ver Bossa
Set 3: The Brazilian Minute – Jazz Samba's 60th Anniversary
Introduce This Week's Spotlight Song

Samba Triste<><>Stan Getz & Charlie Byrd/Jazz Samba
Your Smiling Face<>John Pizzarelli/Bossa Nova
Last Train Home<>Marcos Ariel/Magic Eyes
Hour Two: Jazz Samba's Musical Milestone
Set One:
Summer Breeze Bossa<>Pedro Santos/Arpoador Sunset
O Pato<>Karrin Allyson/From Paris to Rio
Welcome Back To Our Second Hour
Tristeza De Nos Dois<>Sergio Mendes/Dance Moderno
O Barquinho<>Maysa/Barquinho
Inquietação<>Laurindo Almeida & Bud Shank/Braziliance
Backsell
Set 2:
Introduce Our Next Set
Samba de Uma Nota So<>Stan Getz & Charlie Byrd/Jazz Samba
Oh Telephone<>Laura Fygi<>The Lady Wants To Know
Introduce Next Set
Bom Mesmo É Estar Debaixo D'água<>Luedji Luna/Bom Mesmo
Boss-A-Nova<>Geneve 5/Subtly
Fire & Ice<>Clarisse Sisters with Basia/Fire & Ice
Backsell – Promo Picture of the Day
Set 3: Introduce Final Set – Brazil Back2Back; Bahia

Oh Bahia<>Dionne Warwick/Aquarela do Brasil
Baia<>Stan Getz & Charlie Byrd/Jazz Samba
Closing Theme
Jazz Samba's Musical Milestone
~ ~ ~
Next Week:
The days are getting longer, and so is the music: It's the Winter edition of 'Long Songs' to help fill up your long chilly nights! Be sure to listen on our Lounge page, too!
I hope you'll enjoy the show and please – tell a few friends about us on 90.9 FM WDCB in Chicago and wdcb.org, 2 pm CT every Sunday.
Whether it's your radio, your computer at work, or your tablet or smartphone, thanks for tuning in! It's always great to share the music.
Jazz Samba's Musical Milestone