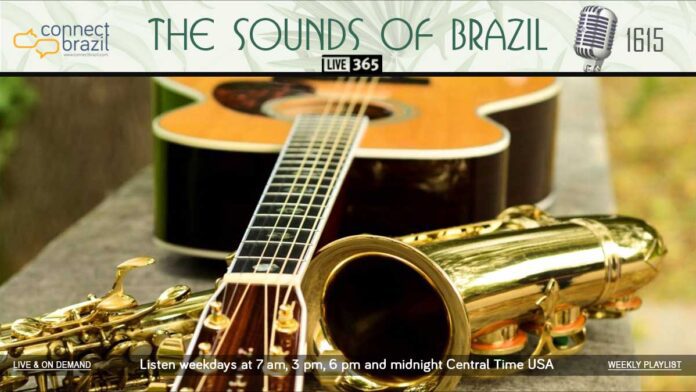 The Brazilian Side of Smooth Jazz is always evolving. From Smooth Jazz to C-Jazz, Brazil is always on the Playlist.
| Air Date: 05-14-23 through 05-21-23
| On-Demand: 05-14-23 through 05-28-23
Live365.com is the official streaming radio partner for The Sounds of Brazil!
This two-hour program airs 4X daily on our streaming Station. You are invited to listen, Monday to Friday at 7 am, 3 pm, 6 pm, and midnight Central Time (US). Weekend times, too:
On The Radio: Listen to The Sounds of Brazil every Sunday, 2-4 pm on Chicago's 90.9 FM WDCB or stream live at wdcb.org. 
On-Demand: Click here to listen to this program anytime: through May 28, 2023.
Sign up for our emails on music, travel, friends & fun. Click here to like us on Facebook.
Daily Listening Schedule | Time Zone Converter | Connect Brazil This Week
Make A Request | Send a message to Scott
The Brazilian Side of Smooth Jazz – Producer's Notes
Welcome!
It's true: You'd have to go back to the Roaring '20s to find a point in time where American jazz and Brazilian music were not intertwined.
Nine decades ago (in the '30s and '40s) it was Ary Barroso's hit songs 'Brazil' (Aquarela do Brasil) and 'Bahia' (Na Baixa do Sapateiro) that allowed Walt Disney and Carmen Miranda to put a musical backbeat to President Roosevelt's "Good Neighbor Policy".
In The '50s and '60s, it was Bossa Nova and 'The Girl From Ipanema'. 50 years ago, Sergio Mendes, Deodato, and Flora Purim added their names to the jazz and pop charts to help set the table for the most successful era that American jazz will probably ever witness: The rise of Smooth Jazz in the late 1980s.
And Brazil was ready and waiting for American jazz to once again catch up with its "popular" past.
We have only to look back at the success of Stan Getz, Astrud Gilberto, and Sergio Mendes to understand Brazilian music's role in the creation of today's Smooth Jazz style – and although its influence has waned in recent years, it's only because the dots haven't been connected.
World-class Musicians
Consider that artists as diverse as Geneve 5, Alkemix, and Lee Ritenour have found their beginnings with Brazilian groups and you'll appreciate our program's focus.
I've packed our playlist with smooth jazzers near and far, in every conceivable combination, with more than a few surprises along the way: Rick Braun, Lonnie Liston Smith, John Legend, Ray Obiedo, Randy Crawford, Gregg Karukas, Brian McKnight, Roberto Tola, Brian Simpson, Pat Metheny, Torcuato Mariano, Kilauea, Wayman Tisdale, and Will Downing all step into the radio spotlight this week
I'm pretty sure that if you asked, each one would tell you all about their Brazilian connection. Happily, we have their music to tell their stories this week. Enjoy!
Happy Listening, Scott Adams
Friday's Brazil Back2Back taps a pair of tunes from Djavn – including his new single penned by Torcuato Mariano – when you listen at the top of the hour at 11 am, 2 pm, and 5 pm CT, exclusively on our streaming station. Visit the Listening Lounge.
~ ~ ~
Sunday's Brazilian Brunch features 'Sao Paulo Sirens' from the ranks of Brazil's superstars! Only on Sundays at 9 am, 2 pm, and 8 pm Central time and only on The Sounds of Brazil's streaming station.
~ ~ ~
This week's show
Hour One: The Brazilian Side of Smooth Jazz
Set 1: The Sounds of Brazil Opening Theme
Rio De Janeiro Blue<>Randy Crawford/Best of..
Sensual Bossa<>Caibedo Island/Caibedo Tale
Baia<>Walter Wanderley/Next Stop Wonderland Soundtrack
Welcome to The Connect Brazil Listening Lounge
Slow Motion<>Roberto Tola with Darryl Walker/Colors
Set 2:
Introduce Next Set
Quiet Moments/Lonnie Liston Smith/Exploration
Love I've Never Known<>John Legend/Red Hot +Rio 2
Introduce Next Song
Back At One<>Brian McKnight & Ivete Sangalo/Millennium
Ocean Way<>Torcuato Mariano/Last Look
Espelhos D'Agua<>Preta Gil/Prét-A-Porter
Set 3: Introduce This Week's Spotlight Song
Summer Breezin' (SomeBossa)<>Al Jarreau/My Old Friend
Lost Words<>Philippe Saisse & Marc Antoine/Lost Words
Destiny<>John Smatla featuring Gabriela Anders/Ultrablue
Hour Two: The Brazilian Side of Smooth Jazz
Set 1:
Rio Drive<>Gregg Karukas/Soul Secrets
Welcome To Our Second Hour
Betcha Never<>R Silveira & Vanessa Williams/Sweetest Days
Brazilia<>Wayman Tisdale/Face To Face
Meu Bem Querer<>Will Downing/Euphoria
Special Announcement
Sambaroma<>Chiara Civello/Last Quarter Moon
She's In Love<> Peter White and Christopher Cross/ Confidential
Set 2:
Introduce Next Set: Brazil Back2Back: San Juan Sunset
San Juan Sunset<>Lee Ritenour/Rio
San Juan Sunset<>Deodato/Love Island
Introduce Next Song
Todo Dia<>Atlantica/Always
Villa Capri<>Ray Obiedo/Carosel
So Nice<>Bebel Gilberto/Tanto Tempo
Set 3:
Better Days Ahead<>Pat Metheny/Letter From Home
Time To Lounge<>Alkemx/Rendezvous Lounge
~ ~ ~
Next Week: We're crossing borders with The Brazilian Side of Lee Ritenour and two hours of his best songs! I hope you'll enjoy the show and please – tell a few friends about us! It's always great to share the music.
Whether it's your radio, your computer at work, or your tablet or smartphone, thanks for tuning in! I really appreciate it, and please tell a friend or two about us.
And don't forget about our weekly broadcasts in Chicago: Sundays at 2:00 pm Central on 90.9 FM WDCB and wbcb.org.
View our complete daily broadcast schedule here.



The Brazilian Side of Smooth