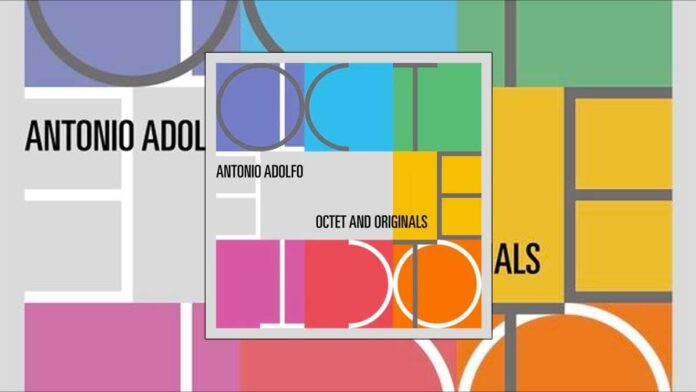 Adolfo Reconnects With Originals That Became Famous
Explaining Antonio Adolfo's Octet And Originals is easy and important for the world of Brazilian jazz.
---
No matter how you look at it, the hits keep on coming for Brazilian jazz pianist Antonio Adolfo. As these words are written, Adolfo is nominated for two Latin Grammy awards. The first is for Best Latin Jazz Album and the second is for Best Engineered and Recorded Album. Both nominations are for his 2021 release Jobim Forever.
Antonio Adolfo's 2022 release, Octet And Originals has already topped JazzWeek's chart, settling in at #1 week after week. And word has it that Adolfo is in the hunt for next February's Grammy Awards, too.
Yes, the hits keep on coming and Octet And Originals is filled with them.
Adolfo, who has released a new concept album every year for more than a decade, explains. "I have honored great musicians such as Antonio Carlos Jobim, Milton Nascimento, Wayne Shorter, and others. This time, I am offering you an album exclusively dedicated to the music I've composed."
Explaining Antonio Adolfo's Most Famous Song
Adolfo's music has been a touchstone for American fans since the late-60s when Sergio Mendes and Brasil '66 took us by the hand for a walk into Bossa bliss with 'Pretty World'.
Hits? 'Pretty World' has been performed and recorded by Stevie Wonder, Ivette Sangalo, Daniela Soledade, Lisa Ono, Sheléa, and countless others.
Adolfo penned that song in 1968 and he recreates it here with a relaxing, horn-backed vibe. It's an excellent introduction to the musical genius of Adolfo's Octet And Originals.
Antonio Adolfo's Song For Dionne Warwick
Looking for another hit? Okay. Dionne Warwick famously recorded 'Heart of Brazil' for her Aquarela do Brasil album, which featured Adolfo on that 1994 recording. Adolfo's octet brings a jazz club feel to this new version, with full-bodied horns capturing the melody.
Then, there's my personal favorite, 'Zabumbaia', one of Adolfo's best-known tunes for fans of The Sounds of Brazil and our live-streaming station, where it's been a jazzy flute-driven mainstay since its debut on his self-titled album in 1995.
Impressively, Adolfo is devoutly faithful to his own original arrangement before easing it into Octet's swinging setting.
Equally impressive, each of Octet And Originals 10 tracks are buoyed by Adolfo's arrangements, which redefine the 'number of 8' into a much larger sound. There's a Big Band presence that's unmistakable.
The group's voicings and precision will keep you in a delightful state of rediscovery throughout. Take a long look at the personnel for Octet And Originals and you'll see exactly how alive and well Brazilian jazz really is.
Explaining Antonio Adolfo's Octet And Originals
Music, Travel, Friends, and Fun! 2022 marks Connect Brazil's 25th year.
Stories like 'Explaining Antonio Adolfo's Octet And Originals' are what we do. Why don't you join us?
Sign up for our emails on music, travel, friends and fun. Listen to our 'always live' streaming station and our 12 streaming music channels, always free. Browse our Lifestyle Directory. Click here to like our Facebook page and here for Brazilian events coast to coast.
Octet And Originals by Antonio Adolfo
Tracklist
Heart of Brazil 5:39
Boogie Baiao (Boogie Bah yaow) 4:42
Emaú (Eh maooh) 5:12
Cascavel (Kaas kah vehl) 4:11
Pretty World 5:05
Teletema (Tell eh teh mah) 5:59
Feito Em Casa (Phey toh ehm Kah zah) 4:55
Minor Chord 5:26
Zabumbaia (Zah boomb bah yah) 5:46
Toada Moderna (Toh ah dah – Moh der nah) 4:35
Personnel:
Antonio Adolfo (piano), Jesse Sadoc (trumpet, flugelhorn), Danilo Sinna (alto saxophone), Marcelo Martins (tenor saxophone, flute), Rafael Rocha (trombone), Ricardo Silveira (guitar), Jorge Helder (acoustic bass), Rafael Barata (drums, percussion).
All titles are produced and arranged by Antonio Adolfo.
Connect with Antonio Adolfo
Follow Antonio Adolfo
Facebook | YouTube | Instagram | Twitter
Buy Here | Amazon | Apple Music | Spotify
Listen To Antonio Adolfo On:
Also On These Channels @ AccuRadio