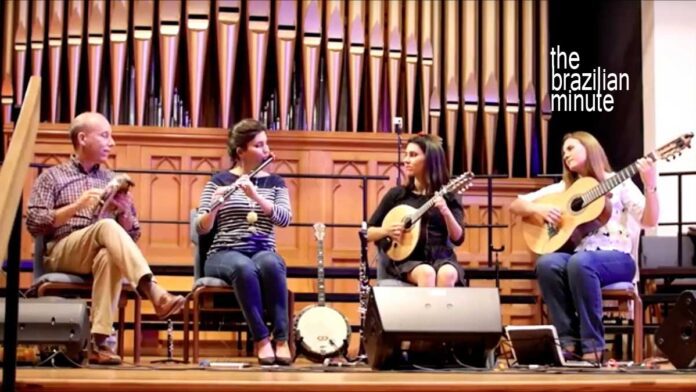 Choro is Brazil's earliest form of urban pop music.
Explaining Choro And Pixinguinha introduces you to one of Brazil's most creative music styles.
Presented by the Consulate-General of Brazil in Chicago and the Brazilian Foreign Ministry's Cultural Department.
In celebration of Brazil's Bicentennial year, 1822 – 2022
This week's Brazilian Minute: Explaining Choro And Pixinguinha
Script from Audio:
Welcome to Brazilian Minute, brought to you by the Consulate-General of Brazil in Chicago and the Brazilian Foreign Ministry's Cultural Department.
One of Brazil's most creative music styles was born in Rio de Janeiro in the 1870s. It's called Choro. Instrumental and improvisational, Choro's virtuosity, syncopated rhythms, and sophisticated melodies combine African and European influences.
Choro is Brazil's earliest form of urban pop music. Choro is also very social.
Musical friends gathered for informal sessions at local pubs or in the parlor of someone's home. By 1910, many of Brazil's phonograph records were Choros.
Among Choro's greatest names is Pixinguinha, who as a teen found celebrity with the instrumental group Os Oito Batutas. These "eight amazing players" became a sensation in Brazil.
Pixinguinha championed Choro throughout his long career. His influence can be heard today, at countless Choro Festivals across Brazil, the USA, Europe, and worldwide.
Read and listen to new weekly episodes of The Brazilian Minute. It's brought to you by the Consulate General of Brazil, in Chicago, and the Brazilian Foreign Ministry's Cultural Department.
Explaining Choro And Pixinguinha
Overview
The presence of African and European influence is predominant throughout Brazilian culture, especially with regard to its creative arts, cuisine, social trends, and especially, its music.
And while the USA has influenced Brazilian jazz, Bossa Nova, and MPB, the opposite is also true.
This is a story of four continents. Explaining the story of Choro.
Explaining Choro And Pixinguinha: Rio's Musical Roots: 1870
Rio de Janeiro in the 1870s was vibrant, dynamic, and on the rise as the capital city of Brazil. Nearly five decades had passed since Dom Pedro declared Brazil's independence from the Portuguese Empire.
Unique to South America, important amenities remained from the departed Portuguese ruling class. High fashion, cuisine, technology, and culture transformed Rio de Janeiro.
These decades brought a new identity to all of Brazil. by 1890, Rio de Janeiro's population had grown to more than 500,000.
For the well-heeled, the music of the day followed European traditions. Schottisches, polkas, and waltzes dominated the pop music of the day. Afro-Brazilian musicians learned to perform these styles, adding African rhythms to create a unique accent for these European dances.
At the same time, a hybrid dance style became popular. The Maxixe paired the Lundu rhythms of Africa's Bantu peoples with traditional European styles. It was the most popular music of the day.
But a different style of music was emerging from Rio de Janeiro's musician class. Its name is Choro, the Portuguese word for 'cry' and it was Brazil's first Urban pop music.
What Is Choro?
Choro is both instrumental and improvisational. A Choro group may consist of a combination of acoustic instruments, guitars, cavaquinhos, and woodwind instruments.
Are you new to Choro's style? You'll notice a connection to a classical sound and you'll appreciate the musicians' virtuosity.
Choro's syncopated form often features unexpected melodic and harmonic shifts, with surprising modulations and tempos. You might even notice a resemblance to early American jazz styles like Ragtime or Dixieland.
Choro precedes both but shares a common societal thread.
History shows that early Choro groups were formed as trios, with each instrument playing a specific role in the overall sound.
For example, the guitar would be the foundation instrument (playlist the role of a bass guitar). The cavaquinho would set the rhythm and harmonic structure. The flute player would carry the melodic line as the group's soloist.
Gradually, Choro arrangements expanded with additional stringed instruments including 6- and 7-string guitars. A variety of brass and woodwind instruments are common, primarily flutes, clarinets, saxophones, trumpets, and trombones. Light percussion is a mainstay, usually from a pandeiro (a larger, more resonant tambourine).
These expanded groups often form the basis for Choro jam sessions, which can be referred to as a Roda de Choro ('Choro Circle').
Pioneers of Choro
In 1870, a single musician rose to prominence in Rio de Janeiro to support Choro's march to popularity. His name is Joaquim Callado, one of the principal creators of the Choro genre.
Callado's band O Choro do Callado quickly established itself as the flagbearer for this new Brazilian instrumental sound. Instrumentation was simple: a pair of guitars, a single cavaquinho, and an ebony flute.
Callado was a masterful improviser and his band was designed to showcase his talents. While he composed many Choros, Callado transformed existing hit songs (Lundus, Modinhas, Polkas, and Waltzes) into Choro's exciting style. Later, Callado expanded the group's instrumentation to include female composer and pianist, Chiquinha Gonzaga.
Many of Gonzaga's piano songs became big hits as Choro's fan base grew. Today, Chiquinha Gonzaga is considered to be Brazil's first pop music composer. Her birthday is celebrated as MPB Day (Música Popular Brasileira) annually on October 17th.
Ernesto Nazareth's skill's as a classically trained pianist and composer fortified Choro's early songbooks. His diverse appreciation of all forms of music included everything from Tangos to Ragtime. Many of his 211 compositions remain part of Choro's contemporary repertoire.
Pixinguinha
Choro began life as a musical style by adapting pop hit songs of the day into its form. Choro's second generation helped it become a genre with the arrival of Pixinguinha.
Born as Alfredo da Rocha Viana Filho in Rio de Janeiro in 1897, Pixinguinha is one of Brazil's all-time greatest pop songwriters.
As a teenager, his group Os Oito Batutas (The Eight Amazing Players) was the talk of the town. Hired on as lobby entertainment at the Cine Palais movie theater, they soon became a bigger attraction than the current feature film.
Indeed, Os Oito Batutas appealed to Rio social set as Brazil's first pop instrumental band. And they were thoroughly Brazilian in their music, their arrangements, and their performances. They toured Paris, then Buenos Aires, and they recorded with a top record label, too, RCA Victor.
A long-term deal was offered and accepted, and the following decade saw Pixinguinha compose many of his greatest Choros. Radio arrived and Pixinguinha pivoted, by arranging his songs for big bands and full sounds.
Still, he stayed faithful to Choro's mission, and because of his approach, Choro skyrocketed in popularity as never before.
Pixinguinha's pioneering musical vision for Choro embraced Afro-Brazilian percussion instruments. He was criticized by some for introducing elements of American jazz into his arrangements.
But Pixinguinha's creativity has stood the test of time. He brought new life to Choro's future while respecting the traditions of the music that defined his life.
In 2000, a heartfelt national campaign was undertaken by instrumentalist Hamilton de Holanda and the Raphael Rabello School of Choro. Their efforts resulted in the creation of Brazil's National Day of Choro, observed every April 23rd.
Explaining Choro: A Pair of Brazilian and US Performers
Choro Das 3
Choro Das 3 is the work of three sisters in 2002: flutist Corina Meyer Ferreira, Elisa (accordion, banjo, clarinet, mandolin, and piano), and 7-string guitarist Lia. This family group is inspired by the memory of their father Eduardo Meyer Ferreira, who passed away from COVID in 2021.
From their website: "We dedicate this group to Brazilian instrumental music, especially to Choro, an instrumental genre of the 19th century."
They are winners of the Prêmio Adoniran Barbosa award and Best Group of Popular Music according to the Paulista Association of Critics of Art.
Choro Das 3 regularly tours the United States and also France.
Kristen Mather de Andrade
A world-class clarinetist with impressive talent, New York-based Kristen Mather de Andrade is the Principal Clarinetist with one of America's most respected Concert Bands. Classically trained, it's the path she's followed since she was handed her first clarinet at age 10.
Mather de Andrade is also a Brazilian American with true affection for Brazil's Choro and Samba song forms. 2021's debut album Clarão showcases this facet of her musicality.
"Like many woodwind players, Pixinguinha's music draws me into it," she told us recently. "I think his compositional style is very much influenced by his saxophone and flute playing, so to me, it always feels very comfortable and fun to play his Choros. "Carinhoso" is one of the first songs I learned in Portuguese and I still love to sing it after many years of performing it!"
Kristen Mather de Andrade's new album, As Bright As The Skies Are Blue, is a thematic concept that explores a variety of styles and musical shadings. Included is her refreshing take on Choro master Jacob do Bandolim's 'Santa Morena'.
Learn More About Choro
Would you like to learn more about Brazil's Choro? Here's an expanded list of Choro's most important composers:
Jacob do Bandolim
Joaquim Callado
Anacleto de Medeiros
Ernesto Nazareth
Patápio Silva
João Pernambuco
Pixinguinha
Luís Americano
Villa-Lobos
Radamés Gnattali
Waldir Azevedo
Explaining Choro And Pixinguinha
Did you enjoy 'Explaining Choro And Pixinguinha'? If you did, why not join us at Connect Brazil?
Sign up for our emails on Brazilian music, travel, friends, and fun. Listen to our 'always live' streaming station and streaming music channels, always free. Visit us on Facebook, and Twitter, and browse our Lifestyle Directory for Brazilian events coast to coast.