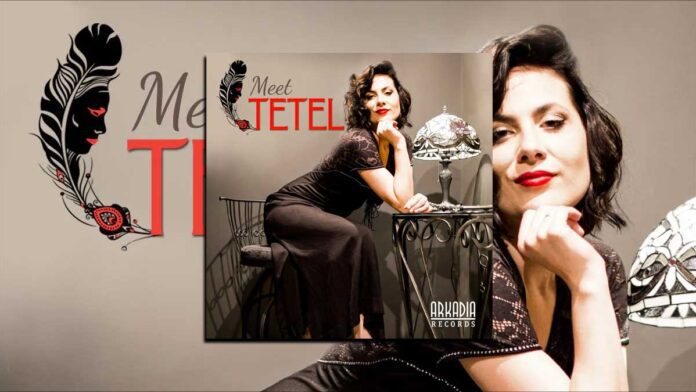 How A Talented Brazilian Singer And Songwriter Found Inspiration From Within
Jazzy and vivacious, meet Tetel Di Babuya. Her debut album is sure to make a lasting impression.
---
Sometimes you can meet the most interesting people through music. Shared interests can bring us closer together.
It could be someone you met at a concert or club. Or the person ahead of you in the autograph line. Or it might be the musician you were waiting to meet.
Well, in this case, you can skip the line. Meet Tetel.
That's the name of Tetel Di Babuya's debut album. And who is Tetel Di Babuya? Well, that's an interesting question. One that's best answered by someone who lives at the same address.
But we're talking about DNA here, not zip code, so meet Marcela Isabele Venditti Sarudiansky, who explains.
"The minute I decided to pursue my true passion, I started becoming Tetel and, all of a sudden, things started falling into place," she writes. "As soon as I allowed myself to follow this new musical path, the person I was always meant to be, came alive: meet Tetel Di Babuya."
It's kind of like Beyoncé, who would transform herself into Sasha Fierce, her bold and sometimes outrageous onstage persona. Except Sasha never recorded a Bossa Nova album.
And neither has Tetel.
Tetel Di Babuya's Jazzy Inner Voice
Rather, Tetel has followed her inner muse. Or perhaps it's the other way around. Meet Tetel is a jazzy, old-school escapade that reflects her love of jazz standards, but in her own original way.
It didn't start out that way. Brazilian-born, she was a classically trained concert violinist, touring Europe with the esteemed Sao Paulo Symphony Orchestra. From age 13 on, that was her career path, and she was comfortable with the demanding routine ("playing the violin well requires a certain level of neurosis"). But, then one day…
"Everything changed for me the first time I heard Ella Fitzgerald. It was like a window to a new universe inside me. That form of artistic expression spoke to the very core of me and I just knew I had to try and sing the best I could. I didn't care if I had a good voice or a bad voice, I simply had to sing."
And sing she does. In English and Portuguese, with a style that reflects Tetel's many musical moods. And while she loves Ella, 10 of these 11 songs are originals inspired by the styles she loves. The other? The Gershwin's 'Someone To Watch Over Me'.
Jazzy And Vivacious: The Meet Tetel Review
"Meet Tetel is a collage of the musical styles that have touched me as a musician: Jazz, Classical, Blues, Folk, Bossa Nova, Samba, French Chanson, and Soul," says Tetel.
She sings autobiographical stories of love, irony, and humor and sometimes there's an introspective bent that'll catch you completely off guard.
It's a creative process that begins with art imitating larger-than-life and the results are musically spectacular.
Even the song titles tease with a nod to the standards: 'Lullaby Of Loveland', with its scatty, attention-grabbing introduction and swinging melody. Or 'Willow Don't You Weep' with its bluesy, horn-wrapped arrangement.
'Meu Cupla's' English and Portuguese lyrics are simply brilliant. "Hey baby, how can the Bossa Nova mend our home? Have some faith in my mother tongue. It can do wonders with the right rhythms on."
Lines like that invite comparison. That one reflects the influence of Amy Winehouse but when you realize that's just too limiting, you know you may be on to something special.
Meet Tetel is an album meant to be enjoyed in real-time, as part of whatever you're doing. Vivacious and inventive, here's a debut album that's sure to make a lasting first impression.
Music, Travel, Friends, and Fun! 2022 marks Connect Brazil's 25th year.
Jazzy And Vivacious, Meet Tetel Di Babuya
Did you enjoy 'Jazzy And Vivacious, Meet Tetel Di Babuya'? If you did, why not join us at Connect Brazil?
Sign up for our emails on Brazilian music, travel, friends, and fun. Listen to our 'always live' streaming station and streaming music channels, always free. Visit us on Facebook, and Twitter, and browse our Lifestyle Directory for Brazilian events coast to coast.
Meet Tetel
Arkadia Records
Follow Tetel Di Babuya
Website | Facebook | YouTube | Instagram | TikTok
Buy Here | Amazon | Apple Music | Spotify
Listen To Meet Tetel On:
Also On These Channels @ AccuRadio
Meet Tetel By Tetel Di Babuya
Track List
Lullaby of Loveland
For One Man Only
Clean Cut
Upright Lad Blues
Mea Culpa
All and More
Not About Love
Hello, Hon'
Você (radio version)
Willow, Don't You Weep
Someone To Watch Over Me
Production:
Recorded at Arsis Studio, São Paulo, Brazil. Songs, lyrics, and arrangements by Tetel Di Babuya, except 'Someone To Watch Over Me', by George and Ira Gershwin. Executive Producer: Bob Karcy for Arkadia Records. Produced by Bob Karcy, Tetel Di Babuya, and Igor Sarudiansky.
Personnel:
Tetel Di Babuya: – voice and violin
Daniel Grajew: – piano, accordeon and Rhodes
Nilton Leonarde: – acoustic bass, electric bass, and guitar
Emilio Martins:- drums
Richard Fermino: – saxophone, trumpet, and trombone