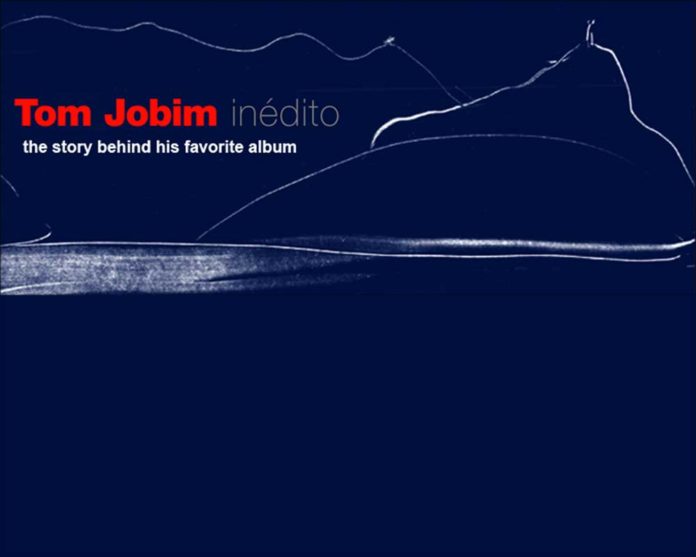 At first, it was nothing more than a rumor. today, this landmark album captures Jobim at the peak of his career.
---
Jobim's secret album has an equally compelling story, kept secret until now. Much that has been written about this album is incomplete through either error or omission, and that's a shame because it's a story that's worth telling – with all the facts:
Any business professional who's worked in Rio or São Paulo for more than a year knows that one of the most prized gifts of the holiday season is the yearly premium offered by the South American engineering and chemicals powerhouse, Odebrecht.
Today: A Jobim twofer for our streaming station's Brazil Back2Back. Listen Live at 2 and 5 pm CT, top of the hour.
Each year, its foundation has traditionally released a premium gift to its clients and associates that promotes cultural, artistic, or historic treasures.
The quality and production of these annual charges are of the highest order, and the limited edition run is privately distributed.
But if you know someone who knows someone who is a friend of the right person, it might be enough to get an 'Odebrecht' of your own – just in time for an inconspicuous display during the holiday party season.
Jobim's Secret Album: A Shared Secret
Such was the case in late 1987 when seemingly everyone you ran into was asking the same question that was on your lips: 'Do you know anyone who…'
The buzz was all about Jobim's secret album.
It was also the worst kept secret in Brazil: Antonio Carlos Jobim had just recorded a double LP with his 'New Band' for Odebrecht and rumor said that there was a hard-bound book that when with it.
The album and book celebrated Jobim's 60th birthday, making it the most precious 'must have' of the year.
For the rest of us, Jobim's secret album was also the most unobtainable: Odebrecht had the publishing rights locked up. By the time Jobim's 61st birthday rolled around on January 25th, 1988 you might have heard a friend's homemade cassette tape of the album – probably a copy of a copy – if you were lucky.
The 'Unknown' Story
From the liner notes of the original Brazilian release, musicologist Vera Alencar picks up the story:
"February 1987. Rio de Janeiro. More precisely the Jardim Botanico district, at Ana and Tom's house. Between a sip of whisky and a chord on the piano, I said: 'Tommy, our project has been approved. Now, you're in charge. We have enough money in the budget for you to invite anyone you want to give a guest performance."
His answer didn't come right away. It built up slowly and came out like this: "Vera, dear, I think there are already too many guest performances these days. I'm going to record this one with my band."
From March to September, the sequence unfolded: choosing the repertoire, rehearsing, recording, and mixing. Everyone gave their input on the songs selected, but it was Tom who made the final choice.
He made a point of identifying the lead soloists for each track from among the members of his own band.
Jobim's Secret Album: The Songs
He decided to include Villa Lobos's 'Seresta No 5' and rehearsed it with Paulinha Morelenbaum. When it was just right, he decided that Danilo Caymmi would do the vocals. It had never been sung by a male voice before.
Tom's mere presence always gave the rehearsals and recording sessions a festival atmosphere. The only thing that interrupted his smile and his broad gestures was the fact that his newborn daughter, Maria Luisa, had sneezed."
Recording began mere weeks after Jobim wrapped up his 'Passarim' album and while the core of this musical group carries over from that album this 'anniversary' recording remained very much a family affair.
Son Paulo and daughter Elizabeth, his wife Ana, and close friends – Jacques and Paula Morelenbaum, Simone and Danilo Caymmi, Maucha Adnet, Sebastião Neto, and his longtime friend and drummer Paulo Braga were included.
So it's no surprise that these two albums are cut from the same cloth.
Even The Title Is a Mystery…
Understandably, an occasion like this could lead the musician down a reflective path, but there's no suggestion of it here.
Thoughtful planning shows up in the deft use of Jobim's ensemble sound. The female vocal chorus and tight unison lines brighten these Brazilian chestnuts.
Where 'Passarim' looked back only occasionally for George Gershwin's 'Fascinatin' Rhythm' and a trio of 'girl songs' ('Isabella', 'Luiza' and 'Gabriella'), 'Unknown' charted a different course by retracing many of Jobim's best songs from his Bossa Nova years (plus a surprise or two).
Indeed, each song from Jobim's secret album was drawn from distinction, each celebrated in the spirit of rebirth that a milestone event might demand. Jobim was in great voice for his vocal leads – another part of the trademark 'New Band' style.
The arrangements are fresh and inventive, and these 24 songs are sprinkled with smaller settings to showcase Jobim alone at the piano.
There's a sense of intimacy here that permeates these songs to make the most of these musicians, these songs, and the arrangements that frame them.
Tom would later offer that this album – of all the albums he recorded – was his favorite. That's no small statement.
Jobim's Secret Album: Another Jobim Mystery Revealed
The title of Jobim's secret album presented yet another mystery. I'm not sure why the title of this album was changed from 'Inedito' to 'The Unknown' when DMG teamed up with Brazil's Biscoito Fino label for this US release – the title is awkward and misleading.
And a backhanded compliment must be paid to DMG for releasing this album with little or no promotional support, rendering this important release to nearly invisible status as Jobim's secret album.
Further, DMG chose to include only one of the several beautiful ink-on-paper sketches created by Jobim and his daughter Elizebeth in the included booklet – a shame.
Maybe there is an explanation for the change of title, after all. So much more could have been done to celebrate by the label to celebrate this masterpiece recording.
But because of its mysterious beginnings, 'The Unknown' remains known until this day as Jobim's secret album.
Jobim's Secret Album: The Complete Story
Did you enjoy 'Jobim's Secret Album: The Complete Story'? If you did, why not join us at Connect Brazil?
Sign up for our emails on Brazilian music, travel, friends, and fun. Listen to our 'always live' streaming station and streaming music channels, always free. Visit us on Facebook, and Twitter, and browse our Lifestyle Directory for Brazilian events coast to coast.