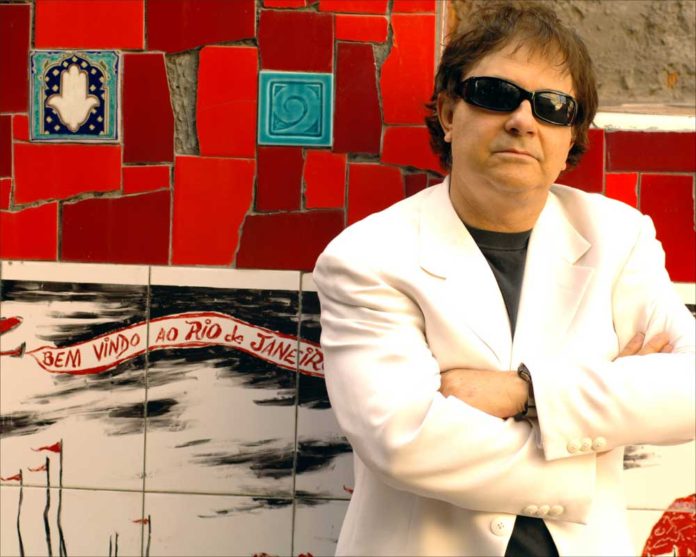 Where does one start with Deodato? How about here?
One-Track Mind: 'The Crossing' by Deodato is the Brazilian keyboardist's latest album.
---
It wasn't any easier a question 30 years ago. That's when Billboard magazine covered his first US concert tour. The music weekly referred to Deodato as a newcomer. "Young and exuberant, with the intellectual curiosity and lack of pretense seemingly common with many Latin American musicians," they wrote.
But there was a problem. By the time his first single ("Also Sprach Zarathustra: Theme From 2001, A Space Odyssey") made it to #2 on the Billboard Top 100 Pop chart in 1973 – becoming the very first jazzy instrumental song to do so – Deodato was already on a new winning streak.
Deodato's Cutting Edge
Eumir Deodato had already put together a resume that would be the envy of any career-seeking musician.
He arranged for Frank Sinatra, Wes Montgomery, and Astrud Gilberto. He recorded several albums under his own name while living in Brazil.
Deodato even signed future Brazilian superstar Milton Nascimento to his first recording contract. It was with Creed Taylor's Verve Records in New York, months before a Brazilian label was able to put together a deal.
Talk about cutting edge.
Too Hot
Too young? If you dated your way through the 1980s, you probably weren't aware that it was Deodato who produced and guided The Dazz Band, Con-Funk-Shun, and Kool & The Gang to a string of radio and dance floor hits.
As a matter of fact, Robert "Kool" Bell looks back fondly on the time he worked with Deodato, courtesy of remezcla.com.
"We thought that getting Deodato, he would take us in that [jazz] direction also, because of his background, but he said, 'No, we gotta go in this direction.'
Now, 'Ladies Night,' my wife and I were hanging' out in New York; every Friday night, Saturday night there was a Ladies Night. Studio 54, at Régine's in New York," Bell told Richmond Mag. "Studio 54, at Régine's in New York.
I went back to the guys and I said, 'Hey, man, every weekend there's a Ladies Night, we should write a song called 'Ladies Night.' That was our first big hit with Deodato. Same thing with 'Celebration.' There was a full orchestra on that record. Deodato had a full orchestra come in and play on 'Celebration.'
And at the end of the record, all of that went off, and all you had was the guitar in the front, which is signature now. I said, 'What happened to all the music?' He said, 'That's not the hit. This is the hit.'"
Those dance floor anthems include 'Celebration' and 'Ladies Night' (bonus points if you recall his own 'S.O.S. Fire In The Sky' from '84), plus a string of his own jazz/pop albums with CTI, MCA, and Warner.
Still too young? How about Björk, Christophe and k.d. lang? In fact, Deodato has produced more than 450 albums, 15 of which have gone Platinum.
Eumir Deodato has sold more than 25 million albums.
Buy The Crossing by Deodato
Listen To The Crossing by Deodato On:
Also On These Channels:
The Crossing by Deodato
So, would this be the right time to ask that question? "Where do you start with Deodato?"
The answer is apparently, yes.
That's because the release of his latest album, The Crossing is stirring up a lot of excitement. An apt album title for the man who's produced and arranged for Aretha Franklin, Gal Costa, and Frank Sinatra. He's done the same for Earth Wind & Fire. Roberta Flack, Michael Franks, and dozens of other chart makers.
Maybe the album should have been called Crossing Over.
Deodato has long thought that his music was pigeonholed early on as jazz, but by his own admission, The Crossing is his jazziest recording ever – without giving up on the trademark synth-rock pop sound that has uniquely defined his musical space.
Here's an album that captures the same contemporary vibe that's worked so well for fellow Brazilian compatriots Sergio Mendes (whose 'Bom Tempo' is up for another Grammy this year) and Marcos Valle in recent years.
But The Crossing eschews smartly-turned rap phrases and studio-created street cred for an easy-flowing set of English vocals and instrumentals that feature a pretty impressive guest list.
Al Jarreau's Final Recording
Al Jarreau is here on two tracks. 'I Want You More' is a soft breezy Bossa duet with the Italian jazz & pop group Novocento featuring vocalist Dora Nicolosi.
Al Jarreau also penned the melody and lyrics for the hit single 'Double Face' which opens the album and was recorded early last summer while the singer was in Germany.
Leave it to Deodato to superimpose it over the electric spirit of his own 'Super Strut' from nearly four decades earlier. The similarity is uncanny – and it's sure to bring a smile.
The title song is born out of the tight horn-driven groove that's served up so many pop hits for Deodato, this time with the UK dance group Londonbeat, who also appear on the bluesy 'No Getting Over You'. And 'Rule My World' with drummer Billy Cobham and Novocento could prove to be a worthy radio follow-up to 'Double Face'.
Three instrumentals shine here – warmly wonderful and all classic Deodato: 'Borderline' is soulful and smooth, with the melody moving around from keyboard to strings and brass in ensemble fashion, and featuring Brazilian percussionist Airto.
'Summertime' gets a richly-layered updating with a full orchestral counterpoint married to Deodato's flowing funk keyboard lines and 'Night Passage' carries trumpet and flute in unison to contrast the 'drift away' melody.
A winning formula
Both of these tunes pick up on another staple of Deodato's early sound: Fusion guitarist John Tropea returns with a pair of great solos.
All of this isn't to even remotely suggest that The Crossing is just a musical reflection; a reminiscence of past glories as some reviewers have suggested.
Yes, Deodato is behind that Fender Rhodes and if you're of a certain age Tropea's contributions might make you scramble over to eBay for a decent turntable before pulling your record collection out of the hall closet, but that's not what this album is about.
For the rest of us, I'd say that, given the breadth and depth of his career, I wouldn't be surprised if there isn't some of Deodato's creative work in your music collection already. If not, may I suggest that The Crossing wouldn't be a bad place to start?
And our One Track? Here it is:
One-Track Mind: 'The Crossing' by Deodato
Stories like 'One-Track Mind: 'The Crossing' by Deodato' are what we do. Why don't you join us?