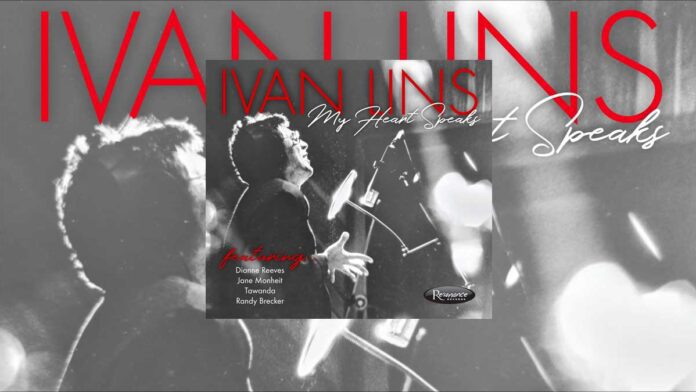 Ivan Lins Moves To The Spotlight with A Handpicked Original: 'Renata Maria'
My Heart Speaks By Ivan Lins marks a musical first for the four-time Latin Grammy winner and is ready for its September 15th album release.
---
by Scott Adams
Here's a question: With a musical career of five decades, what hasn't Ivan Lins done?
Ivan Lins has pretty much done it all.
It began with Brazil's greatest singer, Elis Regina. She took the young songwriter's 'Madalena' and turned it into a generational anthem of hope and inspiration during Brazil's darkest days.
Amazingly, 'Madalena' was among the first of more than 600 songs penned by Lins. They found their way to nearly 50 albums and an impressive record of success with the Latin Grammys.
Fully nine Latin Grammy nominations leading to four wins. His music helped others to Grammy success, including Quincy Jones, George Benson, and The Manhattan Transfer.
Lins is the first (and only) Brazilian to win the Latin Grammy award for Album of The Year. He is one of Brazil's most prolific songwriters. His 'Love Dance' is one of the most recorded songs in history.
But there is one thing that Ivan Lins hasn't done. Until now.
Learn More About The Album
The September '23 album release of My Heart Speaks by Ivan Lins adds a unique aspect to his already impressive career. His own handpicked songs, accompanied by the world-class Tblisi Symphony Orchestra.
Lins's presence is felt throughout, from the opening song to special guest performances by vocalists Dianne Reeves, Tawanda, Jane Monheit, and trumpeter Randy Brecker.
Preorders for the album and its first single are available as of Ivan Lins' birthday, June 16th. The Deluxe CD includes a 24-page booklet.
Each of these 11 songs is graced with stunning, original symphonic arrangements by Germany's Kuno Schmid. His orchestrations reflect the intimacy of the moment… and the music. Schmid's singular talent captures the made-for-Brazil spirit of Claus Ogerman's strings for Antonio Carlos Jobim and João Gilberto. This is no small statement.
Surprisingly, the last studio album under Lins's own name was released in 2014. That's the better part of nine years ago. Equally surprising is the fact that it's been 24 years since the release of an Ivan Lins album by an American label.
And just like your most cherished Ivan Lins favorites, the story behind My Heart Speaks is meant to stay with you.
Planting the Seeds of Inspiration
The inspiration for My Heart Speaks grew from Night Kisses, 2020's tribute album of Ivan Lins songs by jazz reedman Eddie Daniels. Dave Grusin and Bob James joined the project, as did Schmid's strings for The Harlem Quartet.
Fans and reviewers alike praise Daniels's synergy of musicianship and musicality. Lins took notice, and it led to a new relationship.
Resonance Records Producer George Klabin explains. "I have always loved Lins compositions and his passionate vocals. In my opinion, he is as great a composer of Brazilian music as Tom Jobim. I learned about Ivan when I bought his LPs in the 1970s whenever I visited my father in Brasil."
At some point, Klabin obtained Ivan's phone number. "We had a number of very positive conversations. At one point I asked him whether he would like to make a recording for Resonance, and he agreed."
Another New Single Debuts for My Heart Speaks by Ivan Lins
Leading up to the September 15th debut of My Heart Speaks is the release of the album's third single, beautifully sung by Ivan Lins.
'Renata Maria' finds Brazil's most prolific MPB songwriter introducing another handpicked favorite. The flowing melody and touching lyrics in Portuguese combine to create a warmly reflective tale of exhilaration and longing. It is co-written by Chico Buarque.
'Renata Maria' follows the tremendous fan support for Tawanda singing 'I'm Not Alone (Anjo de Mim)'. The first single is the title song, 'The Heart Speaks' featuring Dianne Reeves.
The Deluxe CD edition includes a 24-page booklet that Ivan Lins fans are sure to enjoy. Here's an excerpt:
"This rhapsodic ballad tells of a goddess who rises from the sea and makes all of nature
pale by comparison. Then she vanishes, leaving a lovesick observer to stalk the beach
endlessly, desperate to see her again.
"Lins first recorded 'Renata Maria' in 2004 as a demo with no lyric; he played the
chords and hummed the tune. When Leila Pinheiro asked Lins for a song for her next album, he sent her the demo. Pinheiro thrilled Lins when she had Buarque write a lyric.
"After Pinheiro's album was released, journalists bombarded Lins with calls: Who was
this Renata Maria that Pinheiro had sung of so rapturously? "In fact," he says, Renata Maria was a character created by Chico Buarque. In this new performance, the strings help evoke the story's breathless urgency — the surging of the waves, the pacing up and down the beach."
Download and pre-order My Heart Speaks by Ivan Lins
All three singles, 'The Heart Speaks' featuring Dianne Reeves, 'I'm Not Alone (Anjo de Mim)' featuring Tawanda, and 'Renata Maria' sung by Ivan Lins are now available for download and streaming.
The full-length album is now available for pre-order on Amazon and the Resonance Records Bandcamp and website store. Follow this link for more.
My Heart Speaks
For his June 16th birthday, Ivan Lins has gifted us with news of a beautifully recorded – and deeply moving – album. One that unquestionably has earned its place among his greatest titles. Producer George Klabin sums it up this way.
"The journey of creation of this masterpiece will remain with me as the most spiritual and loving experience I have had in the field of music production."
Music, Travel, Friends, And Fun!
My Heart Speaks By Ivan Lins
Stories like 'My Heart Speaks By Ivan Lins' are what we do. Why don't you join us? Sign Up for our e-letter. Listen to our 'always live' streaming station and our 15 streaming music channels, always free. Browse our Lifestyle Directory. Click here to like our Facebook page and here for Brazilian events coast to coast.
My Heart Speaks By Ivan Lins
Download the singles 'The Heart Speaks', 'I'm Not Alone (Anjo de Mim)', and 'Renata Maria', and pre-order Ivan Lins's new album, 'My Heart Speaks':
Resonance Records | Amazon | Bandcamp | Linktree
Listen free: New Music: Brazil | Brazilian Jazz | Women of Brazilian Song | Our Streaming Station
Track List
Renata Maria
The Heart Speaks (Antes e Depois) Dianne Reeves, Vocal
Não Ha Porque (There's No Reason Why)
I'm Not Alone (Anjo de Mim) Tawanda, Vocal
Congada Blues
E Isso Acontece (And This Happens)
Easy Going
Corpos (Bodies)
Missing Miles Randy Brecker, Trumpet
Rio (Rio de Maio) Jane Monheit, Vocal
Nada Sem Você (Nothing Without You)
Personnel
Ivan Lins (vocals), Dianne Reeves, Jane Monheit, Tawanda (featured vocals), Randy Brecker (trumpet), Josh Nelson (piano), Leo Amuedo (guitar), Carlitos Del Puerto (bass), Mauricio Zottarelli (drums & percussion). With special thanks to the Tbilisi Symphony Orchestra.
All songs arranged by Kuno Schmid
Produced by George Klabin and Kuno Schmid
Associate Producers: Catherine Mayer and Fran Gala
Mastered by Fran Gala • Recording Engineer in Tblisi: Lars Dolle
Assistant Producer in Tblisi: Josh Nelson
Cover Photo: Bruno Veiga • Album Design: JRocket77 Design