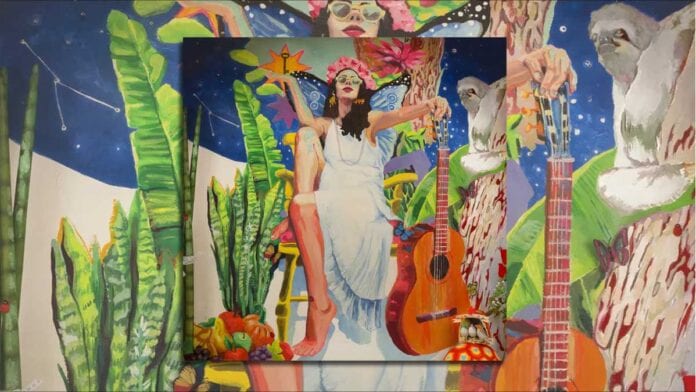 It's Been A While Since Her Last Album. 10 Years To Be Exact.
Marisa Monte launches Portas on her 54th birthday, and it's worth the wait.
---
by Scott Adams
In the universe of Brazilian music that defines what we do here at Connect Brazil, there's a handful of musicians that we always keep an eye (and ear) on. Especially when it comes to new albums for us to share with you.
New recordings used to arrive like clockwork from Sergio Mendes, Eliane Elias, and Bebel Gilberto, America's trio of best-loved Brazilian stars. But lately, the time between new albums (usually every other year or so) has grown longer for all three.
And it's not just these superstars.
The 7-year itch (+ 3)
We waited 10 years for guitarist Torcuato Mariano's excellent Escola Brasileira album, featuring Djavan, keyboardist Cesar Camargo Mariano, Hamilton de Holanda, Gabriel Grossi and vocalist Toni Scruggs. No question that it was worth the wait.
Marisa Monte has been our bellwether for Brazilian pop ever since Manolo, Brazil's President of EMI Records handled me a CD copy of her debut album MM in 1989. "She's going to be something special," he told me.
Mais followed a couple of years later, then her Rose & Charcoal album put her over the top in 1994. A Great Noise followed in '96, then was a slightly longer wait for Memories, Chronicles, And Declarations Of Love in 2000.
Monte's Universo Ao Meu Redor and Infinito Particular arrived as a joint release six years later and O Que Você Quer Saber De Verdade debuted on our streaming station in 2011.
One door closes so Portas can open
But Marisa Monte had a plan. Our 2018 story The Day Marisa Monte Said Goodbye covered a dramatic moment in her career when she announced that she was parting ways with EMI, her career-long, worldwide label partner.
Then, last summer, when we heard that Marisa Monte's first album in more than a decade was ready for the studio but delayed due to COVID-19, we – like everyone else – wondered if time would pass her by.
"The doors were closed, everyone's life was filled with uncertainty and it became difficult to make plans", Monte said in a video post in 2020. Her website even stopped updating.
After all, a lot had changed with Brazil's music scene since O Que Você Quer Saber De Verdade.
But that's fine because, throughout Monte's storied and successful career, she's managed her professional life and personal life with enigmatic and engaging aplomb.
So, when we picked up on the news that Marisa Monte's new album was recorded and ready for mixdown last February, I was pretty sure that she'd release it on her birthday, July 1st.
Sure enough, the first single, 'Calma' from her new album Portas was released on June 10th, and the album launched on all digital platforms last night, on her 54th birthday.
Do you have TV Globo? You can watch Fantástico this Sunday July 4th for a special video premiere of the album's title song. Rumor is that there may be a surprise on stage, too.
Portas by Marisa Monte: Our Review
Generously, Portas opens the way to 16 songs – all new – featuring several new songwriting partners.
Brothers Lucio and Lucas Silva's songwriting talents show on a pair of original tunes, and for the first time since Rose and Charcoal, Carlinhos Brown is absent from the composing credits.
Who stepped up to fill the void? Brown's son, Chico, who co-penned Portas's first single along with four more songs.
One of Monte's newest songwriting partners is Marcelo Camelo, lead guitarist for the forever-on-hiatus rock group Los Hermanos. Three of the album's songs bear his name with two being co-written with Monte. Looks like she's found a kindred spirit.
Finally, let's go back to the question of the moment. Will the Marisa Monte of 2021 reinvent herself to create a different space in the brave new world of Brazilian pop?
It's almost as if these 16 songs tug on their past, referencing MM at different points in her career. There are similarities that are unmistakable, but that's all they are.
Portas succeeds on several levels but regardless of its musical influences from Monte's earlier albums, these songs are fresh, inviting, and uplifting. Three decades into her stellar career, Portas continues her creative traditions without compromise. Familiar and new, not cliched or contrived.
Some critics will no doubt take issue with that. They'll cry "rust!". I say patina.
These songs are rich in their variety, comfortable in their spirit. There's an air of positivity with Portas. It permeates with a bright and breezy attitude that reminds us that sometimes one can win by refusing to compete.
It takes a rare talent to stay the course while the winds of musical and social change swirl around you, but such is Monte Monte's creative commitment. Paying homage to the Masters of Samba and her father's family traditions. Musical quotations from early influencers like Jorge Ben.
Live with this album for a while and you'll find yourself knowing that her next one won't be ten years in the making.
Portas – Marisa Monte
Portas
Calma
Déjà Vu
Quanto Tempo
Medo do Perigo
A Língua dos Animais
Praia Vermelha
Totalmente Seu
Em Qualquer Tom
Espaçonaves
Fazendo Cena
Sal
Vagalumes
Elegante Amanhecer
Você Não Liga
Pra Melhorar (Ft. Flor (Brasil) & Seu Jorge)
Marisa Monte Launches Portas
Stories like 'Marisa Monte Launches Portas' are what we do. Why don't you join us?
Sign up for our emails on music, travel, friends and fun. Listen to our 'always live' streaming station and our 12 streaming music channels, always free. Browse our Lifestyle Directory. Click here to like our Facebook page and here for Brazilian events coast to coast.