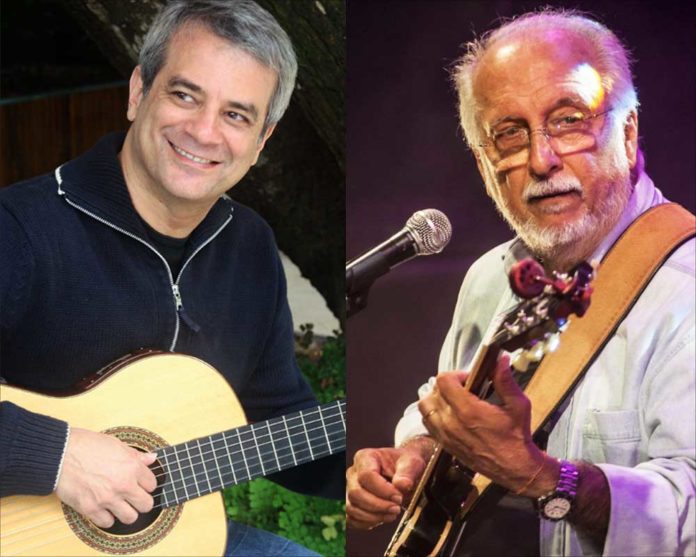 Roberto Menescal and Ricardo Silveira share birthdays today, October 25th, so musical best wishes to a pair of cross-generational guitar masters. Bossa Nova legend Roberto Menescal was born in 1937 and Brazilian Jazz visionary Ricardo Silveira in 1955.
by Scott Adams
Roberto Menescal and Ricardo Silveira share a birthday today.  Let's spend spme time with each of them right now.
Roberto Menescal
Menescal's songwriting has been prolific, especially during Bossa Nova's heyday in Brazil. Listed among his many hit songs are 'O Barquinho', 'Você', 'Nós e O Mar' and 'Rio'.
He helped to launch the musical careers of Zizi Possi and Wanda Sa and he redefined Emilio Santiago's career with a series of popular recordings under the 'Aquarela Brasileira' banner. Menescal also owned Rio's most successful Bossa Nova label, Albatroz Musica.
Menescal also played a pivotal role in the career of vocalist Leila Pinheiro when the two recorded Bossa Nova's most successful album in Brazil.
Benção Bossa Nova is the only Bossa Nova record to ever go gold in Brazil, and its popularity brought Leila Pinheiro and her producer Roberto Menescal to all points on the map in Brazil, as well as Venezuela and Japan.
The tour continued worldwide, reaching more than 140 concerts and capturing audiences everywhere.
Get the Connect Brazil e-letter
Ricardo Silveira
Ricardo Silveira has earned a reputation as one of Rio's most admired and respected international musicians. Born in Rio, Ricardo grew up listening to Bossa Nova, Samba and jazz.
He began serious guitar study at age sixteen and is a graduate of the prestigious Berklee College of Music in Boston, where he studied alongside jazz greats Pat Metheny and Bill Frisell.
Silveira has played guitar on hundreds of recordings over his long career and has recorded with such notables as Milton Nascimento, Vanessa Williams, Gilberto Gil, Gal Costa, Marcos Ariel and Ivan Lins, who joined Ricardo Silveira in the recording of Alexandra Jackson's Legacy and Alchemy album. Watch an exclusive video interview with Ricardo Silveira.
You may be thinking: "Is it true that Roberto Menescal and Ricardo Silveira share a birthday today? The very same day and year?"
No, of course not. Just copare the pictures. And their music.
Bossa master Roberto Menescal was born on October 25th 1937, and Brazilian jazz guitarist Ricardo Silveira was born onthe same date in 1955.
Roberto Menescal and Ricardo Silveira are musical talents that span generations, styles and borders! Enjoy the tunes below.
Sign up for our emails on music, travel, friends and fun. Listen to our 'always live' streaming station and our 12 streaming music channels, always free. Browse our Lifestyle Directory. Click here to like our Facebook page and here for Brazilian events coast to coast.