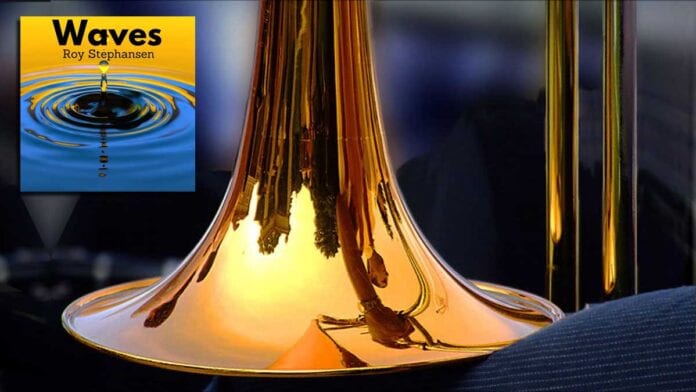 Tropical, musical warmth from the tall latitudes and the Theater of Your Mind
Roy Stephansen And The Midnight Sun? Can you think of a better place to let your imagination inspire your music?
---
Over the past few years, we've come to know Roy Stephansen's Brazilian jazz quite well. The genial Norwegian trombonist and composer is a remarkable musician and bandleader.
Stephansen's inspiration for these tunes comes from a fertile imagination. It paints musical imagery with tonal colors, counterpoint pastels, and tropically vibrant accents.
As we wrote back then, "Decades before Italy's Nicola Conte and Giacomo Bondi revitalized Bossa Nova for new generations, Europe was already engaged in its own love affair with the Bossa beat. Bandleaders like Belgium's Nico Gomes, Germany's Martin Böttcher, Brazil's Neco, and even Oliver Nelson and Quincy Jones set the pace."
A look back at Roy's best tunes
First to arrive was 2018's 'Bitcoin Samba'. It's a swinging Bossa Nova instrumental that feels right at home on our streaming station's playlists. It's a fan favorite for listeners to our streaming channels at Connect Brazil.
2019 brought us a pair of Roy Stephansen originals. 'Garden Samba 70° North' refers to the decidedly un-tropical latitude which runs through Roy's homeland, Finnmark in the far northern reaches of Norway.
This spritely jazz samba song came with a charming video featuring beautiful photos of home gardens and planters, courtesy of his wife's green thumb. Just lovely!
'Northern Lights' (Sausnebb Bossa Aurora Borealis, in Norwegian) followed in December. Images of the Aurora Borealis shimmer in the cosmic breeze for this relaxing, jazzy Bossa vibe. Stephansen's long-form melody is perfect for keyboard solos and his trombone chorus.
2020 sparked our spirits with an unnamed melody and a request. Roy invited me to give him some naming suggestions for the song title. Who could resist such an offer?
Its whistling melody laid over a hybrid 'Islands' Bossa Nova rhythm and steel drum synths reminded me of Rio's Sun Coast. So, that how 'Carefree Days In Cabo Frio' came to be.
Roy Stephansen's 'Waves'
The summer of '21 includes another new song from Roy Stephansen, called 'Waves'. It's samba jazz, and the song's quick start finds you wanting to catch up. The tight, bright trombone melody anticipates a day at the beach. It's a driving song, in more ways than one.
The video for 'Waves' is shot in-car, on a paved, winding, single-lane coastal road which contrasts stark, snowcapped hills with the artic blue waters of the Barents Sea.
Each of these songs has become popular on Connect Brazil's streaming network. For while Bossa Nova greats like Jobim, Menescal, and Marcos Valle were inspired to create in their hometown environment, so does Roy Stephansen in his.
And if you think about it, the theater of the mind where most of us find ourselves when the music begins to play.
Follow Roy Stephansen on
Roy Stephansen And The Midnight Sun
Stories like 'Roy Stephansen And The Midnight Sun' are what we do. Why don't you join us?
Sign up for our emails on music, travel, friends and fun. Listen to our 'always live' streaming station and our 12 streaming music channels, always free. Browse our Lifestyle Directory. Click here to like our Facebook page and here for Brazilian events coast to coast.