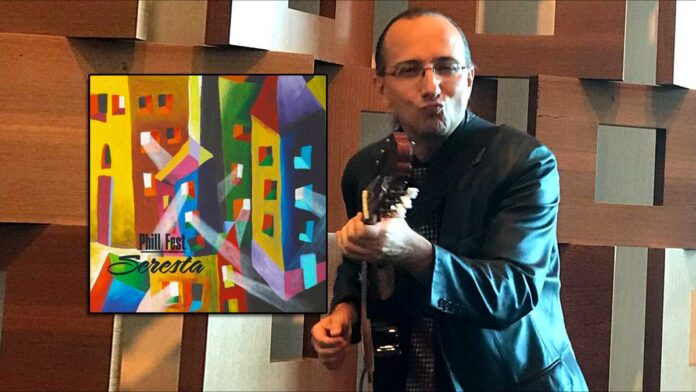 Acoustic Excellence From Guitarist Phill Fest. Enter Our Giveaway today!
The Connect Brazil Giveaway for Phill Fest's Brazilian jazz album Seresta.
---
Here's your chance to add Seresta to your collection! Win one of seven copies of this album from Connect Brazil. Enter today, below.
Seresta means sizzle in Portuguese. Each of these six songs is a summery, Brazilian jazz delight.
Phill Fest's latest album came together quickly last October, during a visit to the sun-kissed southern city of Porto Alegre, Brazil. Fan favorites include the title track, 'Tereko', and 'Choro Nostalgico'.
A special guest is Kiko Freitas, longtime drummer for Joao Bosco and with saxophonist Leo Gandelman.
"Phill has created something beautiful and deeply personal, an album full of the magic of Brazil and the fire of American Blues and Jazz."

– Howard Levy
Win a copy of Phill Fest's Brazilian jazz CD, Seresta! We'll also add your name to our Weekender e-letter list. It's free and you can cancel at any time.
Enter The Seresta Brazilian Jazz Giveaway from Connect Brazil
Rules:
This Connect Brazil Giveaway is available to USA addresses only. Valid contact information only. All entries are subject to our contest terms.
Be sure to type the word 'Seresta' in the message box, below!
Winners will be announced on this page and will also be contacted by email.
Music, Travel, Friends and Fun! 2022 marks Connect Brazil's 25th year.
The Seresta Brazilian Jazz Giveaway
Events like 'The Seresta Brazilian Jazz Giveaway' are what we do. Why don't you join us?
Sign up for our e-letter. Listen to our 'always live' streaming station and our 12 streaming music channels, always free. Browse our Lifestyle Directory. Click here to like our Facebook page and here for Brazilian events coast to coast.