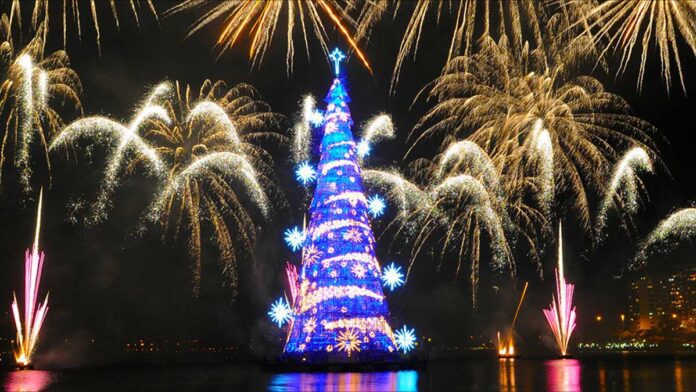 A Year By Year Guide to Rio de Janeiro's Most Popular Christmas Tradition.
The History of Rio's floating Christmas tree really is one for the record books.
---
Here in the USA, it happens every year. From sea to shining sea, America's cities, large and small participate in a grand tradition, beloved by generations. The annual lighting of community Christmas trees.
From Chicago to Houston, Miami to Los Angeles. From Portland Oregon to Portland, Maine.
Worldwide, Christian nations do likewise. London's tradition is the seasonal centerpiece for Trafalgar Square. Germany? 500 Christmas trees light up the night sky above Berlin's Kurfürstendamm shopping boulevard.
But in 1996, Rio de Janeiro surprised the world with its own unique take on a city's Christmas tree celebration.
And whoever floated the idea in the first place deserves a special honor.
The city decided on a novel location, far removed from downtown Rio de Janeiro. They selected the inland lake which separates Ipanema from Jardim Botanicao: Lagoa Rodrigo de Freitas.
This is the history of Rio de Janeiro's floating Christmas tree.
World's Largest Floating Christmas Tree
Eclipsed in popularity for tourists and Brazilians alike by only Carnaval and New Year's Eve, the Árvore do Rio (Tree of Rio) holds the world's record as the largest floating Christmas Tree in the World by Guinness.
The annual lighting at Parque do Cantagal also marks the start of Rio de Janeiro's Christmas season.
Rio's floating Christmas Tree was an annual cultural mainstay for 20 years, from 1996 through 2015. But since then, its appearance has been spotty. A lack of underwriting and most recently, Covid-19 has caused cancellations.
The history of Rio de Janeiro's floating Christmas tree
The First 10 Years: Beginnings – 1996 to 2005
1996: Officially titled as A Árvore de Natal da Lagoa Rodrigo de Freitas, Rio's original floating Christmas tree stood a mere 157 feet tall, weighing 90 tons and illuminated by 1.5 lights.
1997: Year two. The tree grows to a height of 190 feet and takes on a multiple-section graphic design.
1998: No major changes were planned for Rio's tree this year. The cinescape featured silver-white stars and ribbons laid over traditional red and gold panels.
1999: The Arvore's 4th anniversary brought an ambitious new design for Rio's floating Christmas tree. At 249 feet tall, and a weight of 250 tons, Rio de Janeiro's holiday icon officially claimed the Guinness Book of Records and the Largest Floating Christmas Tree in the World. New lighting effects gave motion to the tree for the first time. Its theme? "A Mirror To The World."
2000: The celebration of the new millennium brought new novelty. No longer tethered to anchors, the tree was could now move around the lake. Viewers loved the idea, and so did television news crews, who provided frequent live updates.
2001: This year saw Rio's floating Christmas tree grow yet again to a height of 269 feet, with a 13-foot tall star placed on its peak. This year, the tree was decorated with hundreds of large golden ornaments and nearly 3 million lights.
2002: This was the year that many Cariocas and tourists list among their favorites. Eight powerful spotlights adorned Rio's floating Christmas tree to shine brightly into the night sky.
2003: This year's presentation (its 7th) introduced the theme of 'Angels, Stars and Musical Notes'.
2004: The 9th edition included another entertainment evolution. Again, it came in the form of movement. Specifically, moving images moved across the floating tree in Rio de Janeiro's Lagoa Rodrigo de Freitas. Lakeside viewers saw bells and doves grace its aluminum boughs.
2005: To celebrate its 10th anniversary, the designers brought yet another new idea to one of the best known Christmas symbols, worldwide. Perhaps inspired by the Bellagio in Las Vegas, the city of Rio de Janeiro presented the theme, Balé das Águas (Water Ballet). The base of the tree held 48 synchronized water pumps which propelled streams of water 66 feet into the night sky. A sweeping spectacle of water and lights, awash with color, motion, and… texture.
The history of Rio de Janeiro's floating Christmas tree
The Second Decade: Innovation – 1996 to 2005
2006: The Balé das Águas returned this year, with the internal panels of the tree painted green to visually enhance its daytime appearance. Large graphic globes with images from each of Brazil's 26 states alternated to decorate the floating tree.
2007: For the first time since 2001, Rio's floating Christmas tree grew taller, to a height of 279 feet. That's roughly the height of a 28-story building. The creative theme for this 12 anniversary carried a cultural touch featured graphic reproductions of stained-glass windows from various Brazilian churches. This edition also debuted a virtual tree, displayed online at the website, secondlife.com. And for the first time, biodiesel provided environmental responsibility.
2008: Rio's floating Christmas tree is usually inaugurated between November 25th to December 2nd annually. But implementation begins much earlier. For instance, the 13th-anniversary plan began on September 20th, 2008. The official lighting featured cherubs with horns dancing over stanzas and music notes. It came to life for all to see at 8 pm on November 29th, with a special musical presentation by the Brazilian Symphonic Orchestra, featuring Ivan Lins with the Fundação Bradesco Choir.
2009: This year, the 14th edition featured Christmas wreaths as its theme, titled 'The Union of our Best Wishes'.
2010: This year, viewers lining the Lagoa were treated to 'A Story of Reencounters' to mark the 15th anniversary of the Tree of Rio and of its designer, Abel Gomes. This multimedia salute was created for superlatives. The tree's rotation of 15 colorful graphic phases, 2,100 strobe lights, and a quartet of 7,000-watt spotlights generated a sensory delight. Performances by Simone and Milton Nascimento highlighted the occasion.
2011: No major changes were planned for this year's display. Its theme was titled 'A Gift for the Brazilian Family'. Musical performances included the Barra Mansa Symphony Orchestra and featured performers Frejat and Gal Costa.
2012: This year's cinescape featured Ribbons, bows, and ornaments, transposed with live-affirming leaves. The water ballet and fireworks set the tone.
2013: 'A Celebration of Life' greeted the Natal Carioca faithful at 8 pm on November 30th. Imaginative graphics combined the five elements of Water, Air, Forests, Humanity, and Christmas. Simone and the Barra Mansa Symphony Orchestra headlined the performance card, with Daniel Boaventura and dancer Carlinhos de Jesus.
2014: There were no major additions for lighting and special effects to the tree display in 2014. The theme was elegant: "Stars Of Our Life In A Christmas Of Light."
2015: Disaster, just as Rio is preparing to take the world stage as host for the 2016 Olympic Games. This 20th-anniversary theme brought 'The Renewal of Life' which proved timely. Eight days before its debut, the tree was damaged by strong winds. For the first time, the tree was reduced in height to 174 feet. A special graphics program was created to illustrate the nourishing rains and flora of Brazil. Rio's Árvore de Natal also displayed a map of the world which highlighted Rio de Janeiro.
The history of Rio de Janeiro's floating Christmas tree
Present Day: Changing times – 2016 to 2021
2016: For the first time in its history, Rio's floating Christmas Tree failed to appear. After 19 consecutive years, the main sponsor announced in April that it would withdraw its financial support as sole underwriter. The City of Rio de Janeiro was overextended due to elevated costs related to the Summer Olympic Games. With no other options, Rio's annual Christmas tradition was put on hold for 2016 and 2017.
2017: The history of Rio's floating Christmas tree includes a dubious oddity. While the tree did not make an appearance at Lagoa in 2017, the entire structure was moved to the 700-store Barra Shopping mall in Barra da Tijuca, where it was set up in a parking lot.
2018: After a two-year hiatus, Brazil's Petrobras stepped up to fund the Árvore do Rio (Tree of Rio) for its 21st presentation. Fireworks made their debut on December 1st to celebrate the tree's return to Lagoa Rodrigo de Freitas.
2019: Rio's beloved floating Christmas tree returns to Lagoa with a new supporter. The Brazilian company Luz replaced Petrobras as the underwriter in 2019.
2020 and 2021: The COVID-19 pandemic forces the cancellation of this Brazilian Christmas tradition.
State of Grace: Nossa Senhora's Christmas tree stands tall for Rio
But, just as it did in 2020, the Árvore da Nossa Senhora da Glória do Outeiro once again has its 80-foot Christmas tree in the Church's courtyard as a gesture of comfort and grace to the city of Rio de Janeiro and its citizens. Learn more here.
Spend A Few Minutes With Rio's Floating Christmas Tree
Lagoa's Árvore do Rio is Rio's iconic floating Christmas tree, and if you are a Brazil nut like we are, it's nice just to think about its illuminated beauty gracing those warm spring nights.
So, whenever you need a Brazilian break this holiday season, try this:
Click here to listen to our 'always live' Brazilian Christmas music streaming channel, then pay a visit to this page and enjoy our video of the 2018 Christmas tree lighting inauguration.
Add a touch of imagination and it's almost like being there. Merry Christmas and happiest of holidays!
The History of Rio's Floating Christmas Tree
Stories like 'The History of Rio's Floating Christmas Tree' are what we do. Why don't you join us?