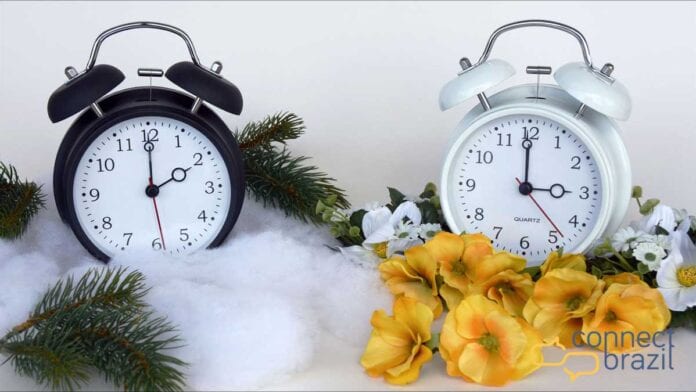 Planning to call mom in Rio, or ready to schedule a conference call with a client in São Paulo? Here's everything you need to know about DST.
Time to 'spring ahead'. Because if you don't change your clocks, you might be late. Which almost never happens in Brazil.
---
By Scott Adams
Time's up! If you're planning a call to a friend in Salvador, or book a flight to Belem, take note of America's annual time to 'spring ahead' time change, which takes place Sunday morning, March 12th at 2:00 am local time.
Here in the good ol' USA, be sure to set your clocks ahead one hour. But not if you live in Arizona (except in Navaho tribal lands) or Hawaii.
Time to get confused
Brazil has three time zones. The time in most of Brazil visited by tourists is three hours behind Greenwich Mean Time (GMT-3).
This is true of Rio de Janeiro, São Paulo, Brasília, Bahia and Minas Gerais.
Clocks do not change in Rio de Janeiro and most of Brazil. If you are thinking "wait a minute, it used to," you're right. The last DST change in Rio de Janeiro was on February 16, 2019.
This means that – as of Sunday, March 13, 2022 – most of Brazil will be ahead of Chicago by two hours, New York by one hour, and Los Angeles by four hours until early Sunday, November 6th, 2022.
All Brazilian cities have dropped Daylight Savings Time from their calendars completely, including Salvador, Bahia which cited civil unrest as a primary reason.
Also, 32 municipalities of eastern Mato Grosso remain on Brasília time (UTC-03:00) all year round.
Brazil's crazy law
In 2008, a decree (No. 6558 of 9 September 2008) established a permanent rule.
Brazil's DST would start at 00:00 on the third Sunday in October and would end at 00:00 on the third Sunday in February – unless – the latter falls during Carnaval: in this case, the end of DST is postponed by a week.
But don't worry: this law – while still on the books – is not currently followed.
Still confused? Try this handy 'real time' clock link from Connect Brazil. Of course, it still doesn't mean you'll be on time for that 10:00 am appointment in Rio de Janeiro.
Perhaps a permanent change here
Last year, a bipartisan group of Senators introduced the Sunshine Protection Act of 2021 to bring a permanent change to daylight saving time in the United States. This legislation would make DST permanent for all states.
Currently, only Hawaii and parts of Arizona do not observe these seasonal time changes, along with several territories including American Samoa, Guam, Northern Mariana Islands, Puerto Rico, and the U.S. Virgin Islands.
Republican Senators Marco Rubio and Rick Scott of Florida, James Lankford of Oklahoma, Roy Blunt of Missouri, and Cindy Hyde-Smith of Mississippi headed the proposed bill.
We support the idea, too because anything that brings us an hour closer to Brazil is a good thing!
Make time for Mom
And one more thing we like to remind you of when it's time to 'Spring Ahead': Mother's Day is always celebrated on the second Sunday in May, in both Brazil and the United States. This year the date is Sunday, May 14th, 2023.
You can thank us later if you have a minute to spare…
Stories like this are what we do. Why don't you join us?