Refresh your dreams of Rio with our Ipanema Rooftop Pool Crawl.
Our Ipanema rooftop pool crawl is an easy and adventurous way to spend a day and a fun opportunity to experience Ipanema's best hotels. Our guide to Ipanema's eight best pool choices is all you need.
---
Rio de Janeiro's legendary beach neighborhoods of Leme, Copacabana, Arpoador, Ipanema, and Leblon draw dedicated sun worshipers from every point on the map, and this exclusive Connect Brazil guide deep-dives some of the world's most amazing views when experienced from above.
Burned out on the beach? Rio's rooftop pool scene may be just the tonic you're looking for. This guide promises unique 'forever' memories with drift-away vistas of the tropical Atlantic. Chilling with a caipirinha or an ice-cold Brazilian brew only enhances the sensation.
Each Rio de Janeiro pool on this list is one-of-a-kind. Some are perfect for ultimate lounging, in or out of the water. Others on this list promise the ultimate 'under the stars' experience.
We've said it before and we'll say it again: One of Zona Sul's worst-kept secrets is that the social scene starts at sunset with the best rooftop pools.
Here are eight amazing Rio de Janeiro pools to consider for your own version of this Ipanema rooftop pool crawl, courtesy of Connect Brazil.
We'll start in Arpoador and end in Leme. Then, we'll invite you to experience Leme and Copacabana. We'll even give you a few important tips that can get you VIP access to these amazing hotels. Enjoy!
Arpoador Rooftop Pools
Ipanema Rooftop Pools
Leblon Rooftop Pools
Arpoador Rooftop Pools
Nestled between bohemian Copacabana and trendy Ipanema is the posh, semiautonomous area called Arpoador, gateway to some of the most expensive properties anywhere.
Part of it belongs to Copacabana and the rest to the neighborhood of Ipanema, leading to a Carioca nickname, Copanema.
This idyllic area is dotted with cozy cafés and restaurants next to familiar, tiled sidewalks on tree-lined streets. There's no better place at sea-level to watch a Rio sunset than comfortably perched on Arpoador's rocky and dramatic peninsula.
Yep, Arpoador is just too beautiful to be owned by any one bairro. It's the starting point for our Ipanema Rooftop pool crawl.
Arena Ipanema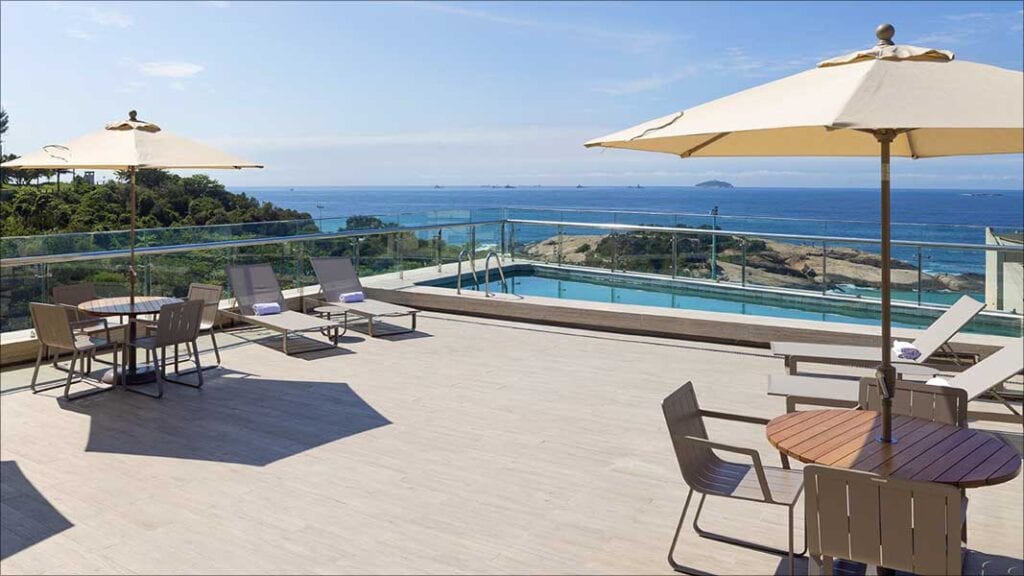 Let's begin with a 3-star gem in the center of Arpoador. The Arena Ipanema is just a few blocks away from Copacabana on Rua Francisco Otaviano, the street which connects Rio's two most famous beaches. You'll see the hotel to your right as we head to Ipanema.
Fairly, you might be wondering why this particular property is on this list. After all, there's no hint of a mega beach in view at street level.
But rest assured, you've come across one of the best bargains to be found anywhere in Zona Sul, especially if a lightly pampered, easy-going, and relaxed approach fits your travel style.
Guests gush over the perfect combination of location, "impeccably clean" accommodations, and great customer service.
The Arena Ipanema Hotel's 136 rooms sport a sleek, Scandinavian-inspired design, lending an upscale feeling which is matched by an attentive staff and amenities which exceed expectations.
A fresh breakfast buffet, free Wi-Fi, fitness center, soundproofed rooms, and fitness center are all worthy of mention here.
Day or night, the rooftop pool shines. It's perfect for a cooling plunge, or chilling which one of the best-tasting caipirinhas around. Umbrellas can provide a break from the Rio sun with a panoramic view you just won't see in Copacabana.
Take the stairway behind the pool bar to reach the upper deck. It provides continuous shade, plus a nice breeze to highlight an elevated experience.
Don't be surprised if you find yourself daydreaming about sailing to one of Ipanema's nearby islands to put down roots.
The Arena's rooftop pool bar sets a nice 'after-dark' vibe, too.
Hotel Arpoador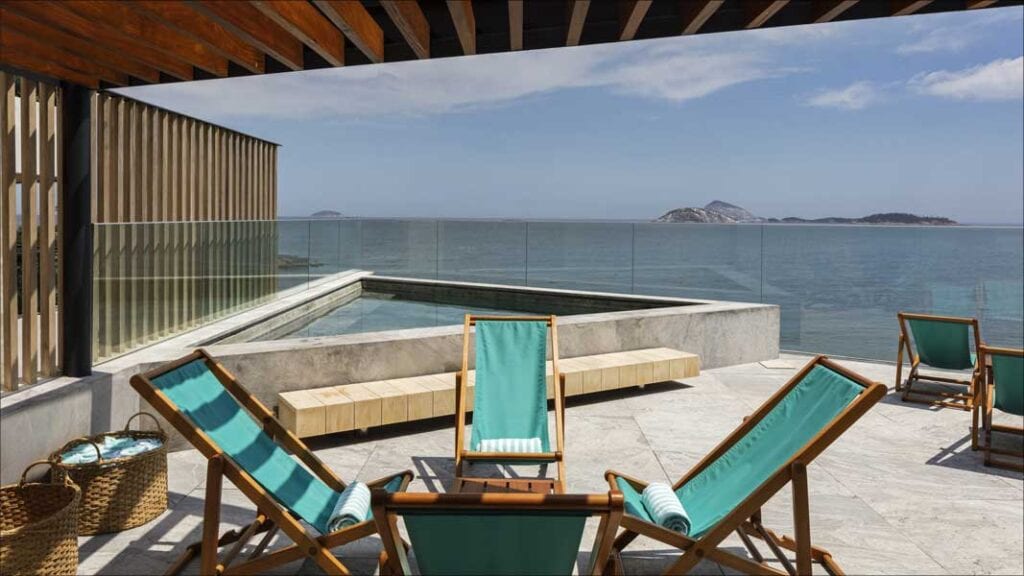 You'll find the simply sophisticated, 3-star Hotel Arpoador in the Ipanema side. First on our list might just become first on yours, because the rooftop pool views here are as unique as they are memorable.
And perhaps this smallish triangular pool is the most distinctive in all of Copacabana and Ipanema because this hotel is the only one located exactly on the beach. That's right, no avenues to cross, no traffic to impede your experience. Just one of the most exclusive beaches in Rio's Zona Sul.
Facing the tropical Atlantic, you'll look out over Praia Arpoador. To your left, you have an unmatched view of the rocky peninsula. To your right, you'll enjoy an unobstructed 4 km view of the beaches of Ipanema and Leblon, with the risings peaks of the Dois Irmaos mountain serving as the backdrop.
In fact, pool life at Hotel Arpoador reflects the hotel's vision of simplicity and sustainability.
Visitors flock here for the laid-back, health-conscience, nature-friendly vibe that's the pride of this hotel. There are vegan and vegetarian options at both the bar and restaurant. The service is attentive, friendly, and efficient.
Enjoy dinner and drinks here before venturing out for the evening. Take a few steps down the beach to introduce yourself to Antonio Carlos Jobim's statue.
Looking to stretch your legs? Take a three-minute walk to Copacabana's nightly arts and craft exhibits and street-side kiosks along Avenida Atlantica, or taxi into downtown Ipanema or Lagoa.
Fasano Hotel Rio de Janeiro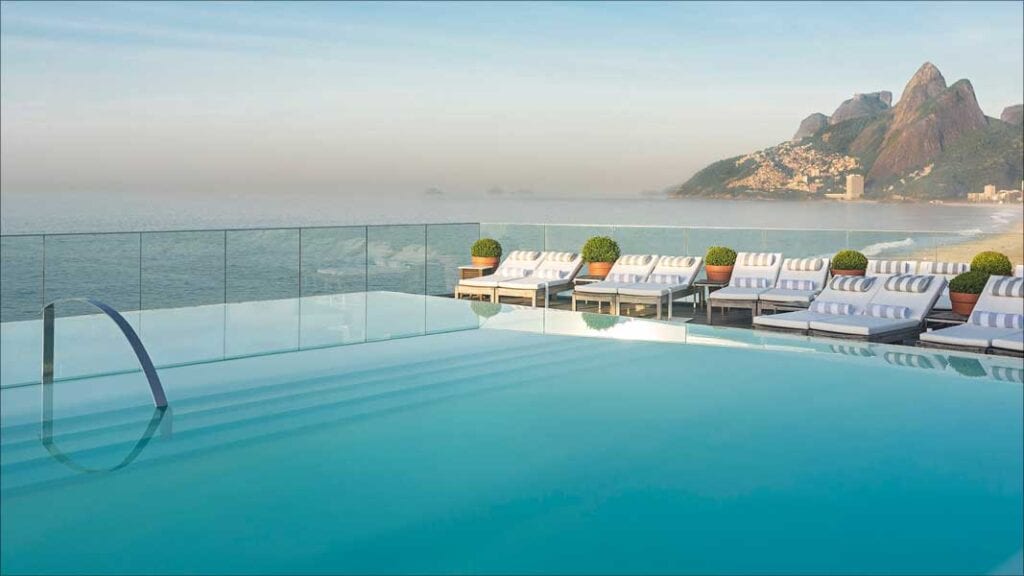 If rooftop pools fill a primary urge when traveling, then look no further than Arpoador's Hotel Fasano Rio de Janeiro.
The Hotel Fasano is the first bonafide 5-star hotel for our Ipanema rooftop pool crawl, and a favorite getaway destination for celebrities, and movie stars.
It is also a favorite with Brazilian jazz fans because Hotel Fasano was designed to pay homage to the golden age of bossa nova, mere blocks from where Antonio Carlos Jobim was inspired to pen 'The Girl From Ipanema'. How cool is that?
An air of old-school modernity flows throughout. From the Îpe flooring to the impressive piquiá tree stump used for the reception desk, bossa nova-inspired organic appointments abound.
Designer Philippe Starck brings this approach to each of the hotel's 79 rooms and 10 suites, making for an intimate and exclusive lodging experience.
Eight stories above Ipanema's white sand beach, the Fasano's rooftop infinity pool is no less impressive, but it may not be the first thing that catches your eye.
Blame it on Rio. Specifically, the 180-degree visual sweep towards the twin peaks of Dois Irmaos, and the flat-topped Gavea Rock 3 km to the east. The scale and perspective from the Fasano's pool deck inspires with a one-of-a-kind view that you'll relive time and again.
With its poolside bar, pampering service, and open-air setting, it's become so popular that travelers book rooms in the upscale establishment just to gain entry to the guest-only pool area.
Sunsets via the Hotel Fasano rooftop are magical, where twilight gives way to city lights and a unique al fresco dining experience. An eight-course tasting menu, under the stars, inspired by Italian and Mediterranean cuisine and created for special occasions by resident Chef Paolo Lavezzini. The perfect way to celebrate a special occasion.
Let's say ate logo to the Fasano by following the sidewalk towards the beach and Posto 8, the first aid station which marks the endpoint of Arpoador.
Ipanema Rooftop Pools
Officially, Ipanema begins right here, where the angular Rua Joaquim Nabuco meets Avenida Vieira Souto. It's the boulevard that parallels the beaches of Ipanema and Leblon.
You can trace this long stretch of roadway all the way back to 1894 when Baron José Antonio Moreira Filho began to develop the expansive farmland he owned near the sea. He created streets and town squares, and when streetcars began servicing the area in 1902, Ipanema's future was secured.
The Moreira family is also responsible for naming Ipanema, which referred to the family residence, Vila Ipanema, taken from the Moreiras' original business in Sao Paulo.
Sol Ipanema Hotel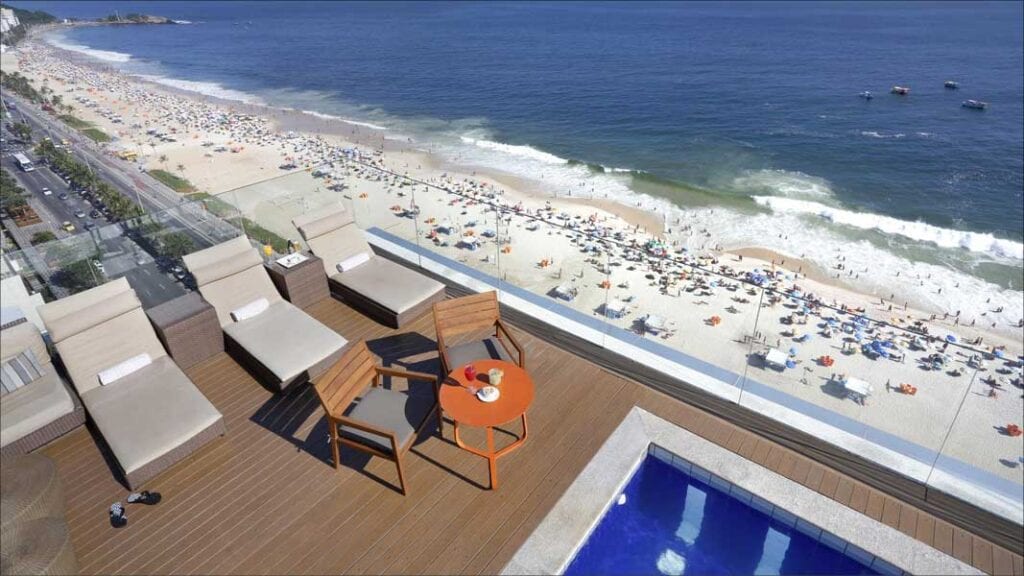 If hob-knobbing at the Fasano isn't your style, our next stop on the Ipanema rooftop pool crawl might be more to your liking. So, let's head west on Avenida Vieira Souto for a ten-minute walk to the 4-star Sol Ipanema Hotel.
Wanting to experience Ipanema's vibrant and trendy lifestyle? You're in the beating heart of it here, at Posto 9. A single block away from the Garota de Ipanema Bar and right next to the storied street that Jobim's musical, teenaged muse took for her afternoon walks to the sea.
Ipanema's boutiques and shopping, restaurant and cafes, and thriving nightlife are an easy stroll in the opposite direction.
Although Sol Ipanema's rooms lack balconies and street noise should be considered, its bright, simply decorated rooms are enhanced with all the amenities and accommodations you might expect. So, let's head up to the pool deck and have a look around.
The Sol Ipanema's pool may be smaller than most, perhaps as a knowing nod to the endless entertainment options that await your next adventure. But we give props to the pool bar and the panoramic oceanside views, plus the totally organic experience of 'Ipanema immersion' at its absolute best.
Westward we go, legging it halfway to Posto 10 and the Sofitel Rio de Janeiro Ipanema.
Sofitel Rio de Janeiro Ipanema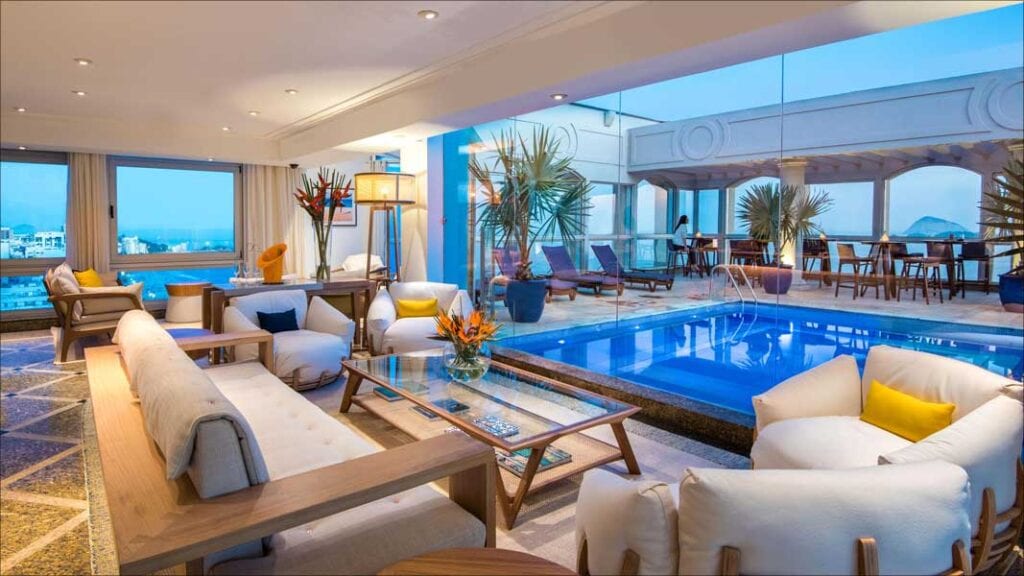 Closed for remodeling since before COVID-19 overtook Brazil, the Sofitel Rio Ipanema follows Rio de Janeiro's latest trend in hotel properties. Changing hands.
By our count, no less than two dozen of Zona Sul's most desirable properties have found new owners in recent years. For the Sofitel in Rio de Janeiro, it meant a change of address. And beaches.
The former Sofitel Rio de Janeiro is now known as the Fairmont Rio de Janeiro Copacabana, occupying the same 528-room location which originally debuted as the Rio Palace (under several owners).
But did it really change hands? Accor owns both the Sofitel and Fairmont brands.
Be that as it may, the world-class French hotelier packed up its name and took it further west to Ipanema with the acquisition of the former Caesar Park Hotel, a luxurious 5-star with 222-rooms and suites.
Weeks ago, Accor promised a 2021 grand re-opening for the Sofitel Rio de Janeiro Ipanema. And we know a little about the hotel's new theme.
Accor intends to make Sofitel Ipanema one of the best luxury hotels in South America, as a destination hotel for travelers worldwide.
"The new design and interior appointments follow the concept of 'Casa Carioca'. The rooms and suites will be decorated with pieces from famous Brazilian designers, such as Sérgio Rodrigues and Jader Almeida," said CEO of Accor Hotels in South America, Patrick Mendes.
But what about the Sofitel Rio de Janeiro Ipanema's rooftop pool? It's magnificent. In fact, based on the Cesar Park era, we can rate it as one of the best pool experiences to be found anywhere.
It begins with one of Rio de Janeiro's best pool bars, nestled into a comfortably appointed lounge, fully open to the pool, sundeck, and shaded tables. The sea breeze beckons.
Certainly, the return of this 23-story super-lux hotel on the Ipanema strip will catch our eye, so watch this page for updates and the latest news.
And here's hoping that Sofitel continues the Caesar Park's Saturdays-only tradition of serving the best feijoada in Rio de Janeiro. A stellar experience all its own.
From a shuttered hotel reno to an Ipanema stalwart that was closed only briefly during the pandemic. Let's head off to the Praia Ipanema Hotel.
This is the longest walk of our Ipanema Rooftop Pool Crawl, and the Brazilian sum throws no shade on the day. So, grab an ice-cold bottle of water, and let's go!
Praia Ipanema Hotel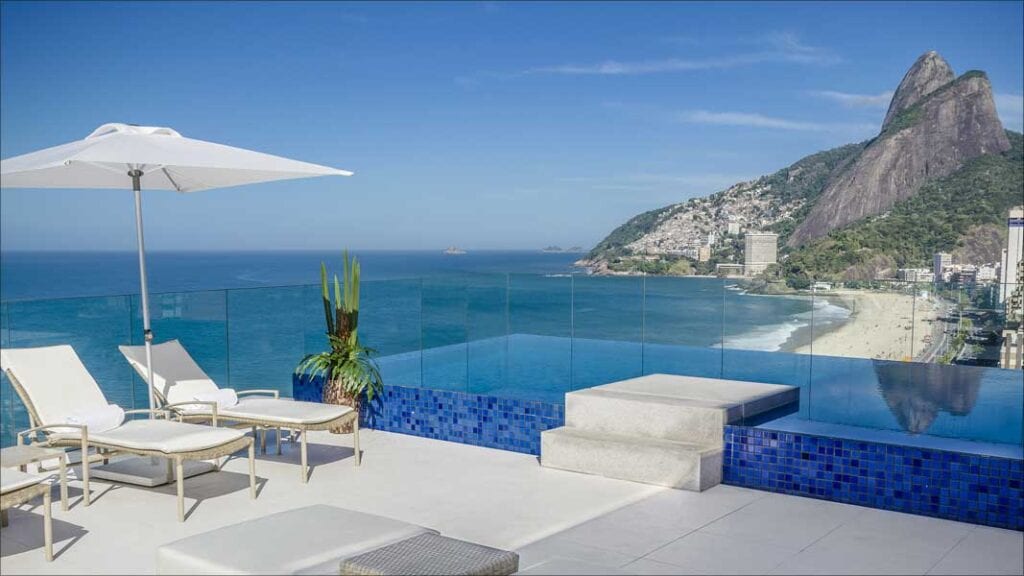 Sitting at the far western edge of Ipanema, The Praia Ipanema Hotel occupies a prime location near Rio's upscale Leblon neighborhood.
Its address on Avenida Vieria Souto gives guests instant access to one of the most celebrated beaches in the world.
But most importantly, the 100-room Praia Ipanema Hotel has a closely-held relationship with Cariocas which goes back to its earliest days.
So, when Brazil's Valentine's Day approached on June 12th, the hotel stepped up. The Praia Ipanema offered a romantic dinner to guests on the private balcony of their own room, implementing biosafety protocols beyond Brazil's own standards.
This small gesture was not lost on the locals, who returned to support the hotel when possible.
This is a fitting backstory for a hotel that boasts one of the very few rooftop restaurants in the city. The 4-star Espaço 7zero6 offers a splendid menu with its highly-praised champagne and wine selection, plus a full 360-degree panoramic view, 16 stories above Ipanema's beach.
Breathtaking vistas of the sea, Dois Irmaos, Corcovado, and all of Zona Sul from your table is a unique experience not soon forgotten.
Glass doors open to a heated rooftop infinity pool and sauna (plus a well-stocked premium bar) to make the tower-shaped hotel even more appealing. Lined with ceramic blue tiles and framed with clear glass, the reflective pool feels like it's floating in the sky.
Most of the 100 rooms at the Praia Ipanema offer views of the popular beach, but the panoramic vista offered by its rooftop pool is simply spectacular.
Let's continue, as we head west once again, toward Dois Irmaos. We'll pause after a short block and a half to get our bearings.
Leblon Rooftop Pools
While Posto 8 is a fitting reference to the beginning of Ipanema's beach district, its western border is decidedly different.
Here we are at the Canal do Jardim de Alah. It's a natural waterway for overflow from nearby Lagoa Rodrigo de Freitas, but during summer, it evaporates to trickle by the time it reaches the sea.
Crossing the canal means that we've arrived in the upscale neighborhood of Leblon. It's perhaps the only bairro in Rio de Janeiro that is better known as a cachaca brand than as the most expensive price per residential square meter in Latin America.
History reminds us that Leblon began as a safe haven (a quilombo) for escaped slaves in the late 1800s. Personally protected by Princess Isabel, Quilombo do Leblon was a driving force in the signing of Brazil's Golden Law, and the inspiration of the neighborhood's official name.
Leblon boasts two more entries for our Ipanema Rooftop Pool Crawl. There's plenty of scenery to take in as we traverse the next eight blocks to the first of this tropical duo, so let's get started.
Hotel Marina Palace Rio Leblon
Here it is, the 3-star, 150-room Hotel Marina Palace Rio Leblon.
Now that we've arrived, a quick look over your shoulder towards distant Arpoador is all you need to appreciate the relaxed, poolside pace of beach life in Leblon.
Serenity can be found in the presence of nearby Dois Irmaos and what many consider to be the most beautiful beach in all of Rio de Janeiro. The environment has a tangible effect here. In fact, this upscale hotel's geographics couldn't get much better.
Simple underpinnings – with a retro 70s look – point to a promised update, understandably delayed due to COVID-19.
Rooms and suites with attached living rooms offer ocean views with complimentary Wi-Fi, flat-screen TVs, and minibars, as well as 24-hour room service. The staff's attention to detail is excellent.
Guests rate the hotel's complimentary breakfast buffet very highly. The cozy Vizta restaurant offers contemporary regional cuisine, along with a sushi-and-sandwich bar that serves on a scenic terrace. Weekend evenings serenade with live Brazilian jazz and Bossa Nova bands.
Sitting at the top of its 26-stories, the Marina Palace Leblon's rooftop experience is top-shelf, with a rectangular pool perfect for a quick dip, spacious sun deck is the place for another sunny cocktail.
Then work off the calories with a sauna or a leisurely stroll along the beach at sunset.
We'll follow the same route, because our last stop is only a block away.
Janeiro Hotel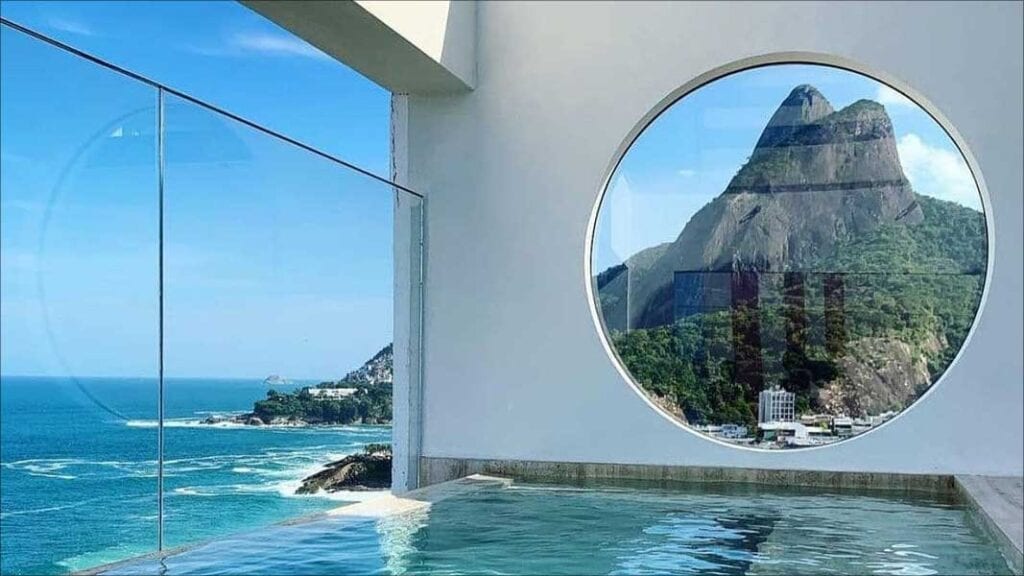 Trendy Janeiro Hotel is a modern offering in Leblon, targeting the preferences of younger travelers.
To that end, all 39 rooms are spacious suites with a separate sleeping area. Some include kitchenettes. It makes for a comfortable luxe stay within one of the most desirous neighbors in Rio de Janeiro.
Décor, accents, and furnishings are boldly colorful. Wi-Fi is free, with a fee-based upgrade for faster speeds. 24-hour room service is a welcome, thoughtful touch.
There's a lot about the Janeiro Hotel that sets it apart from virtually every other in Ipanema, but Janeiro's unique approach to a rooftop pool is a real head-turner.
Here the sun deck surrounds the pool on three sides, leaving the front open – from top to bottom – to a solid glass front. It's a unique twist on the infinity pool concept: A truly remarkable view of the South Atlantic's horizon.
Want to get closer? Reserve beach chairs, umbrellas, and towels for some 'me and the sea' time.
You've earned a rest up and recharge because we've reached the end of our Ipanema Rooftop Pool crawl. Congratulations!
Let's get together again tomorrow for our Copacabana Rooftop Pool Crawl. Bright and early in Leme.
See you there.
A final tip: Most of Rio de Janeiro's Zona Sul hotels have a strict 'registered guests only' policy, so please be polite by introducing yourself to the Desk Manager when arriving at a hotel. Explain that you would like to see their pool deck as part of Connectbrazil.com's Ipanema Rooftop Pool Crawl. You might be surprised at what a mannerly introduction can do… and don't show up wearing a swimsuit and haviannas!
Stories like our 'Ipanema Rooftop Pool Crawl' are what we do. Why don't you join us?
Sign up for our emails on music, travel, friends and fun. Listen to our 'always live' streaming station and our 12 streaming music channels, always free. Browse our Lifestyle Directory. Click here to like our Facebook page and here for Brazilian events coast to coast.