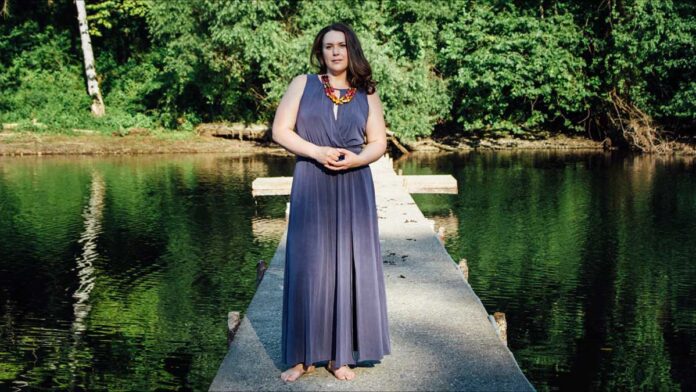 From concert clarinetist to Choro, Kristen Mather de Andrade brings her talent and passion to Brazil for her debut album.
10 Questions with Kristen Mather de Andrade tells a Brazilian American story of discovery: In music and culture, and in the pursuit of dreams.
---
Long before samba's first strains swirled from the open windows of Tia Ciata's salon across from Rio de Janeiro's Praça Onze, an instrumental style of Brazilian pop called Choro was already entertaining urban Cariocas. Its sophisticated sound was jazzy but not jazz, classical but not.
Just like its ragtime cousin to the north, Choro draws on European and African music styles, then filters them through a purely Brazilian prism. Choro is also a perfect partner for Kristen Mather de Andrade's debut album, Clarão.
From concert to Choro
You see, Mather de Andrade is Principal Clarinetist with one of America's most respected Concert Bands. Classically trained, it's the latest step on a path she's followed since she was handed her first clarinet at age 10. But while it's an unusual path to take for Choro, it's the right one.
Kristen also sings on Clarão, notably on 'Guelê Guelê' one of four originals composed by the singer/songwriter Roque Ferreira. Bassist Eduardo Belo created animations to accompany this evocative song that paints a picture of the sea.
She explains: "Roque Ferreira is a major composer from the Northeast of Brazil in the style of Bahian Samba. His style is very evocative and creates vivid imagery, which lent itself to an animated video treatment."
Are you new to Choro? Clarão's masterful musicianship captures Choro's spirit and its soul in a lively, personable way. Well-crafted and exceptionally recorded, these ten tracks make a perfect introduction that becomes more welcoming with every repeated play.
Recently, we sat down with Kristen to talk about her career in music, the emotional appeal of Choro, and how she came to love Brazilian music. Her comments were edited for clarity and context.
10 Questions: Kristen Mather de Andrade: Choro
You have been a professional clarinetist for many years, and you have a lovely singing voice, too. When were you first attracted to Brazilian music and what songs, albums or musicians were your early favorites?
My first Brazilian album was given to me by a music teacher when I was in the 9th grade. It was Ella Abraça Jobim and I really loved it. I remember feeling like I was experiencing something new. It was a chance to imagine a very different place far away from where I was raised in Ohio.
After that introduction to Brazilian music, I started to check out some other great Brazilian musicians. My favorite at that time was Gal Costa (I still love her!), and of course, the Brazilian music that was popular in the U.S., like Getz/Gilberto, and Sergio Mendes.
Many think of Brazil's Choro as a cultural cousin of early American jazz while others associate it with Classical music. How would you explain Choro to fans who may not be familiar with it?
I'm not a Choro scholar. But I stumbled into playing it in the same way that I began singing in Portuguese.
I was keen on learning Portuguese and understanding more about Brazilian culture. So, it was only a matter of time until I came across Chorinho.
At first, my biggest attraction to Choro was how much fun it was to play the melodies. The more I played, the more it seemed familiar. Choro's song structure can be similar to a Ragtime tune or a marching song. I've had a lot of experience with both!
This form, and the form of other early 1900's popular music, is very reminiscent of Western European music like Polkas or Waltzes.
Both Brazil and the U.S. are countries that have many cultures represented from around the world. What makes Choro special – and not just another Waltz or Polka – is the combination of Western European melodies and African rhythms.
Being a clarinetist, the first names I encountered in the genre were Paulo Sergio Santos and Anat Cohen. It was later that I listened to some of the other great Brazilian clarinetists like Abel Ferreira and Severino Araújo.
10 Questions: Kristen Mather de Andrade: The path to Clarão
It's not unusual for musicians to be drawn to Brazil's trademark style Bossa Nova, but you've followed a different path with Clarão. What inspired you to choose Choro and Samba for your debut recording?
When selecting the music for Clarão, I talked with my Producer Sergio Krakowski about goals and possibilities. I really wanted to share music that wasn't well-known here in the U.S.
We eventually landed on the music of Abel Ferreira and Severino Araújo for the big band instrumentals. On the instrumentals featuring only myself and the rhythm section, we went a little "out of the box". Especially with the arrangements of 'Chorinho pra Ele' (arranged by Vitor Gonçalves) and 'Modulando' (arranged by Sergio Krakowski).
For the vocals, we featured the music of the Brazilian singer/songwriter Roque Ferreira. He writes in the style of Bahian Samba. Roque offered us four new and unrecorded songs for Clarão. It turned out to be an amazing moment for us and the album.
You've mentioned that Choro is one of Brazil's oldest popular music styles and improvisation is at its core. That's something not usually associated with a classical music background. Recitals as opposed to jam sessions. What role does improvisation play with the music on Clarão?
I think a lot of jazz musicians are drawn to the genre because of the parallels to American jazz. There is plenty of room for improvisation and development of the harmonic structure. I don't think that it makes them any better at the genre than classically trained musicians though. It just seemed to be who picked up on the style!
I have been in the classical music field for most of my life. And I also have experience singing and playing with jazz groups or at pops concerts. I find that Chorinho is a little more familiar to a classical player than some other forms of improvised music.
Classically trained musicians may improvise or embellish in an Italian Theme and Variations or a Classical era instrumental cadenza. There are certain traditions that will guide that style of improvisation – much like a jazz musician improvising in a Bebop style verses Dixieland.
I also find that most Choro musicians like to welcome musicians wanting to sit in with their group.
The Brazilian tradition of the Roda de Choro is a perfect example. It's more of a social gathering where everyone can contribute to the music, and there is plenty of food and drink for all.
That's not to say that there aren't fully professional ensembles playing the music too. But it's my perception is that Choro is a very social music.
What has been the most impactful moment in your musical career?
It's very difficult to choose a single moment that I can point to as the most impactful. Generally speaking, my experiences over the past 15 years have really changed my ideas about what a successful musician is.
I have had opportunities to play for millions of people on national TV. I also spend a lot of time playing music for ceremonies or for an audience of 5th graders, for example.
So, I really feel that the most interesting things I can do with my passion as a musician are to reach people on a personal, emotional level.
Which songs and musicians are you listening to these days?
Lately, I've been listening to a lot to some early recordings of popular Brazilian music with orchestra from the 1950s. They feature the Brazilian National Radio Orchestra with various soloists and guests.
Fans really enjoyed your version of Tim Maia's 'Gostava Tanto de Você' when you performed the song (along with Dona Ivone Lara's 'Sonho Meu') during your livestream album release for Clarão. Any plans to record it? How did your arrangement come about?
I always love to add popular songs to the mix when I perform live. Both of these songs are really fun to sing, and many Brazilians know them well!
A "little something for everyone" is a wonderful way to draw listeners into the spirit of Clarão. I don't have any plans to record Tim Maia's song. But I will be releasing the performance on my YouTube channel sometime in the next couple of months.
It's always interesting to learn more about the lives of people when they are away from their profession. How would you describe your lifestyle and what is a typical day in your life like?
This is really hard to describe! First, there are always the typical rehearsals, practice, and performances that any musician is doing. But, I have been spending a lot of time learning more about how to improve the non-performance side of my career. Dotting my "i's" and crossing my "t's".
I'm about five years away from leaving my current job and becoming a fully independent musician. I want to be sure I am ready to go when the time comes!
What is your second love?
I like to spend time at the gym: That's where I do my best clear thinking! And I love to spend time with my husband.
We both love to cook and travel, so we spend a lot of time doing that, as well. Cooking is so much like music. You can really get a feel for the culture through understanding their food – just like you can with understanding their music and art.
What's next for you, and for Clarão?
It's a busy time! I will feature a premiere by composer David Reeves of his new piece for clarinet and percussion. I'll record "As Bright as the Skies are Blue" with percussionist David Bergman.
And here's some news to share: I'm starting to record a second project which will feature duos. Many of the musicians on Clarão will join me for a duo recording. So, we can all look forward to hearing from Vitor, César, and Eduardo again soon!
If you haven't subscribed to Kristen Mather De Andrade's YouTube channel, you can do so here.
GET TO KNOW KRISTEN MATHER DE ANDRADE
Follow Kristen Mather De Andrade on
Facebook | YouTube | Instagram | Twitter
YouTube Music | Apple Music | Spotify | IHeartRadio | Amazon
10 Questions: Kristen Mather de Andrade
Stories like ' 10 Questions: Kristen Mather de Andrade' are what we do. Why don't you join us?
Sign up for our emails on music, travel, friends and fun. Listen to our 'always live' streaming station and our 12 streaming music channels, always free. Browse our Lifestyle Directory. Click here to like our Facebook page and here for Brazilian events coast to coast.