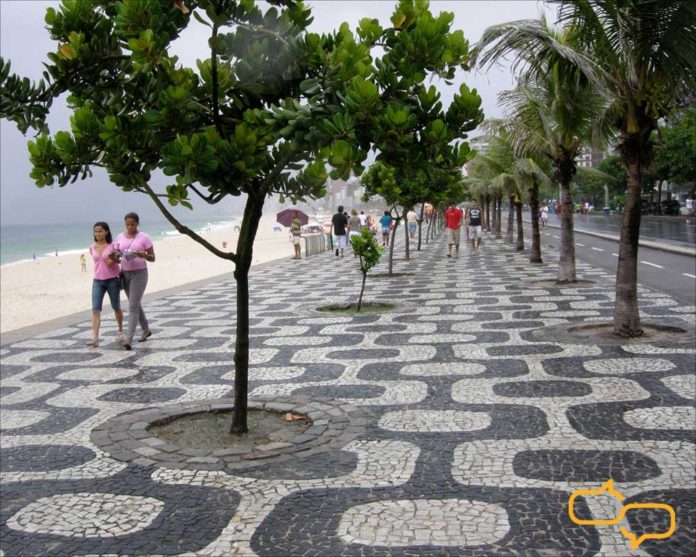 Walking in Antonio Carlos Jobim's footsteps is easy, and a good reason to fly south to get in touch with his musical legacy.
The spirit of Jobim is more than a breezy Bossa Nova song.
---
by Scott Adams
Don't worry, you can do this. And take it from me, it's well worth the adventure. Here's how.
It's an easy 30-minute walk to Ipanema from the Copacabana strip. First, head a few blocks in from the beach to Avenida Nossa Senhora de Copacabana (you can't miss it). Turn left, walking towards Arpoador.
Secondly, turn right on Francisco Otaviano, (you'll be close to Antonio Carlos Jobim's statue on Ipanema beach. It's right across the street). Then, it's a short walk past Parque Garota de Ipanema to Avenida Vieira Souto, Ipanema's beachside boulevard.
You'll pass the longtime former home of Rio's legendary Jazzmania on the second floor of the chic and cliquey Boteco Boa Praça. Great place for cocktails and live Brazilian music, but let's pass it by for now.
One, two, three long blocks down to reach Avenida Vinicius de Moraes. Take it inland a block or so until it crosses with Rua Prudente de Morais. You'll see the Garota de Ipanema Bar on the corner.
Congratulations! You're shadowing the spirit of Jobim, deep in the heart of the neighborhood which defines our passion for his music.
Jobim's Place In The Heart Of Ipanema
Inside that historic bar is a table with Jobim's name on it. Gaze outside for a clear view of the sidewalk route that Ipanema's most famous citizen took to the beach. 17-year-old Helo Pinheiro was the source of inspiration for his famous song.
Antonio Carlos Jobim lived in this area for a while. Not too far away from where you are right now. Ultimately, Jobim moved near his beloved Jardim Botanico and then to the hills above Rio.
"A grand panorama for his grand piano", he might have said. In between, were homes in Los Angeles and New York. He loved New York.
If home is where the heart is, then surely Jobim's spiritual home is wherever his music resides. To my way of thinking, that's the idea of immersing yourself in the true history of Bossa Nova.
That's why we've done this for you. You can do this, by shadowing the spirit of Jobim.
Shadowing The Spirit Of Jobim For Musical Revelation
Rio's musical elegance deserves much more than a week in the Cidade Maravilhosa allows (you'll be back), especially at a time where – for some – the appreciation of musical creativity has succumbed to rhythmic rhyming of simple syllables.
Pop music is nothing if not cyclical.
But even now, nine decades after his birth, you might be hard pressed to find someone who hasn't been touched by Jobim's music.
Antonio Carlos Jobim literally stands as one of the world's greatest pop songwriters, shaping the Bossa Nova generation, first in his own Rio de Janeiro and then for the rest of the world.
It's a timeless contribution. Even for our '5 seconds of fame', selfie culture.
Ready to follow in Jobim's footsteps? Be sure to send your pictures to us! Use the 'Contact' tab at the top of this page.
MUSIC, TRAVEL, FRIENDS, AND FUN! 2022 MARKS CONNECT BRAZIL'S 25TH YEAR.
Shadowing The Spirit Of Jobim
Stories like 'Shadowing The Spirit Of Jobim' are what we do. Why don't you join us?
Sign up for our e-letter. Listen to our 'always live' streaming station and our 12 streaming music channels, always free. Browse our Lifestyle Directory. Click here to like our Facebook page and here for Brazilian events coast to coast.
Photo credit: Leonel Ponce, via CC by 2.0. Logo added.