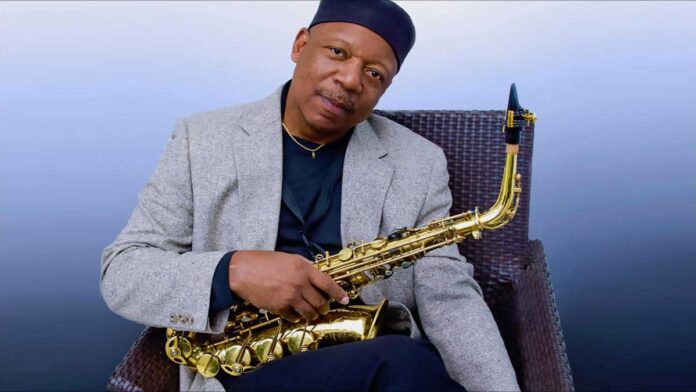 From America to Rio and then back home, saxophonist Kenney Polson's inspiration for Colors of Brazil is homegrown.
10 Questions with Kenney Polson answers a question that countless musicians have pondered. What's it like to live – and record an album – in Rio de Janeiro?
---
It's true. Saxophonist Kenney Polson has lived a life that countless musicians can only dream of. He has lived in Rio de Janeiro. In fact, Polson lived just off the beach in Ipanema for five years. He'll be the first to admit that some of his happiest times were spent there. And he met, performed, and recorded with many of Rio's best musicians. Colors of Brazil grew from that experience.
"I recorded some of the selections for Colors of Brazil while I was there. My goal was to capture the sound and energy of the rhythm and tempo of life according to Brazil. I wanted to share with those who've always wanted to go to Brazil but haven't yet had the opportunity to do so."
Colors of Brazil features familiar tunes from Brazil's superstar songwriters: Ary Barroso, Djavan, João Bosco, Caetano Veloso, Ivan Lins, Dori Caymmi, and Toninho Horta.
Tenor sax, Alto, Soprano, and Baritone Saxophones (even Clarinet and Bass Clarinet) all have their place in Polson's talented, tropical musical palette. Contemporary and authentic, Colors of Brazil is a Brazilian jazz album that has earned its place with the best recordings of its kind.
Recently, we asked Kenney Polson to share his thoughts on these 10 Questions. The wide-ranging interview revealed a story he has long cherished. Here's what he had to say.
10 Questions With Kenney Polson
The birth of an idea, and an album
Colors of Brazil is your 9th release and your first Brazilian jazz album. Starportrait says that it is also a retrospective of the years you spent living – and performing – in Rio de Janeiro. That's a heady experience most musicians can only dream about. Tell me what inspired you to create and record this album.
I have been to over 50 countries and out of all of them, Brazil is the place that felt like I was at home.
As you mentioned, I lived and performed in Brazil and I had always wanted to record a Brazilian album even before I left. In fact, I recorded some of the selections from Colors of Brazil while I was there.
But, I didn't get the opportunity to finish the project while I was there so I held on to my masters. I arrived in Washington, D.C., and went straight from Rio to attend Howard University. I met two classmates who were from Brazil and we became friends immediately. While at Howard I told the guys that I wanted to finish the project that I had begun while in Rio. Since we were students at the time, we never had the time to record. Nor, did I have the money!
However, I never gave up on that dream. So… years later, when I had the opportunity, I decided to revisit my goal of finishing the Brazilian recording project. I picked out selections from my favorite artists, called up my classmates, and we went to work.
Something that Brazilian jazz fans will pick up on with Colors of Brazil is the musical depth you bring to these 10 songs. They'll find familiar tunes from Brazil's superstar songwriters: Ary Barroso, Djavan, Joao Bosco, Caetano Veloso, Ivan Lins, Dori Caymmi, and Toninho Horta. Several were recorded in Rio e Janeiro. Do have a few stories to share from your studio experiences.
The Brazilian musicians were so good that – although I was grateful to be there – I felt like I was out of my league. It's funny because the musicians themselves didn't make me feel that way because they were very humble people. It was me being so excited and happy to be accepted into their circle.
We were in the studio recording 'Mariana' which is a tune that Nico Assumpcao wrote for his daughter. We recorded the selection live with the rhythm section. However, the solos and an additional bass line were recorded afterward. I remember what was going on when it was time for Nico to record his solo, he recorded several killer solos (which we kept) but unfortunately, we could only use one of them.
As we were playing back the different solos, Nico began singing along with them. There was one solo that he couldn't sing back correctly the first time.
He decided to use the solo that he couldn't sing, simply because he wanted the element of surprise in his solo! We (Nico and the musicians) laughed about why he came up with the decision for that particular solo. It was a lot of fun… I guess you had to be there!
You are blessed with the musical, 'hand me down' talent through generations of your family tree. You have a master's degree in jazz composition and arranging from Howard University, and you've toured internationally. How do fans in other parts of the world respond to your music and how has your life's experience influenced you?
I would like to think that I have elements of many cultures in my music because it really is intentional. As a result, when I go to different countries many people are receptive. Sometimes, I totally forget that I have these certain cultural elements in my music, and sometimes get surprised at the reaction, until I give it some thought after the performance is over.
Listeners have commented on both the arrangements you bring to each of these familiar favorites and the talented musicians who appear with you. Tell me about the talented ensemble that has helped Colors of Brazil to become of the best Brazilian jazz albums of 2021.
Every one of these musicians is extremely talented and many of them have their own recording projects. It feels great when one is able to assemble the right musicians for the right project.
It also takes a great deal of patience to wait for a particular musicians' schedule to open up just to be able to record with them. When it happens, it always turns out to be worth the wait!

Life away from music
Any hobbies? What do you like to do when you're away from music? Has your fondness for Brazilian music and culture found its way into other parts of your life?
Regarding culture, the food in Brazil is so phenomenal that it has stayed with me. My absolute favorite dish is Moqueca Bahiana. It's kind of like a seafood gumbo. It is very challenging to get this in the United States because of the ingredients. Because of that, when I am in Brazil, it's the very first dish I want to eat when I arrive. No one cooks meals like your grandmother, right? Well, no one makes Muqueca Bahiana like the Brazilians! I wish I had some right now!
You've recorded some wonderful Smooth and Contemporary jazz albums these last few years, and Colors of Brazil reminds us once again of the close relationship that Brazilian jazz and C-Jazz share. What is it about Brazilian music that makes it such an easy experience for our American ears?
The Brazilian rhythms are like the rhythm of life. It's so natural and pure! Add some exotic chords on top of it and you have the recipe for some great music that goes straight inside to massage your heart. Where the heart goes, the body follows! It's very happy music!
Tell me about the creative process for Colors of Brazil. Was it different than your previous recordings? Did living and recording in Rio influence you in this regard?
The Colors of Brazil project was very different because my goal was to capture the sound and energy of the rhythm and tempo of life according to Brazil.
While recording this project, I remembered the happy times I had living there. My goal was to recapture that happiness and display it in the music. I wanted to have something to share with those who always wanted to go to Brazil but haven't yet had the opportunity to do so.
This album brings bring Brazil to these people, while at the same time creating something authentic enough to be accepted by Brazilians in Brazil. Additionally, I made the decision to add a few instruments that are not commonly used in Brazilian music and give it the Brazilian attitude while it presented a new texture.
It was a huge challenge, but I am very happy with how it all came together.
What's on your personal playlist these days?
These days I have been listening to Ballads! Ballads from Brazil, R&B ballads, all kinds of ballads. I am totally fascinated by them. The structure, the way they are able to build with dynamics, the way they are able to tell a story while keeping our interest. Many have strings or a full orchestra, too! This definitely has controlled my interest these days.
If you could have composed any Brazilian song ever written, which one would it be, and why?
I think 'Garota de Ipanema' is the one I would have loved to create. It has a great story, it is structurally correct, it is technically correct, and it has withstood the test of time.
We remember Tom Jobim and Vinicius de Moraes because of this composition. It definitely has staying power which is what a strong legacy requires. I would like to one day compose a selection that would give me at least half of the staying power of this composition.
Looking ahead to 2022
From Salvador to Santa Caterina, the many regions and song styles found in Brazil make it one of the most culturally-rich countries in the world. Any chance that you'll grace us with another Brazilian jazz album in the future? And are you making plans for live performances and/or virtual venues in 2022?
I don't know if I will ever make another Brazilian album, although I would love to do so. If I do, I would love to go back to Brazil and live there for a year before doing so. I would love to recapture the rhythm of life and catch up on the new vibe of MPB that I have been listening to these days. I think it is fascinating!
Due to the pandemic, plans for any live performances focus on next summer. Among those hopes are to spend some time touring the east coast. It's something I have not had the chance to do, but I would love to do so.
I have done a few virtual performances, but I am not fond of them. There is no opportunity to connect directly with the audience and I need and I really miss that! In the meantime, I will keep composing and recording.
Follow Kenney Polson on
Website | Facebook | YouTube | Instagram | Twitter
Listen Free: Brazilian Jazz | Sunday Brazilian Brunch | XODO | Our Streaming Station
10 Questions With Kenney Polson
Stories like '10 Questions With Kenney Polson' are what we do. Why don't you join us?