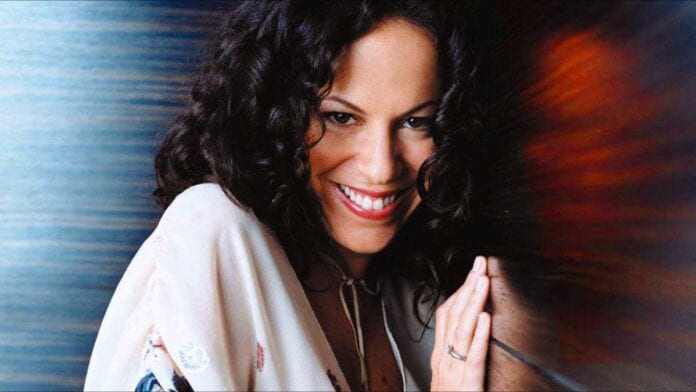 Explore our list of birthdays in May for Brazil's music makers.
May's Brazilian music birthdays include a pair of Superstars, a trio of Bossa Nova legends, a misunderstood musical movement, and a Grammy-winning jazz pianist and keyboardist.
---
Tropicália / Baby (Os Mutantes, 1968)
Brazil's quixotic, exuberant, and short-lived Tropicália music movement was born sometime during May 1968. Tropicalia's first album, Tropicália ou Panis et Circenses featured songs from Gilberto Gil, Caetano Veloso, Gal Costa, and Rita Lee with Os Mutantes at the very beginning of their careers. Tropicália was countercultural – but not particularly political – until it was labeled as "dangerous free speech" by Brazil's government. Sound familiar? In its brief 18-month existence, several musicians were tortured and/or killed and several more went missing. Both Veloso and Gil were exiled from the country for several years. Learn about Tropicália's Unvarnished Truth.
Celia Vaz – May 4 / Espada de Prata
Next on our list of May's Brazilian Music Birthdays is singer, songwriter, and guitarist Celia Vaz. Her 1980 debut recording with Pat Metheny heralded her arrival as a major player in Brazilian song. She spent several years as a music teacher, counting pianist, and keyboardist Antonio Adolfo and saxophonist Mauro Senise among dozens of accomplished students. Her second, self-titled album won Brazil's Sharp Prémio award for best Popular Brazilian Music Album. The electro-acoustic Ebb & Flow (with UK-based production duo APE) followed a few years later. Her vocal phrasing and sensitivity are only the starting point to appreciating her overall creativity. Celia's talents include songwriting and a master's touch on the guitar. Celia Vaz is a remarkable musician with a knack for crafting memorable songs. It's a quality that is sure to make you fall in love with Brazilian music all over again.
Tania Maria – May 9 / Come With Me
It's been a while since we've had the pleasure of writing about Tania Maria, and a birthday celebration clearly shows that the time has been put to good use. The musically irrepressible Maria continues to showcase her songwriting and piano skills as well as her unique talent as a singer. "It's my own story," Maria told us. "I found the strength and courage to leave my city, and filled my trunk with dreams, with the hope that I was ready to grow intellectually, spiritually and emotionally – in other words, that I would have the strength of mind to be able to face anything, without lying to myself." Since the release of her first album in '71, the vivacious musician has treated us to a non-stop aural fiesta. Maria serves up steaming portions of her piquant blend of festive Brazilian rhythms and daring improvisations, brimming with R&B, funk, and Afro-Cuban flavors. Among her string of popular successes was the mega-hit 'Come With Me'. Tania Maria remains one of the truly great talents on the contemporary Brazilian music scene. An unmistakable sultry voice, a percussive touch at the piano. By combing Brazilian rhythms like Choro and Samba with modern urban styles of hip-hop and funk, Maria creates a sound that cuts across cultural barriers with ease, gaining new fans along the way.
Carlos Lyra – May 11 / Maria Ninguem
Singer, guitarist and songwriter of some of Bossa Nova's greatest hits, Carlos Lyra found himself on the losing side of the great Bossa Nova war raging between Rio de Janeiro's college clubs, but it didn't prevent the now-octogenarian musical legend from penning many of that era's memorable tunes, including 'Voce E Eu', 'Coisa Mais Linda', Influenca Do Jazz' and 'Maria Ninguem' (a back in the day favorite of First Lady Jacqueline Kennedy, composed by Lyra when he was 17). Today, Lyra's Bossa's remain as elegant and sophisticated as his wistful memories of idyllic Brazil during the pre-Dictatorship 60s. Today, we celebrate with another candle for a true Bossa Nova master as part of May's Brazilian Music Birthdays.
Nando Lauria – May 11 / Back Home
A longtime fan favorite with listeners of The Sounds of Brazil, singer and songwriter Nando Lauria's melodies move with spontaneity and grace. True to his cultural roots, he's built a bridge between the complex Choro, Frevo, and Baião rhythms of the Brazilian northeast and sophisticated contemporary jazz. Lauria, who studied at Boston's Berklee College of Music played with the Pat Metheny Group, Terence Blanchard, and Special EFX. He released two albums, giving us songs like 'Que Xote', Gloria', 'If I Fell' and 'Back Home' before returning to his birthplace in Recife. There's no doubt that his music has helped to shape the sound of a generation of jazz fans by embracing the natural beauty of his native country.
Walter Wanderley – May 12 / Call Me
Another musician from the northeastern city of Recife is remembered today. Even now, decades after his passing in 1986, pianist and organist Walter Wanderley is still fondly remembered for his trademark sound with the Hammond B-3 organ. In the short span of giving us an amazing library of Bossa Nova instrumentals in his own unique style. The '60s saw him release 17 albums before he came to America where Verve Records recorded and released seven more albums, bringing him international fame and success in a little more than a single year. 80s-something Roller skaters still remember his two biggest hits; 'O Barquinho' and 'Summer Samba', which became a worldwide hit. Wanderley's version remains the best-selling version of that song in the USA. Here's a very rare live performance from one of Bossa Nova's biggest instrumental stars.
Bebel Gilberto – May 12 / Samba da Benção
Bebel Gilberto is purely Brazilian: Daughter of the legendary 'Father of Bossa Nova' João Gilberto and singer Miucha. Her uncle is the equally famous Brazilian singer/songwriter Chico Buarque. And the fact that her step-mom is Astrud Gilberto only completes a picture of Brazilian musical royalty. Bebel is also distinctively American. She was born in New York City, and raised in Sampa and Rio. And she succeeded by blending the innovative qualities of both cultures to their greatest musical effect. Even now, Bebel Gilberto is uniquely positioned in Brazilian music. She's an international trendsetter, something that children of other Brazilian stars, like Elis Regina, Caetano Veloso, and even Antonio Carlos Jobim have not accomplished. Here she is with a beach concert at Praia Arpoador, the starting place of Connect Brazil's Ipanema Rooftop Pool Crawl. Happy birthday, Bebel!
Oscar Castro-Neves – May 15 / Waters of March
Today, our list of May's Brazilian Music Birthdays celebrates the memory of guitarist/singer/songwriter, and producer Oscar Castro-Neves's life in music. For all of his years, Oscar Castro-Neves had an enthusiasm for life that was both infectious and unmistakable. At once playful, excited, reflective, passionate, the music is the man. It's easy to get caught up and to be carried away with Oscar's melodies. Born and raised across the bay from Rio's Zona Sul, 'the Boy from Niteroi', recorded and published his first song at age 14. He recalled, "All of these famous Bossa Nova musicians were 16 or 17 years old at that time, except for Jobim. He was 30."
Oscar joined Brazil 66 as Music Director and toured with Sinatra. He performed or produced a who's who list of Platinum-selling musicians, and became a proud US citizen. His nephew is three-time Indianapolis 500 winner, Helio Castroneves. Oscar was also a good friend to The Sounds of Brazil, and we miss him greatly.
Here's Oscar Castro-Neves in Chicago, performing on Ramsey Lewis's Legends of Jazz television show, with several dozen fans of our radio show, The Sounds of Brazil, in attendance.
Gregg Karukas – May 18 / Travessia
Pianist and keyboardist Gregg Karukas is a Grammy winner and Smooth Jazz hitmaker with a Brazilian side that helped to define his 30-year music career since Day One. Influenced by the music of Milton Nascimento and the great voices of Brazilian pop, Karukas caught on with Sergio Mendes when he moved to Los Angeles from the East Coast. He became friends with Dori Caymmi (who plays at Gregg's wedding), and he immersed himself in the sounds of Brazil. Nearly every one of Gregg Karukas's albums features a Brazilian-themed song, and 'Rio Drive' went to #1 in Billboard as the Smooth Jazz Song of The Year. Gregg's current album is a solo piano masterpiece. Serenata is his tribute to these friendships and many of Brazil's great songwriters. Could Serenata be a contender for Connect Brazil's Album of The Year?
Jacques Morelenbaum – May 18 / SONG
Jacques Morelenbaum is a cellist, arranger, conductor, composer, and music producer. Although his parents and siblings are well-respected in the world of classical music, Jacques is best known for his contributions to the music of Antonio Carlos Jobim, and countless Brazilian performers and recordings, including Bossacucanova and the Quarteto Jobim. Jacques Morelenbaum's expertise has shaped the music of several Grammy-winning recordings, but perhaps his most prominent role was when he was reunited with Japanese pianist Ryuichi Sakamoto, and Paula Morelenbaum (his wife) for the 2001 recording of Casa, a tribute to Jobim. Recorded in Jobim's home studio, most of Casa's 18 songs uniquely featured Sakamoto playing Jobim's personal grand piano. Casa is on Connect Brazil's Most Essential Brazilian Albums list, due in great part to Jacques Morelenbaum's talents. May's Brazilian Music Birthdays brings us a rare, session video from Casa with the Morelenbaums and Sakamoto. Enjoy!
Ivete Sangalo – May 27 / Alô Paixão & Beleza Rara
Let's wrap up our video list of April's Brazilian music birthdays with a performer who is beloved by her countrymen and always a crowd favorite. Ivete Sangalo is a mega-performer, singer, actress, and television host. Powerful and charismatic, Sangalo's stage presence propelled her to superstar status as Brazil's top musical moneymaker. To date, she's sold more than 20 million albums. Born in Juazeiro, Bahia (the same town as Joao Gilberto), Sangalo was promoted by Sony Brasil as a young teen, and when the label decided to reform the Axe group, Banda Eva, she was selected to be the lead singer. Her solo career began in 1997. She performed at New York's Madison Square Garden in 2010, the first of many American concert tours. Happy birthday Ivete!
May's Brazilian Music Birthdays
Stories like 'May's Brazilian Music Birthdays' are what we do. Why don't you join us?
Sign up for our emails on music, travel, friends and fun. Listen to our 'always live' streaming station and our 12 streaming music channels, always free. Browse our Lifestyle Directory. Click here to like our Facebook page and here for Brazilian events coast to coast.