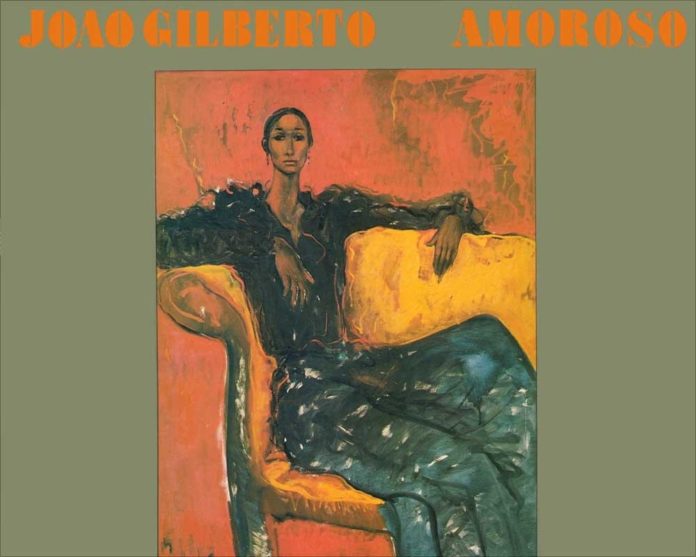 One Track Mind: Could this be Joao Gilberto's Greatest Album? We say…
by Scott Adams
Amoroso by Joao Gilberto was released on November 26th, 1977.
---
With string arrangements by Claus Ogerman (Antonio Carlos Jobim's favorite arranger) and Johnny Mandell (Frank Sinatra's favorite arranger) this album stands today as one of the best collections of Joao Gilberto's recordings at the height of his career.
By the mid 1970's Gilberto had found his musical 'home' after stints in New York, Paris and Mexico City.
Gilberto's unique concept of recreating a complete rhythm section using only his guitar was msucial genius, earning him the title of 'Father of Bossa Nova' by virtue of his 1957 recording of 'Chega de Saudade'.
His unique voice and mastery of Bossa's phrasing and guitar play was celebrated worldwide and imitated by many.
His careful choices regarding recording projects always resulted in a superb selection of songs – some chestnuts, some breaking new ground.
This period of his studio career revealed itself all too briefly before it disappeared, only to resurface a final time for his self-titled 'João' CD years later in 1991.
That's why Amoroso by Joao Gilberto has been tabbed as an 'essential' album for fans of Brazilian music by our editors at Connectbrazil.com
These eight tracks find Gilberto's soft tenor (I describe it as 'a voice that can whisper through walls') framed by the elegant string arrangements of Claus Ogerman in a session that many critics point to as one of the German-born arranger's finest moments.
And while Gilberto's many live solo recordings proved that his voice and guitar are all that is needed to enjoy his artistry, it can be said that talent on this scale represents a great challenge: How to properly write string passages without competing with the singer's one-of-a-kind sound.
Its here that the delicate nature of Ogerman's own considerable talent comes through.
Each of these eight songs on Amoroso by Joao Gilberto create a perfect marriage between these two dominant musical forces of nature.
Take your pick: 'Wave', with its enveloping introduction, 'Tin Tin Por Tin Tin' featuring Gilberto's vocal percussion lead in.
Latin America's standard 'Besame Mucho' has been recorded in Spanish, Italian and even French, but rarely with as much emotion as it receives here. Jobim's 'Caminhos Cruzados' is given a similar 'standard setting' performance.
How important is Amoroso by Joao Gilberto in the lexicon of Brazilian music? Singer Rosa Passos planned her first major label release for the US completely around it, with some clever word play to create a title purely reflective of the original: 'Amorosa.'
Lately Amoroso has been packaged as a '2-fer' with and album titled 'Brasil', featuring Gilberto with Caetano Veloso, Gilberto Gil and Maria Bethania.
This awkward and inelegant pairing does nothing to detract from the romantic beauty of the first eight tracks. Don't let it keep you from adding Amoroso to your collection.
The LP is offered on 180-gram vinyl and was re-issued 42 years after its debut . Its release marked a crowning moment for Brazilian fans during Bossa Nova's 60th year.
Amoroso by Joao Gilberto. This 2018 vinyl edition is not currently available in the USA.
To our way of thinking, having the genius of Joao Gilberto's 'Amoroso' available to us on CD, digital or vinyl is priceless.
Amoroso by Joao Gilberto
'S Wonderful
Estate
Tin Tin Por Tin Tin
Besame Mucho
Wave
Caminhos Cruzados
Triste
Zingaro
Aquarela Do Brasil
Disse Alguem (All Of Me)
Bahia Com H
No Tabuleiro Da Baiana
Milagre
Cordeiro De Nana
Personnel: on tracks 1-8 'Amoroso': Joao Gilberto (vocals, guitar), Ralph Grierson (keyboards), Jim Hughart (bass), Grady Tate, Joe Correro (drums). Uncredited orchestra.
Produced by Tommy LiPuma and Helen Keane. Strings arranged and conducted by Claus Ogerman. Recorded November 17-19, 1976 at Rosebud Studio, New York, NY and January 3.4 & 7, 1977 at Capitol Records, Hollywood, CA.
Personnel: on tracks 9-14 'Brasil': Joao Gilberto (vocals, guitar), Gilberto Gil, Caetano Veloso, Maria Bethania (vocals), Clare Fisher (keyboards), Milcho Leviev, Michael Boddicker (synthesizer); Jim Hughart (bass); Joe Correro (drums), Paulinho Da Costa (percussion). Orchestra.
Produced by Joao Gilberto. Arranged and conducted by Johnny Mandel. Recorded 1980 at Sigla Studio, Rio de Janeiro, Brazil and Sounds Good and Britannia Studios, Los Angeles, CA.
The Warner Music Brasil release a part of the label's series of classic Brazilian recordings in LP and came in the final days of Bossa Nova's 60th anniversary.
Stories like this are what we do. Why don't you join us?
Sign up for our emails on music, travel, friends and fun. Listen to our 'always live' streaming station and our 12 streaming music channels, always free. Browse our Lifestyle Directory. Click here to like our Facebook page and here for Brazilian events coast to coast.
Amoroso by Joao Gilberto
And our 'One Track'? Here it is: