The Polish singer's international fan base is built on Basia's love of Brazilian jazz and the synergy of perfectly-matched voices.
Basia's Return with The Clarisse Sisters is a musical celebration of their 21 years of performing together on a worldwide stage.
---
by Scott Adams
Here's a truly positive spin on that old saying, "What goes around, comes around".
Just days ago, I followed a trail of musical breadcrumbs to discover a newly-birthed song on YouTube. It's by a trio called The Clarisse Sisters, but the words "featuring Basia" are what caught my eye. Why?
Because it's been a while since we've heard from Basia. Butterflies, her 2018 release marked the 31st year of a stunning career. A career that has its roots planted right here in Chicago.
WNUA's Smooth Jazz Midday host Rick O'Dell recalls those early days.
"Here in Chicago, we felt a special kinship with Basia. Those of us who were on the air back then couldn't wait to mention the fact that once upon a time she had lived here–years before anyone knew who she was. As a fledgling singer, she had cut her teeth right here in Chicago, in the city's Polish nightclubs and mainly at a club called Polonia on the southwest side.
"Later, Basia would reveal to me that these were not especially happy times for her. She was far from home, her command of English was poor, and she felt like an outsider, even though she was living in an apartment in a Polish community. Her only joys, she recalled, were her nights off, when she could attend blues concerts at places such as Kingston Mines and the Happy Medium."
The Time & Tide of Basia's Rise
Basia's debut album Time & Tide was released during the summer of 1987. By then, she had moved to London and was busy with her first international tour. Basia wouldn't return to Chicago until the final days of Spring, the following year.
June 19th, 1988. I still have my ticket stubs from Basia's first Chicago Concert at Park West and I still can feel the energy of hearing her sing those early hits like 'Time & Tide', 'Astrud', and 'New Day for You'. Success lead to a second album, London, Warsaw, New York in 1989.
The Sweetest Illusion arrived in 1994, and with it came The Clarisse Sisters, twins Annik and Veronique, and Dominique. The Clarisse twins became Basia's touring backup singers, and together the three formed a musical bond that endured for more than two decades.
The Clarisse Sisters
Dominique Clarisse recalled the moment. "When Ann & Vero left for the Sweetest Illusion Tour in March 1994, I knew it would be a game-changer in their career as singers. I experienced this harmonic chemistry for the first and only time live, on 28th March 2015, at the Cape Town Jazz Festival (South Africa), attending their final concert with Basia."
The Clarisse Sisters were born on the island nation of Mauritius, but a move to England launched their vocal careers. That's where they met Basia.
One early story from their formative years surely made them feel right at home with Basia's music. And it zeroed in on her love of Brazilian jazz. The online magazine Kreole provides the details.
"In June 1991, Annick, Dominique, and Veronique Clarisse were celebrating their birthday in the capital city of Port Louis. They went to see a concert at La Citadelle, by a French singer who was accompanied by the famous Brazilian singers, Trio Esperanza. This was a revelation! "We want to tour around the world as backing vocalists", they thought…"
Less than a year later, the twins Annik and Veronique Clarisse singed on with the touring British synthpop group Erasure. The sisters would go on to tour with Incognito, Matt Bianco, and of course, Basia.
For decades, The Clarisse Sisters were right there, on stage with Basia to give us some of our best concert memories. Three complimentary voices, singing as one.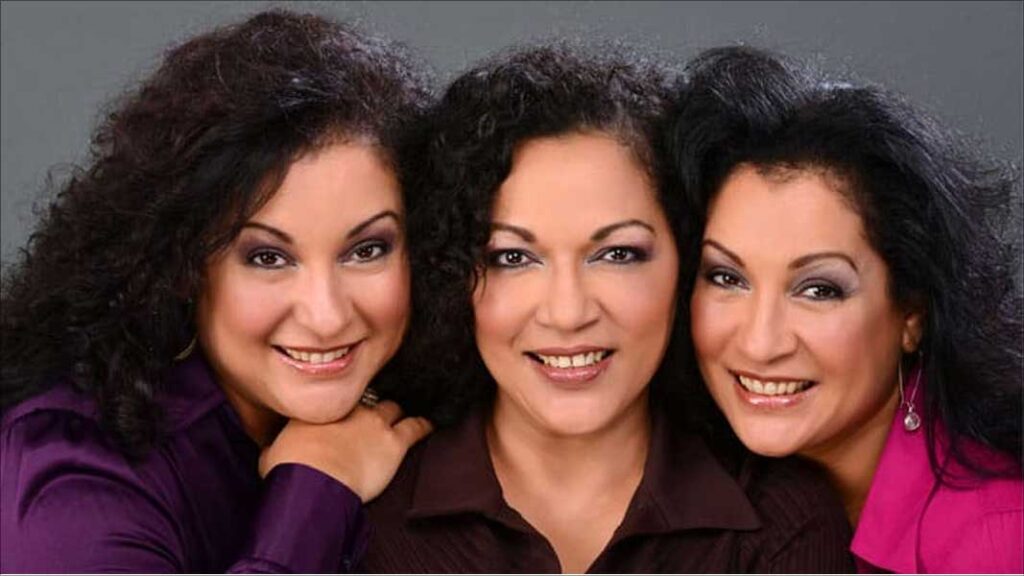 Fire & Ice: Basia's Return With The Clarisse Sisters
Now, The Clarisse Sisters have released a new single that features Basia called 'Fire & Ice'. I'll tell you how to listen to the song and where to buy it, below.
It took a while for all of the elements of 'Fire & Ice' to come together.
Work on the song began in 2014. An initial version was ready the following year and the sisters held it back for an upcoming release. Covid's 2020 lockdown provided an opportunity to think about a second version as plans for the new album were made.
Annick and Veronique Clarisse explain. "At first, this song was our way of celebrating the 21 unforgettable years we have spent with Basia and Danny White, touring around the world from 1994 to 2015. In our current uncertain times, it was nice to pause and reflect on these better days. But this song also has other dimensions, defining our attraction to Europe and colder weather, our connection to faraway sounds and grooves."
So what changes were made from version one of 'Fire & Ice' to version number two? Actually, the opening of the song was completely reimagined, according to Dominique.
"We thought it was timely to rewrite the opening line of our song, and thus make a small reference to Robert Frost's famous poem, of the same title. We hope you love it too!"
Where to listen to and buy Fire & Ice: Basia's Return with The Clarisse Sisters
A special edition Fire & Ice EP, featuring this song plus four exclusive mixes releases on January 31, 2022, with the complete album of the same name launching on February 28th. You'll be able to buy these on The Clarisse Sisters website.
Connect Brazil's live streaming station debuted 'Fire & Ice' on Friday, December 28th, one week after the song's release on YouTube.
As of today January 5th, 2022, Connect Brazil is one of the very few global outlets programming 'Fire & Ice'. You won't yet hear it on Apple Music, iTunes, Spotify or Amazon Music.
We expect this song to be available on other streaming platforms by the end of the month.
Meanwhile, Basia's return with The Clarisse Sisters will soon be heard on Connect Brazil's streaming network, and it's nice to be able to share it with you here.
Thanks for listening!
Music, Travel, Friends and Fun! 2022 marks Connect Brazil's 25th year.
Did you enjoy 'Basia's Return with The Clarisse Sisters'? If you did, why not join us at Connect Brazil?
'Fire & Ice' – The Clarisse Sisters featuring Basia
The Clarisse Sisters would like to extend a warm thank you to all those who have supported this project from start to finish.
First and foremost, Basia and Danny White. Then, the very talented musicians who recorded the song:
Belingo Faro (keys and percussions), Ashley Speville (bass), and Dario Manick (drums) in Mauritius. Also Giorgio Serci (guitar), and Paul Booth (flutes) in England.
Lyrics: The Clarisse Sisters Fire & Ice
Some say our world is painted with a million shades of blue
Sweet fields of green wave to the mountains that are soaring high
Capricorn sun beams on our skin that shine a golden glow
The isle of joy and fun, our spirit so cool and mellow
From my land of great romantics
History so old and proud
We're friends sharing happy memories
Polish hearts singing out loud
Fire and Ice, opposites attract
Fire and ice, differences unite
x 2
We fell in love with music, sang long before we could speak
Our dreams were big and clear, our soul crying for so much more
Your feel of samba rhythm found its way to our door
In no time we all traveled together to distant shores
From the land of great romantics
History so old and proud
We are friends with happy memories
Our hearts singing aloud
Fire and Ice, opposites attract
Fire and Ice, opposites attract
x 2