Beach Blanket Bossa
| Air Date: 09-03-23 through 09-10-23
| On-Demand: 09-03-23 through 09-17-23
Live365.com is the official streaming radio partner for The Sounds of Brazil!
This two-hour program airs 4X daily on our streaming Station. You are invited to listen, Monday to Friday at 7 am, 3 pm, 6 pm, and midnight Central Time (US). Weekend times, too:
On The Radio: Listen to The Sounds of Brazil every Sunday, 2-4 pm on Chicago's 90.9 FM WDCB and streaming live at wdcb.org.
On-Demand: Click here to listen to this program anytime: through September 17, 2023.
Sign up for our emails on music, travel, friends & fun. Click here to like us on Facebook.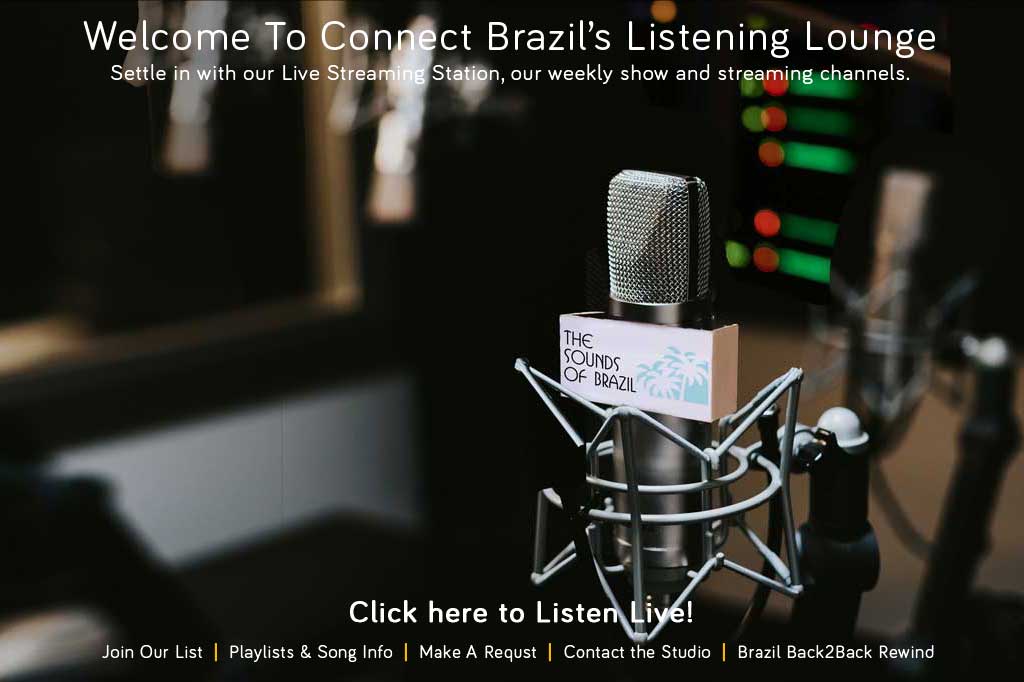 Daily Listening Schedule | Time Zone Converter | Brazil Back2Back On Demand
Make A Request | Send a message to Scott
This week's show: Beach Blanket Bossa
My Producer's Notes
What is it about Bossa Nova that makes us feel so good? Why does that simple little guitar rhythm free our musical spirit like no other?
How is it that this 65-year-old musical style, created half a world away in a language that only a relatively small part of the planet speaks today is still defined by its youthful, timeless qualities and universal appeal?
Bossa Nova was born on July 10 1958 at the old Odeon recording studios in Rio de Janeiro. That's the date that João Gilberto finally got it right with 'Chega de Saudade' – Bossa Nova's very first song.
Gilberto's new guitar rhythm was revolutionary, and it shared one important thing with its American counterpart rock and roll.
This yet-unnamed new beat sounded oddly out of place with the pop music of the 50's. Brazil was filled with languid, emotionally drenched boleros and romantic Sambas. Its pop music carried the yearning of love lost, love wanted, or life waiting to be lived.
Just like rock, Bossa Nova provided a happy, energizing musical alternative.
So much of the music we listen to today owes a great debut to this story and especially to João Gilberto – and it's been that way for generations. Some of these examples are easy to spot, others are camouflaged by the ever-changing face of pop music.
But Bossa's influence is both international and eternal.
Beach Blanket Bossa is our annual romp through the sand with songs old and new, American or Brazilian, or even from Japan, Germany, Italy, and beyond. And it's all a result of João Gilberto's compulsion to make his guitar play the rhythm that was in his head.
So enjoy all that Summer has to offer. And don't forget the music when you head down the road. You'll find that it's easy to understand why Brazil's greatest gift to the world isn't coffee, cachaça, or even ethanol – it's the Bossa beat!
– Scott Adams
This Week on The Sounds of Brazil
Hour 1: Beach Blanket Bossa
Set 1: The Sounds of Brazil Opening Theme
Brisa Mar<>Sabrina Malheiros/New Morning
Mainstream<>Soulstance/Truth Simplicity & Love
Consolação<>Baden Powell/Personalidade
Welcome to the Brazil Club Lounge
Love I've Never Known<>John Legend/Red Hot +Rio 2
Special Announcement
Set 2:
Introduce Our Next Set
Like A Lover<>Sergio Mendes & Brasil 66/Look Around
Motiff d'Azur<>Slowdown/Slowdown
So Nice (Summer Samba)<>Astrud Gilberto/A Certain Smile
Introduce Next Song
Zingaro<>Antonio Carlos Jobim/The Composer
Dança de Shiva<>Gilberto Gil/Quanta
Summertime<>Deodato /The Crossing
Set 3: Introduce This Week's Spotlight Song
É Preciso Perdoar<>Emilio Santiago/Nossa Onda É Essa
Color of the Watercolor<>R. Folegatti/Watercolor
Bossa 31<>Rosalia de Souza/Garota Moderna
Hour 2: Beach Blanket Bossa
Set 1:
Saudade Vem Correndo<>Bebel Gilberto/Tudo
Rainha<>Toco & Nina Miranda/Memorias
Welcome To Our Second Hour
Let Me<>Wanda Sa/Best of Brasil 65
1000 Watts<>Rique Pantoja/ De La Pra Ca
Use Your Head<>Money Mark/Red Hot + Rio
Sorriu Para Mim<>João Gilberto/ João
Special Announcement
Set 2:
Introduce Brazil Back2Back: Rio de Janeiro
Rio<>Os Cariocas/Bossa Nova Sua Historia
A Chamada Do Rio<>Brasilia/River Wide
Introduce Next Song
Copacabana<>Dick Farney/Perolas
San Juan Sunset<>Deodato/Love Island
Underneath The Face of the Moon<>Kevyn Lettau/Universal Language
Set 3:
Inquietação<>Gal Costa/Aquarela do Brasil
Suddenly/Had To Be You<>Djavan & Carol Rogers/Bossa Nova
~ ~ ~
Next Week on The Sounds of Brazil
It's Bossa Nova's 65th anniversary with our September spotlight on Bossa 65: Four consecutive weeks dedicated to Bossa Nova favorites!
Join me next week for 'Old School Bossa Nova' and two hours of summertime fun. Whether it's your radio, your computer at work or your tablet or smartphone, thanks for tuning in! I really appreciate it, and please tell a friend or two about us.
And don't forget about our weekly broadcasts in Chicago, on Sundays at 2 pm CT on 90.9 FM WDCB!