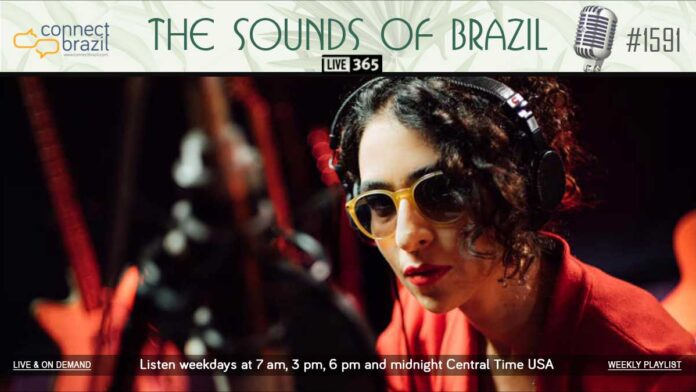 The Best of Marisa Monte. brings us two hours of Brazilian warmth this week.
The Best of Marisa Monte: Listening Dates
| Streaming and Radio: 11-27-22 through 12-04-22
| On-Demand: 11-27-22 through 12-11-22
Live365.com is the official streaming radio partner for The Sounds of Brazil!
This two-hour program airs 4X daily on our streaming Station. You are invited to listen, Monday to Friday at 7 am, 3 pm, 6 pm, and midnight Central Time (US). Weekend times, too:
On The Radio: Listen to The Sounds of Brazil every Sunday, 2-4 pm on Chicago's 90.9 FM WDCB and streaming live at wdcb.org.
On-Demand: Click here to listen to this program anytime through December 11, 2022.
Sign up for our emails on music, travel, friends & fun. Click here to like us on Facebook.
Daily Listening Schedule | Time Zone Converter | Connect Brazil This Week
Make A Request | Send a message to Scott
Welcome to The Sounds of Brazil!
It's official: Parts of the country are seeing their first snowflakes this week; ditto for the cold and below-normal temps… and we haven't even reached Thanksgiving!
Well, the warmth of Brazilian Jazz will push all of our weather worries aside with a 'best of' show for Brazil's greatest Diva… two full hours of singer Marisa Monte for The Sounds of Brazil this week (even more when you click here!).
The big news from Rio is Marisa Monte's jaw-dropping announcement of her new deal with Sony Music and her new studio album, the first in a decade. Check out the links below:
Get the Connect Brazil e-letter!


Let's catch up with a few timely tips for the week ahead:
~ ~ ~
Our new Connect Brazil Giveaway has copies of Brazilian jazz saxophonist Kenney Ploson's Colors of Brazil CD to send to lucky fans! This album is one of 2021's top Brazilian jazz releases. Click here to enter
~ ~ ~
Join us for The Sunday Brazilian Brunch: Perfect for smoothing out the bumps of a busy week. Three full hours every Sunday beginning at 5 am Central, and then again at 9 am, 2 pm and 8 pm. No app is needed when you click the 'play' arrow at the bottom of every page at Connectbrazil.com.
This Sunday, I'll feature Brazilian jazz pianist Ricardo Bacelar, with our streaming debut of In Natura, Bacelar's solo piano offering for the holiday season.
~ ~ ~
Jingle, Jingle! Now you can choose from a light dusting of Brazilian Christmas favorites every hour PLUS all-day long every Saturday on our streaming station. Or let it snow 24/7 with our Brazilian Christmas channel.
So, musical flurries, a weekend wonderland or non-stop cheer. Look for the Brazilian Christmas banner at Connectbrazil.com or click here. That's where you'll find our Brazilian Christmas playlist, perfect for sharing or shopping. Happy Holidays!
~ ~ ~
Happy Listening,
Scott Adams
'The Best of Marisa Monte'
Hour 1:
Set 1: The Sounds of Brazil Opening Theme
Slow Motion Bossa<>Clara Moreno/Morena Bossa Nova
Stand Up Paddle Girl<>Gabriel Martins/Mergulho
É Preciso Perdoar<>Emilio Santiago/Nossa Onda É Essa
Welcome to the Lounge
Infinito Particular<>Marisa Monte/Infinito Particular
Special Announcement
Set 2:
Introduce Our Next Set
Bem Que Se Quis<>Marisa Monte/MM
Cigano<>Djavan/Puzzle of Hearts
Introduce Next Set
Only A Dream In Rio<>James Taylor/That's Why I'm Here
Flying To Bahia<>Caibedo Island/A Caibedo Tale
Eu Sei<>Marisa Monte/Mais
Set 3: This Week's Spotlight Set
Diáspora<>Tribalistas/ Tribalistas (2017)
Ainda Lembro<>Scott Wilkie/Brasil
Nothing Will Be As It Was<>Ricardo Bacelar/Ao Vivo No Rio

'The Best of Marisa Monte'
Hour 2:
Set 1:
Na Estrada<> Marisa Monte/Rose And Charcoal
Welcome To Our Second Hour
High Night<> Til Bronner with Melody Gardot/Rio
Bossa Blue<>Chris Standring/Blue Bolero
Universo Ao Meu Redor<>Marisa Monte/Universo Ao Meu
Special Announcement
Set 2:
Introduce Featured Artist:
Maria De Verdade<>Marisa Monte/Rose & Charcoal
Spirits Of The Forest<>Leo Gandelman/Visions
Introduce Next Song
She Walks This Earth<>Sting/A Love Affair
Mariana<>Torcuato Mariano/Diary
Nunca Mais<>Joao Donato & Marisa Monte/Managarroba
Set 3:
Introduce Our Final Set
Noturna<>Silva with Marisa Monte/Silva Canta Marisa
Morning<>Azymuth/Butterfly
Blackbird<>Brazil & Beyond/Beatles
Driving Ambition<>Eliane Elias/Made In Brazil
~ ~ ~
Next Week: It's two hours of fan favorites with our annual Alumni Show for Sergio Mendes and the Class of '66, so plan to join me for this special program. Drop a request on the Lounge page!
Whether it's your radio, your computer at work or your tablet or smartphone, thanks for listening every week. I really appreciate it, and please tell a friend or two about us. And don't forget about our weekly broadcasts in Chicago: Sundays at 2:00 pm Central on 90.9 FM WDCB and wbcb.org. View our complete daily broadcast schedule here.
'The Best of Marisa Monte'