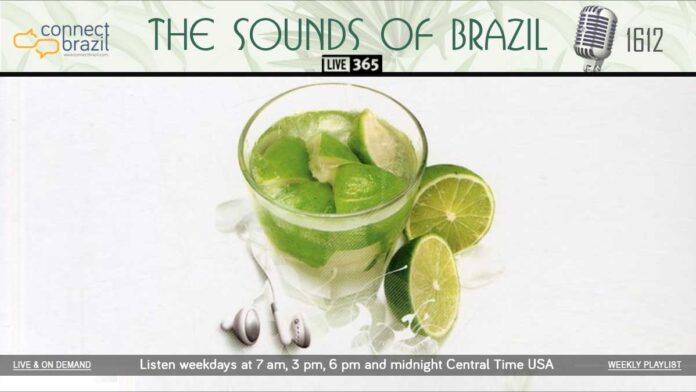 Brazil Chilled? Whether it be downtempo grooves or breezy, relaxing melodies, here's your chance to warm up to Brazil's chill factor.
| Air Date: 04-23-23 through 04-30-23
| On-Demand: 04-23-23 through 05-07-23
Live365.com is the official streaming radio partner for The Sounds of Brazil!
This two-hour program airs 4X daily on our streaming Station. You are invited to listen, Monday to Friday at 7 am, 3 pm, 6 pm, and midnight Central Time (US). Weekend times, too:
On The Radio: Listen to The Sounds of Brazil every Sunday, 2-4 pm on Chicago's 90.9 FM WDCB and streaming live at wdcb.org.
On-Demand: Click here to listen to this program anytime: through May 7, 2023.
Sign up for our emails on music, travel, friends & fun. Click here to like us on Facebook.
Daily Listening Schedule | Time Zone Converter | Connect Brazil This Week
Make A Request | Send a message to Scott
'
Brazil… Chilled'
Snow is still piled high in the Colorado mountains and cold stormy weather is sweeping across the plains and the east coast. There's no doubt that spring is taking its sweet time getting here this year.
Here in Chicago, we're either pleasantly surprised with sunny days or dealing with snow flurries… normal for April. But each day grows longer and I'll take that as a good sign for the Sunshine Season.
So I've decided to play along with this week's show.
Depending on where you sit on the musical spectrum, 'Chill' can generate musical passion or leave you… cold.
But ever since trumpeter Chris Botti debuted the radio show that helped give rise to the sound more than a decade ago, Chill has earned its own global following for its dedication to ambient electronica.
It's pretty obvious that Chill has found a willing partner in Brazilian music. But there's a difference.
The music flowing up from Rio de Janeiro, São Paulo, and Salvador has – at its core – a natural sensibility that you can trace back nearly six decades to the birth of Bossa Nova.
Yes, it's true; Brazil's Chill will warm your heart and stir your soul. Easy rhythms fueled by the Brazilian sun.
This week's program is a grand collection of downtempo, exotic electronica and aurally acoustic gems, found scattered across the world's best beaches: Copacabana, Ibiza, Grand Cayman, Arenales del Sol, Ipanema, Barbados, and São Paulo's Ilhabella, and even one of my own favorite stretches of sand, Praia Vermelho (you can't beat the view).
The idea is a simple one: Relax, unwind, and rejuvenate with the beach in your mind. Soak up the sun with these Brazilian sounds and pay no mind to the forecast for a while. Who knows?
Maybe spring will tune in too.
Happy Listening, Scott Adams
Monday's Brazil Back2Back taps a pair of uplifting Bossas to help get your weekend off to a musical start when you listen at the top of the hour at 11 am and 2 pm CT, exclusively on our streaming station. Daily Listening Guide.
~ ~ ~
Sunday's Brazilian Brunch features 'Springtime Favorites' from the ranks of Brazil's best musicians! Only on Sundays at 9 am, 2 pm and 8 pm Central time and only on The Sounds of Brazil's streaming station.
~ ~ ~
This week's show:
Brazil Chilled!
Hour 1:
Set 1: The Sounds of Brazil Opening Theme
Para Ti<>Marcela Mangabeira/Simples
Breathing The Wind<>Caibedo Island/A Caibedo Tale
If You Never Come To Me<>Frank Sinatra/Sinatra & Jobim
Welcome to The Lounge
Voce Pra Mim<>Fernanda Abreau/Fernanda
Special Announcement
Set 2:
Introduce Next Set
Beach In My Mind<>Superpulse/Brasil 5000
Love Dance<>Mike Metheny/Street of Dreams
Introduce Next Song
Light My Fire<>Eliane Elias/Light My Fire
Morning<>Azymuth/Butterfly
É Preciso Perdoar<>Emilio Santiago/Nossa Onda É Essa
Set 3: The Brazilian Minute: Brazil's Geography and Biodiversity
Introduce This Week's Spotlight Song
Planador<><Gabriel Martins/Mergulho
Quando Voce Me Olhar<>Luciana Mello/Olha Pra Mim 
One Night In Rio (Ipanema Chill)<>DJ Maretimo/ Nightflight Rio
Brazil Chilled
Hour 2:
Set 1:
Wave<>Oscar Peterson /Motions & Emotions
Blossom<>Machan/Machan
Welcome To Our Second Hour
Coisa Mais Linda<>Carlos Lyra/Bossa Nova Sua Gente
One Night In Rio<>DJ Maretimo/Summertime 4
All Around<>Bebel Gilberto/Bebel
Special Announcement
Set 2:
Introduce Brazil Back2Back: Flavio Venturini
No Caberet da Sereia<>Flavio Venturini/Noites Com Sol
Sobre O Mar<>Torcuato Mariano/Paradise Station
Introduce Next Song
Colors Colorindo<>Gisele de Santi/Vermelhos e Demais Matizes
A Night In Rio<>Fourplay/ Let's Touch the Sky (CB Remix)
Marina<>Al Di Miola/Soaring Through A Dream
Set 3:
Tarde<>Jean Felix/Jean Felix
My Only Passion<>Marcos Ariel/My Only Passion
~ ~ ~
Next Week on The Sounds of Brazil
We'll get a head start on a smooth run toward summer with 'The Birth of Bossa Nova'! I hope you'll enjoy the show and please – tell a few friends about us! It's always great to share the music.
Whether it's your radio, your computer at work, or your tablet or smartphone, thanks for tuning in! I really appreciate it, and please tell a friend or two about us.
And don't forget about our weekly broadcasts in Chicago: Sundays at 2:00 pm Central on 90.9 FM WDCB and wbcb.org.
View our complete daily broadcast schedule here.
Brazil Chilled!