Exploring Samba's musical diversity one style at a time
Caro Pierotto's Sambalismo Review reveals a 10-song album that's authentic, contemporary, and sometimes autobiographic.
---
by Scott Adams
Looking for a Brazilian album that stands out from the crowd this summer? If so, here's one that's sure to stay with you long after the warmth of summer wanes.
It's Caro Pierotto's Sambalismo.
I'm here to tell you why, but first, let's be honest here. Samba doesn't get nearly the same amount of attention on this side of the equator that say, Bossa Nova or Brazilian jazz does.
It's probably due to Bossa Nova's seductive charms and the elegant lines that flow so freely in Brazilian jazz.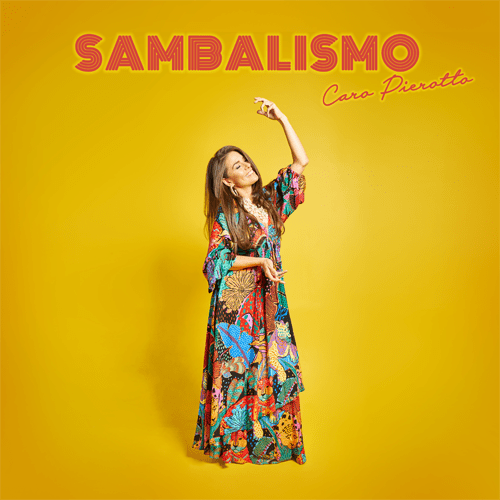 Samba Is Life
But in Brazil, Samba is king. It's an elemental part of daily life for 216 million Brazilians. It's not just the rhythm, the music, or the dance. Samba is a way of being. It's the story of life.
Consequently, very few Samba hits are given English lyrics. Not even 'Mas Que Nada'.
At its heart, Samba is music for the soul. That's the 'elemental' part I mentioned above.
The intimacy of rhythm and music is what Samba is all about. A Samba riff on a single cavaquinho can be as emotionally powerful as a full-fledged Sambadrome drum line during Carnaval.
It's here, within these musical markers, that Caro Pierotto's Sambalismo excels as one of the year's best Brazilian albums. Every aspect, from her songwriting and arrangements to her performance and personnel, is simply world-class.
And it is rare when a Samba album can entertain and inspire so completely, from beginning to end.
Reviewing Caro Pierotto's Sambalismo
Each of Sambalismo's ten songs (all in Portuguese) was created specifically for this album and developed to showcase a different style of Samba. Caro explains.
"'Mal Acostumado' is a Samba Reggae full of lighthearted surprise while 'Espaçonave' is horn-driven Samba Rock. Producer Grecco Buratto and Rogê co-wrote 'À Nossa Volta' as a Samba Canção that harkens back to Rio's Golden Age in the pre-Bossa 50s. It features a duet with Rogê, a renowned artist and songwriter in the carioca samba world.
"My salute to Carnaval comes with the Samba Enredo influences of 'Para e Repara'. 'Meros Mortais' is a beautiful and romantic Bossa Nova that touches on a subtle reference to Antonio Carlos Jobim's 'Wave'. And 'Não Dá Pra Esconder' celebrates the joy of a traditional Samba de Roda.
"The common thread of the album are the rhythms derived from the Samba root."
Sambalismo: Caro Pierotto's Heartfelt Stories
But from time to time, Pierotto's lyrics turn to her own life experiences. One of these is 'Mal Acostumado'.
"'Mal Acostumado' came as a little song I'd sing to my beloved dog, Max," she explained. He passed away in 2020 after 13 years of a long, great life. I don't have kids, so Max was well-loved. That is where "mal acostumado" – spoiled – comes from! I used to sing just the first part of the song to him all the time! When it came time to choose the songs for Sambalismo, we thought it would be a great idea to include his song as an homage. Then we dressed it in the Samba beat. That's a great way to remember Max."
Another samba, 'Sei La' carries deep saudade within its classic, traditional style.
Caro Reflects on 'Sei La'
"So, my father passed away in 2021 after a covid infection. It was unexpected and surreal. Somehow, I got to see him a couple of days before he headed to the hospital and never came back. My time with him was pure magic.
"His transition has been the hardest thing I've experienced in my life. It was tough and yet illuminating. I feel more connected to him now than I was before. After going through the grieving process, I realized that I have had great moments with my dad. We traveled a lot while growing up. My passion for traveling was given to me by him.
"My dad helped me come to the US when I was young. He's the reason why I'm here. He taught me how to never give up. So, I'm so grateful for that.
"'Sei La' is a realization of how good it is to be able to remember all the moments we had together. And of how once one is gone, the love we felt for each other remains. All the judgments just disappear. So, 'Sei La' is a celebration of that too."
Read more about Caro Pierotto's Sambalismo in Connect Brazil's Top Brazilian Summer Sambas Showcase.
Buy it here: from Caro's website (CD) | Amazon Music | Apple Music | Spotify
Listen free: XODÓ | New Music: Brazil | Women Of Brazilian Song | Our Streaming Station
Sambalismo – Caro Pierotto
Track List
Caminho
Mal Acostumado
Recado Dos Anjos
Nesse Jogo
Meros Mortais
A Nossa Volta
Nao Da Pra Esconder
Espaconave
Sei La
Pare E Repare
Personel
Caro Pierotto – Vocals, Arrangements, and Executive Production
Grecco Buratto – Production, Arrangements, Cavaquinho, Programming, BGV's, and Acoustic Guitar in 'À Nossa Volta'
JP Mourão – Acoustic Guitar, Seven String Guitar, Arrangements, BGV's and Cavaquinho in 'À Nossa Volta'
Felipe Fraga – Drums, Percussions, Arrangements, and BGV's
Eva Scow – Bandolim in 'À Nossa Volta'
Alberto Continentino – Acoustic and Electric Bass
Roberto Schilling – Piano and Keys
Otmaro Ruiz – Piano in 'Meros Mortais'
Daniel Clarke Órgão – B3 in 'Mal Acostumado' and 'Pára e Repára'
Jorge Continentino – Sax, Flute e Pífano
Marlon Sette – Trombone
Diogo Gomes – Trumpet
Kana Shimanuki Coros im 'Nesse Jogo' ,'À Nossa Volta' and 'Sei Lá'
Clarice Cast Coros im 'Nesse Jogo' ,'À Nossa Volta' and 'Sei Lá'

Recorded by Braulio Passos at Estúdio Rocinante in Araras, RJ
Mixed by João Milliet
except 'Não Dá Pra Esconder' mixed by Gustavo Borner
and 'Mal Acostumado' mixed by Braulio Passos
Mastered by Robert Carranza
Music, Travel, Friends, And Fun!
Caro Pierotto's Sambalismo Review
Stories like 'Caro Pierotto's Sambalismo Review' are what we do. Why not join us? Join our list. Listen to our live streaming station and 15 streaming channels, all free. Browse our Lifestyle Directory and events coast to coast. And follow us on Twitter and Facebook.