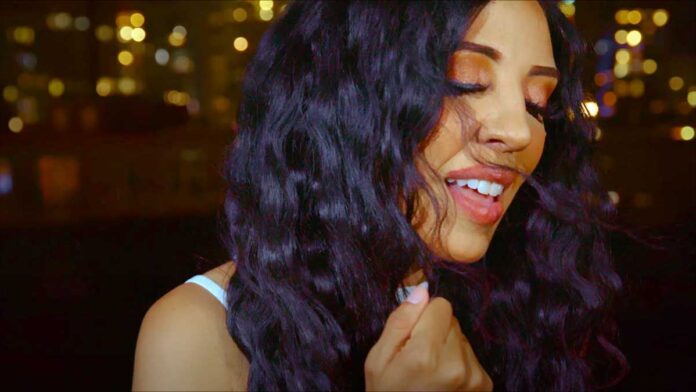 A visual story about Daily Life in Santana's Hometown that pulls you into the moment.
Cecy Santana's video and lyrics capture Sao Paulo's positivity with stunning imagery and a delightful perspective.
---
Truly, the official video wasn't quite ready when Chicago's Cecy Santana released her single 'Sao Paulo' in late October. Ultimately, with a debut just before the Holidays, the video turned out to really be worth the wait for 2022's Best of Brazilian Music Showcase.
Impressively, Santana focuses on cinematic scenes from both Sao Paulo and Chicago. The song's lyrics and videography unfold to tell Santana's story of how Brazilians endure the daily grind in one of the world's most busy and dynamic cities.
"Let's go," she sings in Portuguese. "Pay attention to what's important. Life is hard and we work, work, work to get paid little money. Sao Paulo, Cold City. Sao Paulo, Industrial City. All the people interact in a Virtual World."
Cecy's musicality excels in exciting pop directions, and her family's musical pedigree helps to remind us that Brazil is always in the mix. Even in cold and snowy Chicago, where parts of the video feature the Kingsbury Plaza and the talented Samba 1 Brazilian Dance Group.
Read our complete review of Cecy Santana's 'Sao Paulo' here.
Contrasts and Attitudes
There's no doubt that Cecy Santana's video and lyrics capture Sao Paulo's positivity. Santana is the co-director for this shoot, and she brings a delightfully entertaining twist, one that will keep you engaged throughout. In contrast, the lyrics tell one part of the story while the video surprises with Brazilian spirit.
"The contrast in the song comes from the attitude that most Brazilians have," says Cecy Santana. "Even though they work so hard to make ends meet, they keep a positive attitude and make the most of life!"
Ten Questions with Cecy Santana? Wow.
Cecy Santana's video and lyrics capture Sao Paulo's positivity
Stories like 'Cecy Santana's Video And Lyrics Capture Sao Paulo's Positivity' are what we do. Why don't you join us? Sign Up for our e-letter. Listen to our live streaming station and our 16 streaming music channels, always free. Browse our Lifestyle Directory. Click here to like our Facebook page and here for Brazilian events coast to coast.
Follow Cecy Santana
Buy Here | Amazon | Apple Music | Spotify
Listen free: XODO | New Music: Brazil | Women Of Brazilian Song | Our Streaming Station
Cecy Santana – 'Sao Paulo' Lyrics
Sao Paulo Lyrics In Portuguese
Sao Paulo Lyrics In English
Vamo la passageiros
Cultivar o que importa
Vida dificil e trabalho
Pra ganhar qualquer nota
As ruas se afinam
Nos fios e na luz
Do onibus eletrico
O expresso que conduz
Dos muros de pedra
Ao asfalto do chao
Arregaca a janela
Uma grande multidao
Sao Paulo, cidade fria
Sao Paulo, Cidade Industrial
Pessoas que se integram
Num mundo virtual
(2X)
De manha eh tudo escuro
De tanta poluicao
O sol se esconde nas nuvens
Fumaca da solidao
As ruas se afinam
Nos fios e na luz
Do onibus eletrico
O expresso que conduz
Dos muros de pedra
Ao asfalto do chao
Arregaca a janela
Uma grande multidao
Vou viajando tentando entender
O conflito das ruas do tiete
Tempo oportuno pra quem quer achar
O perigo dos sinais
Esperando te assaltar
Sao Paulo, cidade fria
Sao Paulo, Cidade Industrial
Pessoas que se integram
Num mundo virtual
Let's go passengers
Pay attention to what's important
Life is hard and we work, work, work
To get paid little money
The streets become so narrow
Through cables and the lights
Of the electric bus
That guide us
The walls made of stones
The concrete on the ground
Open wide your window
And you can see the big crowd
Sao Paulo, Cold City
Sao Paulo, Industrial City
All the people interact
In a Virtual World
(2X)
Early in the morning is so dark
With so much pollution
The sun hides behind the clouds
Clouds of loneliness
The streets become so narrow
Through cables and the lights
Of the electric bus
That guide us
The walls made of stones
The concrete on the ground
Open wide your window
And you can see the big crowd
I travel thru the City trying to understand
The conflicts on Tiete street
Perfect place for those who are looking
To find danger in the stop lights that are
Waiting to get you
Sao Paulo, Cold City
Sao Paulo, Industrial City
All the people interact
In a Virtual World
Cecy Santana – 'Sao Paulo' Credits
Sao Paulo – BPM 160
Music : Steven Kikoen & Cecy Santana
Lyrics: Cecy Santana & Sonia Santana
Produced by Steven Kikoen & Cecy Santana